Published 27/01/2015
Many people talk about Big Ag, but it's hard to get across just how big "big" can be. This infographic lets you size up some of America's biggest factory farms against a handful of world-famous landmarks – prepare to be staggered.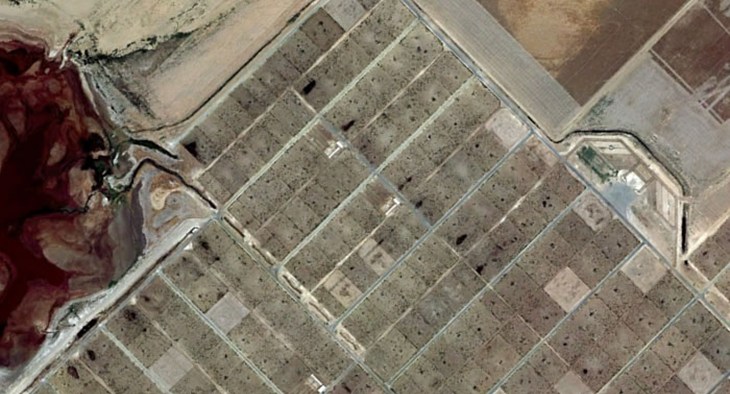 When most of us think of a factory farm, it's likely that images of big, warehouse-like barns spring to mind – sprawling, windowless and without an animal in sight. And while that's not a million miles from the truth, it's only half the story: it ignores the unimaginable scale of some of America's largest industrial-livestock operations. Many of these are feedlots, which cram cattle into vast outdoor pens instead of inside buildings.
And while scale alone is not necessarily a concern in farming – after all, you can have a sustainable, extensive farm that rolls on for miles – when it's combined with an intensive approach, you have a serious problem. Generally speaking, the more intensive the farm, the higher the threat to animal welfare and the environment (and the larger the farm, the greater the threat).
America's "mega" farms
The most immense industrial-livestock farms are wastelands of truly epic proportions. They are foul, ruined landscapes, where putrid lagoons of animal waste lie stagnant, poisoning the air and submerging the soil.
In recent years, the Manchester-based artist Mishka Henner has done a lot to draw attention to these vast, annihilated landscapes of America. His best-known pieces are this series of feedlot images – grey-and-brown satellite images of factory farms enhanced with splashes of colour.
Using the same satellite images (thanks to Google Earth), we decided to put the scale of these vast farms into focus, with the help of some world-famous landmarks.

Let us know your thoughts on this story on Twitter or Facebook.
Help fix our broken food system!
Submit your email address to allow Compassion in World Farming to send you urgent campaign actions and news (you can unsubscribe at any time).