Published 12/02/2015
Do you remember Craig Watts? He's the brave poultry contract farmer who spoke out about the terrible conditions on his factory farm. Now Craig has participated in a live Q&A on the news and social-networking site Reddit. Here's what happened.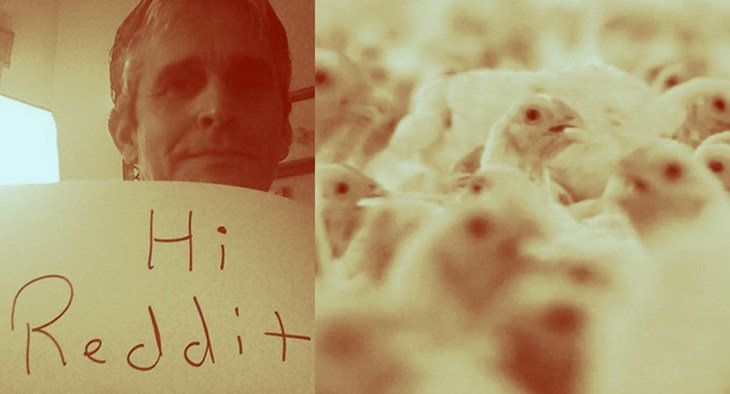 Craig Watts hit the headlines at the end of last year when he decided to blow the whistle on his employer, Perdue – one of America's biggest chicken producers. In a startling, sensational move, the farmer invited Compassion USA and a film crew onto his North Carolina factory farm to reveal the scandalous conditions that he was forced to maintain there – and that his chickens were forced to endure.
Since then, Watts has been at the centre of a media storm highlighting the cruel and crazy nature of factory farming, which frequently "hoodwinks" consumers with outrageous claims that its meat and dairy products are "all natural", "humanely raised" and "cage-free". The latest outlet for this passionate farmer's shocking and sobering story was the popular news and social-networking site Reddit.
Reddit's incredible reach
Reddit, the self-dubbed "front page of the internet", has a community of 174 million users, which reflects its prominent place in online news and debate. The site, which allows users to contribute and rate stories, is a showcase in user-generated, user-structured content.
One of Reddit's most popular features is its Ask Me Anything (AMA, for short) section, which allows members of the public to quiz prominent figures on a whole host of issues. AMAs have featured everyone from Madonna to Al Gore, but last week, it was Craig Watts's turn. When we last checked, no fewer than 1,813 comments had been left! Below are some of the best bits from his fascinating interview.
AMA highlights
One of the more controversial questions in the AMA – "What is your response to people who say, 'They're just chickens. What does it matter how they're raised when we're just going to eat them anyway?'" – received a quick and simple answer from Craig: "Well, it does matter. If you've been paying attention to the news. There's a lot of issues with food born [sic] illness with poultry. These chickens come loaded with salmonella, e coli and staff [sic]. Even if you don't care about welfare, they're getting sick because of the ways they're raised. And that, everyone should care about."
Later on, when someone suggested that the farm in the video is not the "status quo", but "in the bottom 5 per cent in terms of cleanliness and sanitation", Watts was quick to set them straight: "To that, I say check my record… call Perdue and ask them. For the flock filmed in the video, I was THE top producer."
According to Watts, many other farmers are as passionately against the system as he is, but are not bold enough to object: "I would say 80% would want to speak out. That's conservative. I don't know one farmer who is happy. And I know a lot. If there is one, I would love to talk them. I could use a little good news."
The best way to improve standards, he insists, is to rally members of the public: "Public pressure is going to change it. Farmers and government aren't going to be able to make the changes. The only way is for the public to ... apply the pressure."
Creating positive change
Here at Compassion, we agree with Craig that the most positive way for effective change is for consumers to demand that legislators and food businesses improve the lives of farm animals.
But we also believe that everyone is part of the solution. By working in partnership with inspirational supporters, progressive policy makers and visionary companies, we are mobilising a movement for far-reaching change in our farming that can feed the world and will improve the quality of life for billions of farm animals worldwide.
The final say
We'll save the final words for some inspired "Reddit-ers" (this incredible exposé certainly got people thinking and talking, which can only be a good thing!):
"This took so much courage to step up and do … thousands stand behind you in the battle for humane farming!"
"I was a cinematographer on Food, Inc. and spent many hours in similar chicken houses. Time that changed my eating habits forever."
"Thank you for speaking out. People need to know."
What do you think about Craig Watts's story? Let us know your thoughts on Twitter or Facebook.
Be like Craig. Help us fix our broken food system!
Submit your email address to allow Compassion in World Farming to send you urgent campaign actions and news (you can unsubscribe at any time).