Published 10/03/2015
Can there be a better combination than inspiring travel and good food? In the build-up to Meat Free Week, we check out seven holiday hotspots that take serious pride in their delicious vegetarian offerings.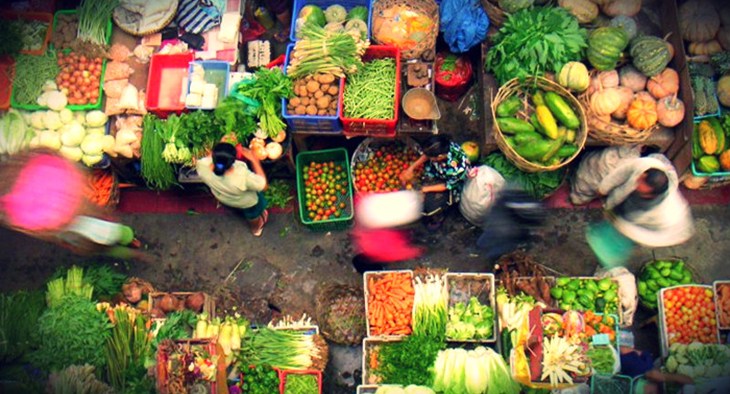 Thankfully, there are countless places around the world where you can find good-quality vegetarian food. Big bustling cities with their mix of cultures and ethnicities tend to be a safe bet, especially if they have a lively, forward-thinking student population.
Other destinations, including many in Asia, opt for low-meat or even no-meat diets on religious grounds, while for others, like the Mediterranean countries, it's a matter of necessity and tradition, brought about by centuries of abundant fruit-and-veg harvests.
Compassion in World Farming is proud to be a launch partner of Meat Free Week (MFW), which takes place from 23 to 29 March – a unique opportunity for us all to indulge in some serious veg worship. And for anyone planning a holiday during this time, we've come up with seven exciting travel destinations that are big on veg.
Glasgow, UK: Ever since it was named European City of Culture in 1990, Scotland's largest city and former industrial giant has worked hard to cultivate a more sophisticated side to its character. The city's exciting food scene has been a large part of this transformation, with innovative eateries – including many vegetarian and vegan establishments – bursting onto the scene in response to a citywide drive to put health and the planet first.
Berlin, Germany: The German capital, which has been a hotbed of countercultures for decades, is today home to a flourishing food scene – one that is really beginning to prioritise fresh, seasonal plant-based produce over the national obsession for bratwurst, schnitzel and cold cuts. This culinary renaissance is being driven by a dynamic student population that cares hugely about animals, people and the planet. Enjoy the vibrant atmosphere, soak up the history and sleep with a clear foodie conscience.
The Mediterranean: The communities that border Europe's inland sea are known for the health-giving, sustaining diet they've enjoyed for centuries. Fresh fruit and vegetables, beans, whole grains, olive oil (as well as the occasional piece of fresh fish and very little meat) are thought to be the basis for the much-envied longevity of this sunny population. While you're here, do as the locals do and linger over your meal, savouring the flavours of the fresh – often organic – ingredients.
Jordan: Those who are big on veg will feel immediately at home in this Middle Eastern country. Although meat, particularly lamb and chicken, remain staples throughout the region, mezze dishes – including falafel, hummus, tabouleh and Arabic flatbreads – are also available everywhere you go. What's more, these humble mini-veggie-dishes are made from the freshest of ingredients.
Southern India: It was in southern India, in ancient times, that vegetarianism was born: compassion towards animals has long been important here, for religious and philosophical reasons. Today, a plant-based diet is still dominant, with beautifully spiced rice dishes, dosas and dhals taking centre stage. Whether you're visiting Kerala, Tamil Nadu, Andhra Pradesh or Karnataka, be sure to try a vegetable thali to experience the vast array of incredible flavours for which the region has become famous.
Chiang Mai, Thailand: The large Buddhist population here makes for a very veg-strong food culture. In fact, in this laid-back, charming city, there are more than 80 vegetarian restaurants to choose from. What's more telling, though, is that even non-vegetarian restaurants tend to be very accommodating of specific requests from diners, meaning that you could simply order a "meatless" tom yum soup or pad thai, and still enjoy a robust meal. How enlightened.
Portland, USA: Oregon's hippest city gives San Francisco a serious run for its money in the ethical-food stakes. Not only did Portland rank highest in a 2013 list of top vegetarian-friendly cities, but this liberal, eco-friendly place welcomes all manner of dietary preferences. Even fast food takes on new meaning here: the city's many food-trucks serve veg-heavy, on-the-go snacks that are often organic, including a much-loved brand of vegan doughnuts – no mean feat!
Have you enjoyed incredible vegetarian food abroad? Let us know your thoughts on Twitter or Facebook. The hashtag is #meatfreeweek.
And, as always, check in with your government's foreign-travel advisory service to ensure that you'll stay safe.