Published 15/05/2015
Rudyard Kipling described "words" as mankind's "most powerful drug". We use them to challenge the vested interests keeping factory farming alive. But not all words are equal, of course. Here, we explore their power to help fix our broken food system.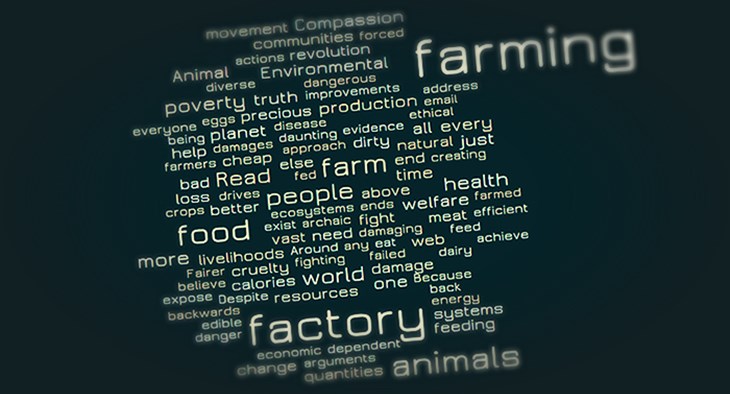 If you're reading this, there's a good chance that you're part of the growing global movement against factory farming. And there's also a good chance that you've talked about your passion with others – friends, family, colleagues or even politicians. If so, how do the words you choose affect the way they react?
The language of campaigns
Great campaigning boils down to getting across a clear, compelling message to your intended audience – at its very heart, therefore, lies language. While the right words have the potential to influence, the wrong ones have the potential to alienate. In other words (excuse the pun!), language can make or break campaigns.
With this in mind, the vocabulary we use to give Compassion's campaigns momentum is carefully chosen – after all, we're looking to create lasting change. And this technique of selecting words for maximum impact relates closely to a concept known as "framing" – an area of sociopolitical study developed by the cognitive linguist George Lakoff.
"Framing" 101
So what does George Lakoff mean by "framing"? In a nutshell, "frames" are the moral and conceptual filters through which we see the world. They are often triggered by language, and become stronger the more often they are used. "Framing", then, is the technique of selecting language to tap into a person's deeply held values (or frames).
A simple example
Let's take as an example the phrase "tax relief", which replaced "tax cuts" in American parlance when George W Bush became president. In the early days, it was picked up by the press as a neutral expression, but it is far from being that.
In fact, these two words are incredibly loaded. As George Lakoff explains on his blog, "relief is always positive and afflictions are always negative". Here, the "reliever" is a hero saving the masses from the affliction of high taxes. The phrase is so potent that you can almost hear society's collective sigh of relief when it's used.
Framing and farming
So how does all this relate to our cause? Aside from the fact that we're always on the lookout for new and exciting ways to communicate our message and engage new audiences, we also pay close attention to the words and phrases used by the intensive-farming lobby, to justify its actions and garner support.
A great example of this appeared in our supporter magazine, Farm Animal Voice, back in 2011, where we deconstructed the phrase "sustainable intensification" – the UK government was using it to make the case for large-scale livestock agriculture.
We described the phrase as "gobbledygook" and "a misguided attempt to justify more unsustainable, inhumane farming" by using the word "sustainable" to present intensive agriculture as green, clean and fair. In reality, we know it's nothing of the sort.
Framing for the future
There are certainly some interesting questions around how we "frame" our movement in the future. For example, should we be assessing the effectiveness of the term "factory farming"? For those within Compassion, it comes laden with negative images of a system that needs fixing. But what associations does it trigger in, say, an audience of politicians – and does it help us to engage them with our campaigns? Is it better to say we're building a movement to end factory farming or to support humane-sustainable farming?
Which has more impact for you? We'd love to know what you think! How do you frame your arguments when talking about these issues?
Help us end factory farming for good.
Submit your email address to allow Compassion in World Farming to send you urgent campaign actions and news (you can unsubscribe at any time).