Published 10/06/2015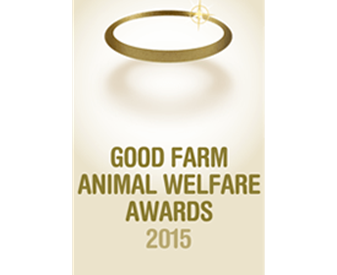 On 9th June, the Good Farm Animal Welfare Awards took place at the Milan Expo. We were delighted to award food companies from across the globe that have made significant commitments to improving animal welfare. It is always really exciting for us to see the huge progress made for animals by leading food companies. 
The Awards
This year, we were thrilled to launch our new award, the Good Rabbit Award to highlight the plight of rabbits. Sadly, 99% of rabbits farmed for meat are kept in barren battery cages.
The Retailer Awards were back this year with supermarket chains from across Europe being celebrated for demonstrating their commitment to farm animal welfare standards.
The other long-standing awards are: the Good Egg Award, Good Chicken Award, Good Dairy Award and Good Pig Award, with well-known names such as McDonald's, Jamie Oliver, Wholefoods and Ferrero earning recognition for their work.  
The winners
Knorr, one of Unilever's larges brands, received a Special Recognition Award for their global commitment to higher welfare production for their bouillon. The brand is passionate about bringing quality from 'farm to fork' and has ambitious commitments to source 100% of its raw agricultural materials sustainably by 2020, as part of Unilever's Sustainable Living Plan.
Coop Switzerland was presented with the Best Retailer Innovation Award for developing a 'dual purpose' breed of chicken where the female birds are kept to produce eggs and the male birds are reared for meat instead of being culled as chicks due to their unsuitability for meat production.
Colruyt Belgium received the Best Retailer Marketing Award for actively promoting their farming systems and welfare standards to their customers using a range of marketing channels including their in-store TV and online videos.
Finally, Waitrose picked up the Best Retailer Award 2015 for achieving the highest score for the company's overall approach to and standards of farm animal welfare.
In total 41 awards were presented this year and a total of 15 million farm animals are set to benefit each year from this year's winners' higher welfare policies.
Animal welfare: a concern for food companies
The Awards are an encouraging event with more and more food companies involved each year. Animal welfare is becoming a real focus for them. We will keep working with these companies - and look forward to working with new companies to put animal welfare at the heart of the food industry.