When motivated, leading companies can make fast and decisive improvements that can benefit millions of animals, each and every year.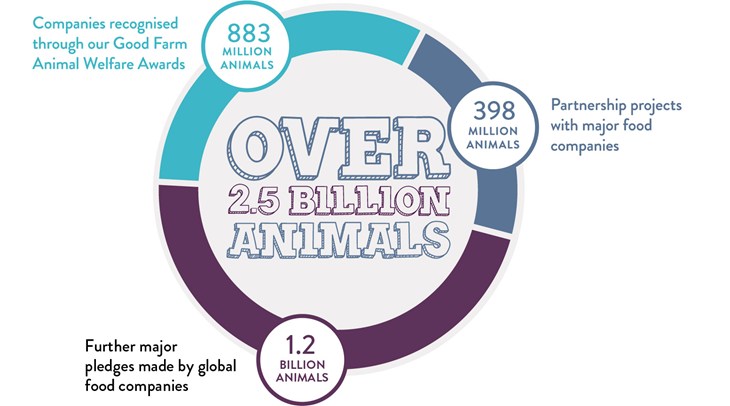 We work with leading food companies to encourage them to commit to higher welfare production, practices, and sourcing policies throughout their supply.
OVER 2.5 BILLION!
Animals set to benefit each year from these commitments​
Awards that change millions of lives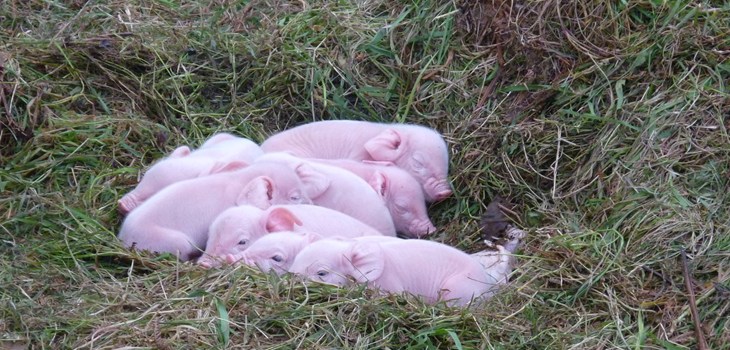 Our Good Farm Animal Welfare Awards recognise companies committing to higher welfare production and sourcing within a 5-year timeframe by species and product category.
Increasingly, we recognise businesses that are producing higher products in ways that protect, improve and restore wildlife and the environment through our Sustainable Food and Farming Award – and companies that are coupling the advancement of animal welfare with a rebalancing of their protein offer through our Planet Friendly Award.
The Awards are celebrated annually at our prestigious awards ceremony and help drive continuous improvements within companies, stimulate market shift through competition, and lift consumer awareness through the marketing of their awards.
Impact by species
**Figures exclude those associated with companies that have withdrawn from the GFAWA programme, and includes figures associated with our Innovation Awards.
We have aligned our Good Egg Award criteria with the cage free movement for laying hens, requiring a commitment to adopt a cage-free sourcing policy (for all shell eggs, egg products and egg ingredients) within 5 years, which prohibits the use of combination and limited access systems. Read the full criteria of the Good Egg Award here.
The criteria for the Good Chicken Award is aligned to the requirements of the European Chicken Commitment (ECC), and with the Better Chicken Commitment in the US. Companies must demonstrate significant progress (at least 50%) in their transition towards the ECC and report publicly on their transition timelines and progress. Read the full criteria of the Good Chicken Award here.
Partnerships that can change the world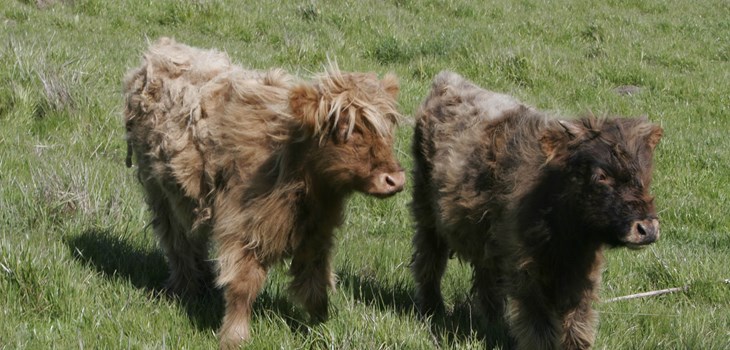 We work in partnership with leading food companies to help find solutions to specific welfare issues, incorporate good practice, and to facilitate the implementation of commitments.
IMPLEMENTING THE BETTER CHICKEN COMMITMENT (BCC)
With momentum on sign ups to the European Chicken Commitment, companies are looking to the Food Business team to help drive the implementation of the new standard, both in the EU and US, irrespective of where in the world the chicken is produced.
So far, this programme of work with food companies has delivered commitments that will bring better lives to over 1.1 billion* chickens every year.
Compassion drives change by:
Working with companies to develop their roadmap for implementation, in particular making the business case; mapping the supply; finding solutions to barriers; marketing and consumer communications
Hosting industry fora where stakeholders across the supply share experiences on transition to the BCC, update on the latest information, and brainstorm next steps for progressing delivery
Participating in industry Working Groups on key topics to help resolve barriers to progress, such as: visual identity and consumer marketing; alternative breed availability; business to business connections; effective electric stunning without live inversion
Engaging with Assurance Schemes to encourage them to set standards and audit to the Better Chicken Commitment
*Number of animals set to benefit (each year) captured across relevant Good Chicken Awards, projects and pledges
Red Tractor Enhanced Welfare Module
Compassion worked with Red Tractor to launch a new 'Enhanced Welfare' module and marque for indoor chicken in 2020 which meets the European Chicken Commitment criteria.
The module provides a read-made third-party audit for companies wanting to source to this standard and the label allows them to differentiate their higher welfare chicken from standard production.

'Etiquette Bien-être Animal' (French animal welfare labelling scheme)
Compassion has worked in depth with French retailer Casino Group and animal welfare NGOs, LFDA and OABA to develop the very first animal welfare labelling scheme in France. The scheme is now independently run by the Association Etiquette Bien-être Animal.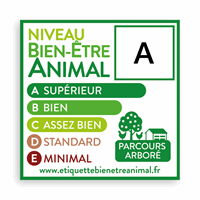 The first part of the project was to deliver the labelling and auditing scheme for meat chicken. The level of animal welfare is assessed according to a 5-level scale (from A to E) with the on-farm criteria of the Better Chicken Commitment standard represented as level C.
In 2021, over 10% of French chicken production was covered by the animal welfare labelling.
The Association Etiquette Bien-être Animal is now working with it partners to develop the auditing grid for pigs.
The scheme currently comprises of four animal welfare NGOs (CIWF, LFDA, OABA, Welfarm), five retailers (Casino Group, Carrefour, Système U, Les Mousquetaires and Lidl France), and five poultry producers (Les Fermiers de Loué, Les Fermiers du Sud-Ouest, Galliance, Maître Coq and Groupe Michel), two manufacturers (Fleury Michon and Herta) and one pig producer (Cooperl).
Global Animal Partnership

Compassion has worked with the Global Animal Partnership (GAP) and their 5-Step® Animal Welfare Rating Program for more than a decade, helping to evolve their standards across all species.
In 2016, GAP signed up to the Better Chicken Commitment in the US across its 5-step programme and along with their major customer, Whole Foods Market, won Compassion's Special Recognition Award. One of the major pieces of work commissioned by GAP is the welfare assessment of 16 breeds across a wide range of outcome measures to determine which breeds of chicken will be approved for the 5Step programme and the BCC in the US.
Knorr (Unilever)

Unilever's largest brand Knorr worked closely with Compassion towards sourcing all the chicken, pork and beef used in its soups, sauces, and bouillon products from higher welfare systems. This highly ambitious project gained them our Special Recognition Award in 2015, and was the catalyst for the NGO push towards the Better Chicken Commitment, and both Compassion's and Knorr's work on implementation.
Unilever signed up to the Better Chicken Commitment across its North American and European operations in 2017, which will positively impact the lives of 102 million chickens each year in future.
MAKING CAGE FREE CONVERSIONS COUNT
Converting caged housing for laying hens demands that systems are 'fit for purpose' to ensure the hens have a good quality of life, and 'fit for future' to stand the test of time. Watch this video to find out more
Highly intensive multi-tier systems are at risk of replacing caged systems – particularly for the value egg market – with little benefit to the welfare of the hen.
There are a range of multi-tier and aviary systems on the market – from highly intensive combi systems to more spacious well-designed aviaries. Compassion has worked with the egg industry, egg producers and equipment manufacturers to develop its guidance on multi-tier aviary systems. Read the guidance here.
In the UK, Compassion worked with the British Egg Industry Council, Tesco and Noble Foods, the UK's largest egg producer, to introduce a new standard for UK barn egg production, with significantly higher welfare credentials than those in EU legislation, and higher than the KAT system in Germany.
Noble Foods has worked alongside their equipment manufacturers, Vencomatic, to convert one of their large enriched colony caged units to the new higher welfare aviary barn system. Watch the video here
In Italy, the Food Business team continues to work with the food industry and leading egg producers to encourage the elimination of combi systems and the transition to well-designed multi-tier aviary barn systems. 
In June 2021, the largest Italian egg producer - and leading egg producer in Europe - Eurovo Group committed to phase out cages for laying hens on its Italian-owned farms by 2022, and made a further commitment to phase out the use of combination or 'combi' systems by 2025.
INFLUENCING THE PIG INDUSTRY
EU legislation specifies minimum standards for the protection of sows and meat pigs, but compliance is an issue and serious welfare concerns still exist. Across Europe, many sows still spend almost half of their lives confined in cages and most meat pigs live in barren environments, unable to express their natural behaviours, and undergo routine mutilations before 7 days of life, such as tail docking and castration.
Through our Awards programme, Compassion is working with UK retailers, wholesaler Winterbotham Darby and leading continental pork manufacturers across Europe to improve the welfare of sows. The aim is to transition to completely sow-stall free gestation and free-farrowing systems, with the provision of appropriate manipulable material and nesting material. Read the case study here.
We are also working with the European pig industry promoting best practice to ensure meat pigs are given better environmental conditions, including manipulable material and the opportunity to express their rooting behaviour, with a target to phase out routine tail docking.

In Europe, pigs reared for speciality meats and charcuterie are typically castrated before 7 days of age without any kind of pain relief, as they are grown to heavy weights past the point of puberty. Compassion is currently working to change attitudes to the surgical castration of male piglets, by encouraging investment in welfare friendly alternatives and engaging with retailers and pig producers across Europe.
BEST PRACTICE IN DAIRY COW WELFARE
We work closely with our Good Dairy Award winners and other dairy companies to improve the welfare of dairy cows and calves by introducing animal-based measures and active improvement programmes. One example of this is our long-standing work with Danone in France.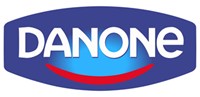 Following the development of an animal welfare guide for dairy cows in 2011, we have worked in partnership with Danone on the development of an animal welfare assessment protocol. This has been successfully piloted in Spain and is now undergoing implementation at a global scale.
In 2021, we collaborated with Danone France on the development of a new dairy cow welfare guide for farmers and technicians. This booklet is freely available for all industry stakeholders.
Other Projects:

Compassion helped Sodexo develop their global farm animal welfare policy and engagement toolkit to ensure that all their suppliers of animal products sign the Sodexo Animal Welfare Charter.
Since the publication of their first policy, Compassion has continued to work with Sodexo to further improve their animal welfare commitments and to ensure year on year progress reporting. 
Read their Animal Welfare Policy here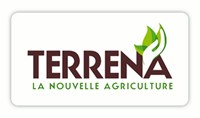 Through our engagement with French producer cooperative, Terrena, we helped develop their 2020 animal welfare roadmap across several species, which includes cage-free housing for meat rabbits, free farrowing systems for sows and higher welfare indoor chicken production.
Corporate pledges – making history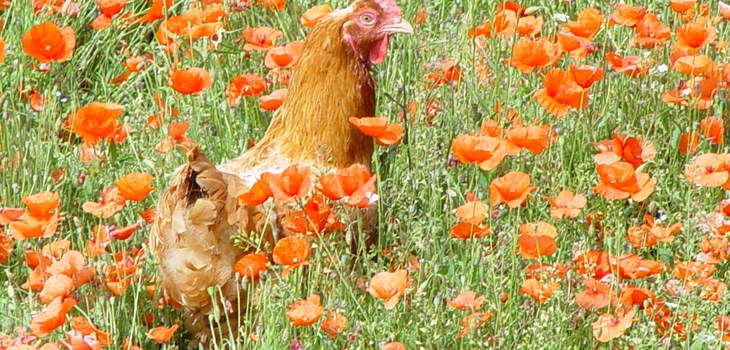 Compassion engages with companies to encourage them to make meaningful improvements to the lives of animals in their supply and to publicise their farm animal welfare commitments, setting clear targets for completion and reporting year on year progress.

In recent years, driven by consumer demand, investor considerations and market forces, there has been a number of cage-free egg commitments and higher welfare pledges for broiler chickens from global leaders across all food sectors.
Higher welfare production for broiler chickens
It's easy to visualise the confinement of laying hens in cages, yet the most farmed animal on the planet – the broiler chicken - exists in a 'physiological cage', constricted by its high growth rate and oversized body, and raised in overcrowded barns.
Compassion's ongoing work with the food industry to investigate supply chain solutions and stimulate the market for higher welfare chicken has led to a revolution in broiler welfare.
In November 2016, nine leading NGO's in the US (including Compassion) came together and agreed a unified 'corporate ask' for broiler chicken welfare. To date, more than 200 US brands have signed up to meet the US Better Chicken Commitment by 2024, and the higher welfare breed standard by 2026.
In September 2017, Compassion joined forces with a group of European NGO's who agreed a similar 'ask' for broiler welfare improvement, asking companies to meet the European Chicken Commitment by 2026. To date over 250 companies have signed up.
The European Chicken Commitment asks for a reduced stocking density (to 30kg/m2), use of approved breeds with proven good welfare outcomes, the provision of natural light, pecking substrates and perches, with humane slaughter methods and third party auditing.
Compassion has worked closely with some of the food companies that have recently made Better Chicken Commitments. Find out more here.
In the US – Whole Foods Market was the first major food company to sign up to the new requirements for broiler chickens by 2024. Today, major companies across food service, manufacturing, and restaurant sectors have joined the ranks. The growing list of committed companies includes brands like Subway, General Mills, and Popeyes. Read the full listing of US company broiler welfare commitments here.
In Europe – leading brands like KFC, Burger King, Nando's, Domino's, M&S, Unilever, Nestlé, Waitrose, Danone, Elior Group, Sodexo, E, Leclerc, Intermarché and Carrefour have all have signed up to the European Chicken Commitment, promising to achieve their aims by 2026. Read the full listing here
Cage-free production for laying hens
2016 marked a truly remarkable year for the future welfare of laying hens. We witnessed a wave of cage-free commitments from many of the world's most influential food companies, starting in the US with McDonald's (2015) and rippling out to over 200 US companies, including Walmart, the largest grocer in the US.
Pledges in Europe followed suit, and included the remaining UK supermarkets selling caged eggs (Tesco, Aldi, Morrisons, Iceland, Lidl and Asda), all leading supermarkets in France, 7 out of the 10 leading supermarkets in Italy, almost all the leading supermarkets in Spain and food service giants Sodexo, Compass Group and Elior Group.
Amidst the multiple influencing factors on these corporate decisions, Compassion is proud to have played an influencing role with some of the biggest industry players to establish cage-free policies:
In the US - major restaurant chains McDonald's, Panera Bread and Taco Bell, major food service company Aramark, and top American supermarkets Walmart, Costco, Trader Joe's, Publix, and Ahold/Delhaize.
In Europe - Casual Dining Group (whose brands include Bella Italia, Café Rouge and Las Iguanas) and Whitbread (whose brands include Premier Inn and Beefeater Grill) in the UK; leading French retailers Casino, Intermarché, Auchan, Carrefour, E.Leclerc, Systeme U and Avril (No. 1 egg producer in France); leading Italian retailers Conad, Lidl Italy, ALDI Italy and Bennet, and the Italian food service companies Camst, MARR, and Autogrill.
Global - Sodexo, Elior Group and Compass Group, the biggest food service companies in the world, Barilla, Ferrero, Nestlé and French multinational Danone.
More than 70 million laying hens are set to positively benefit when these corporate pledges come to fruition, as part of our ongoing food business engagement with them.
We work with food businesses to ensure they meet these pledges via our global cage-free commitment tracker, EggTrack. We also have many resources to explain what constitutes an acceptable good cage free system – find out more here.
Major companies support ban on caged production
On 17 March 2021, ten major food companies sent a joint letter to the EU Commission in support of Compassion's 'End the Cage Age' European Citizens Initiative (ECI), calling for a phase out in the use of cages in animal farming, starting with caged laying hens.
And leading European egg producer Eurovo Group has not only committed to phase out cages and combi systems for laying hens, but they also recently wrote to Copa Cogeca, their representation body at a European level, asking them to support Compassion's 'End the Cage Age' ECI.
On 30th June 2021, the European Commission made a historic landmark decision to end the use of caged systems in livestock production by 2027.
This important decision will benefit the lives of over 300 million laying hens, sows, calves, rabbits, ducks and geese, each year, who are currently kept in crowded cages, stalls and farrowing crates, or single pens, for part or the entirety of their lives.
A legislative proposal will be submitted by the end of 2023 which will need the approval of the European Parliament and the Council of Europe. Read more here.
Energising ethical investment
BBFAW publicly ranks the world's major food companies on their farm animal welfare policies, practices and performance.

In the 9th iteration of the Benchmark launched in March 2021, 23 out of the 150 companies rose at least one tier in the ranking following improvements to their policies, practices, and performance on, and reporting of, animal welfare.  
Compassion is proud to have worked in depth with many of the companies that have improved their tier ranking – most notably those that appear in Tiers 1 and 2 of the Benchmark.

BBFAW maintains the Global Investor Statement on Farm Animal Welfare and as of July 2020, 33 investors, representing £2.1 trillion in assets under management, have signed the Statement..

BBFAW also convenes the Global Investor Collaboration on Farm Animal Welfare, a collaborative engagement between major institutional investors and food companies on the issue of farm animal welfare.

In addition, BBFAW manages extensive engagement programmes with companies and investors and provides practical guidance and tools for companies and for investors on key animal welfare issues.

BBFAW is run by an independent secretariat and is co-funded by Compassion in World Farming and Four Paws.

(World Animal Protection was a supporting partner of BBFAW from 2012 until March 2021, and the programme was also part-funded by investment company Coller Capital from 2014 to 2017.)

Find out more about the Business Benchmark on Farm Animal Welfare here.
Transforming consumer awareness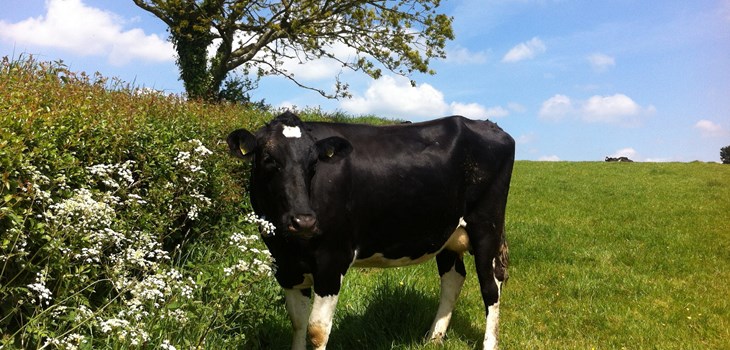 We reach a wide range of consumers through our media and partnership marketing activities.
Our winners promote their awards and higher welfare products through a number of marketing channels including advertising, in-store promotions and social media.
In 2021, French, higher welfare poultry producers, Les Fermiers de Loué, received Compassion's Best Marketing Award for their humorous and eye-catching street poster campaign, promoting their higher welfare chicken. Find out more and watch the video here.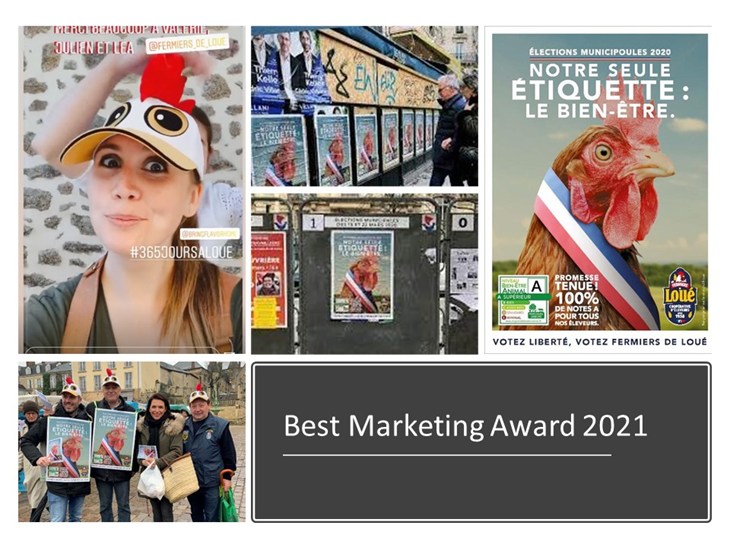 In 2019, Waitrose & Partners received our Best Retailer Marketing Award for their consistent and high level consumer-facing communications on farm animal welfare. Watch the video here.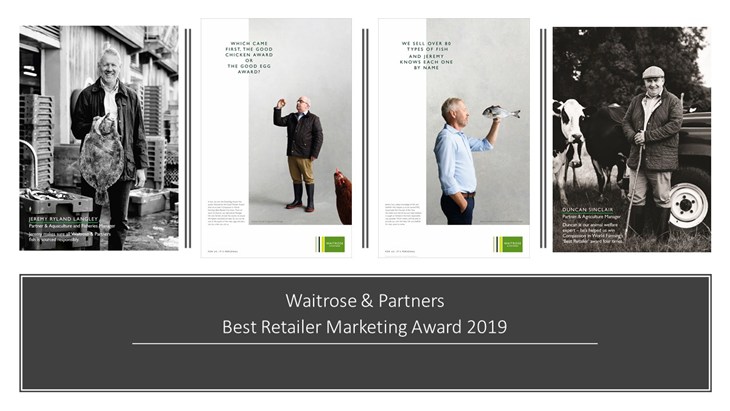 Our 2018 Best Marketing Award was awarded to Dutch manufacturer Kipster for developing and marketing the 'world's first carbon neutral egg'. Watch the video here.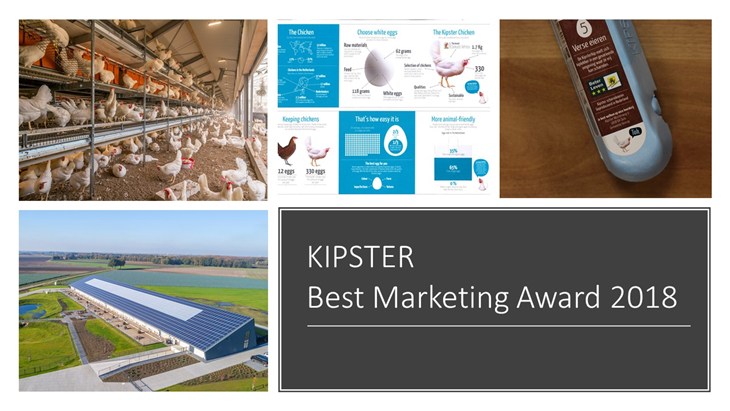 Find out more about our Retailer Marketing Award winners here and marketing awards that have been presented to other brands here.

Some other highlights:
Aldi Italy promoted their Good Egg Award through a range of channels reaching over four million consumers.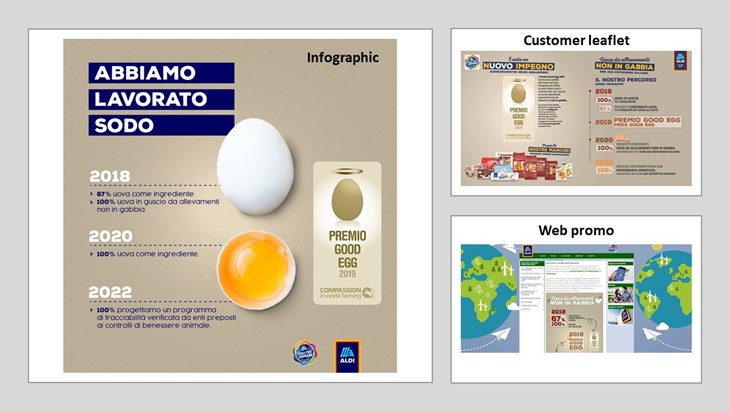 Philadelphia's marketing campaign to celebrate their Good Dairy Commendation in 2014 reached an estimated 14 million consumers across the UK and Benelux region.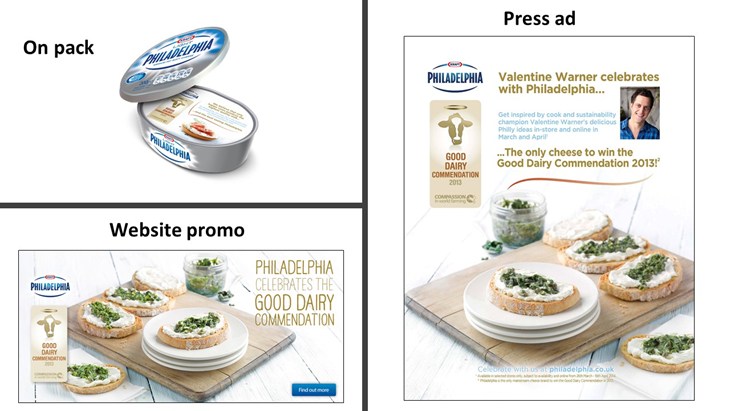 KLM's in-flight promotion of their Good Chicken Award reached an estimated three million passengers.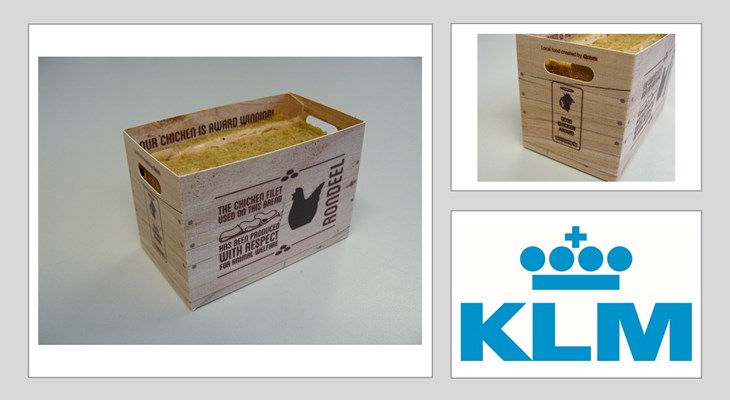 German pet food retailer Dokas has seized the opportunity to promote their higher welfare rabbit credentials reaching over 3 million consumers to date.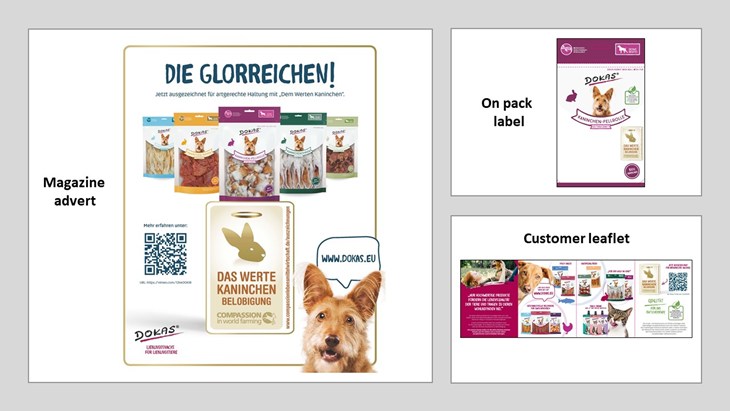 Look out for our award logos on your favourite branded products in store.
Interested in promoting your higher welfare products?  Watch this video and get inspired!
Our commitment to transparency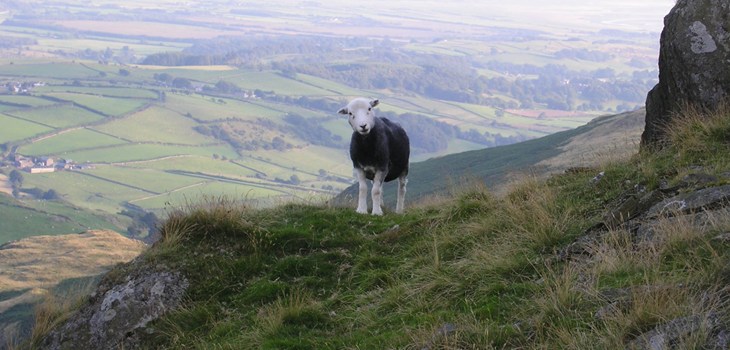 We work closely with the companies that we have awarded to help them meet their commitments on animal welfare. Like any other business decision, commitments should be made for the long term, with the dedication and resources to ensure a company is able to deliver on its promise.

We will always try to find an alternative to withdrawing an award, but if a company changes its policy and no longer meets the criteria for our award(s), we will publicly retract the award and record it here on our impact page.

To date, 180 million animals (each year) have been affected from awards that been withdrawn:
Good Egg Award
Morrisons (UK) – award withdrawn (2012) and reinstated (2018). In February 2020, Morrisons announced that they had met their cage free target for shell eggs 2 years ahead of schedule and now only sell 100% free range eggs in this category.
Good Chicken Award
Valverde (Italy) – withdrew from award 2019
Sainsbury's (UK) – award withdrawn 2018
IKEA (EU) – award withdrawn 2017
Coop Italia (Italy) – award withdrawn 2015
Amadori's 10+ Brand (Italy) – award withdrawn 2015
Coop (UK) – award withdrawn 2014
Good Dairy Award
ADSA (UK) - withdrew from award 2015