Harnessing the power of big business
When motivated, leading companies can make fast and decisive improvements that can benefit millions of animals, each and every year.
OVERALL IMPACT FOR ANIMALS – OVER 1.78 BILLION!
You are the change
Engagement with food companies and the Good Farm Animal Welfare Awards are just some of the ways that Compassion is helping to fight factory farming. By supporting Compassion, you too are at the heart of this movement for change and can help us turn millions into billions, by making a donation today.
Donate now
Since 2007, Compassion in World Farming's Food Business team has been working with some of the world's biggest food companies - retailers, producers, manufacturers and food service companies - to place farm animal welfare at the forefront of their corporate social responsibility agendas. The companies we work with are a key part of the drive towards a more ethical and sustainable food supply, through their procurement policies and support of higher welfare farming systems.
We have a team of specialist staff who engage with leading food companies, inspiring progress through our awards programme and supporting products and initiatives which represent tangible benefits for farm animals.
What we offer food companies
Awards for current policies or commitments to supply higher welfare and sustainable products.
Partnership on standards and product development to help raise baseline farm animal welfare standards.
Professional resources, advice and consultancy on farm animal welfare
Specialist marketing and communications activity.
Access to a wide network of international contacts and business opportunities.
Compassion in Food Business Corporate website
---
---
Share this page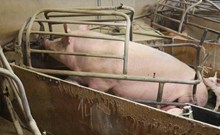 Donate today
BRANDS LEADING THE WAY
Major companies are starting to place animal welfare at the heart of their business.  Here are a few examples: