Published 18/06/2015
The first evidence that British-produced supermarket pig meat is contaminated by MRSA has been found in new research commissioned by The Alliance to Save Our Antibiotics. Compassion is a founding member of the Alliance, which is supported by the Jeremy Coller Foundation.
The research, funded by the A Team Foundation, was carried out by scientists at Cambridge University led by Dr Mark Holmes.
The results
Two samples of pig meat out of 52 bought from English supermarkets were positive for MRSA:
One sausage sample had two different MRSA strains
A third strain was found in pork mince.
Genetic analysis of the bacteria showed that the three MRSA were of livestock-origin.
What this means for consumers
The recent findings, of MRSA in retail pork, are a new and worrying development in the unfolding calamity of human antibiotic resistance.
 Zac Goldsmith MP
Cóilín Nunan, Principal Scientific Adviser to the Alliance, says: "Livestock-associated MRSA is evolving and more dangerous variations are emerging. Scientists are warning it could ultimately lead to a pandemic spread in humans as so many animals carry the superbug".
MRSA of livestock origin can cause serious and invasive human infections like blood poisoning, pneumonia, bone infections and heart infections and consumers eating pork twice a week may be exposed to MRSA every three months.
While adequate cooking will kill the MRSA, the threat lies in the fact that the bacteria can be transferred to people's skin when it is handled before cooking, potentially causing an infection at a later date.
People directly in contact with affected farm animals, including farmers and vets, are most at risk. However, an increasing number of cases are occurring in people with no direct livestock contact suggesting spread from retail meat, the environment or from human to human.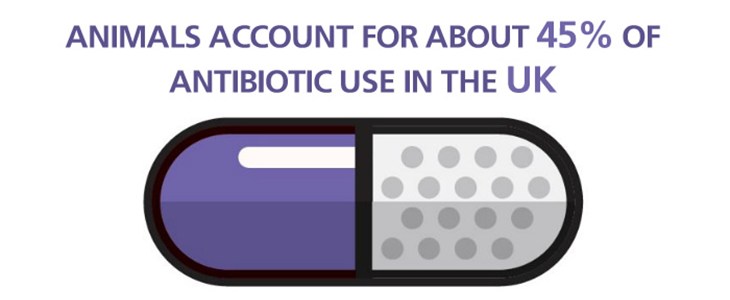 The overuse of antibiotics in farm animals
Philip Lymbery, our Chief Executive, says: "While the dangers of overusing antibiotics in human medicine are well documented, the impact of farm use and the associated spread of resistant bacteria into humans has been generally under-publicised – which is surprising, given that animals currently account for around 45% of UK antibiotic use.
"The causal link between on-farm antibiotic use and human resistance is nevertheless widely recognised by organisations including the WHO and the EFSA. There are already concerns that farm animals contribute to the 5,000 deaths a year in England caused by resistant E. coli bloodstream infections."
The Alliance to Save Our Antibiotics is encouraging retailers to review standards for meat and animal products and to set clear specifications around the use of antibiotics and good animal husbandry. The following specifications should be set for nationally sourced UK meat and animal products in the first instance, followed by a widening of these specifications throughout the supply chain to ensure this covers imported meat:
No modern cephalosporins used in pig production, poultry production or for dry-cow therapy. No off-label use of these antibiotics in any species.
No fluoroquinolones used in poultry – including off-label use.
Producers must demonstrate plans to phase out routine prophylactic on-farm use of antibiotics. This should include a commitment to stop all mass medication in feed or drinking water where no disease has been diagnosed in any of the animals in the group being treated. 
The discovery of MRSA in British retail pork is a worrying sign which highlights the need for urgent action to address antibiotic use in farming. Routine prophylactic use of antibiotics to treat groups of animals - when no disease has been diagnosed - is a practice which cannot continue. Disease prevention should achieved through a focus on good hygiene and husbandry. These findings show that humans are far from immune to the risk posed by overuse of antibiotics on our farms and the associated rise of drug resistance in animals. 
Kerry McCarthy MP
Take Action
The Government must stop antibiotics being used to prop up factory farming: