Gadhimai – a bloodbath no more
Published 31/07/2015
This week, animal sacrifices at Nepal's Gadhimai festival were banned by religious leaders at the temple where the event is held. Here, we explore how – with your passion and support – the world's largest animal massacre has come to an end.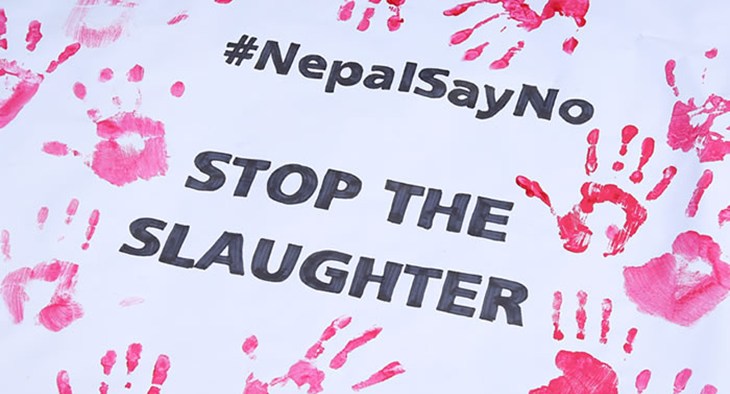 The Gadhimai festival was held every five years in the grounds of the temple of Gadhimai, the Hindu goddess of power, in the Bara district of southern Nepal. It saw hundreds of thousands of buffalo, goats, chickens and other animals slaughtered in a sacrificial ritual believed by participants to bring about health, wealth and happiness.
But, in a victory for animal-welfare campaigners the world over, the temple authorities have announced their decision to ban the ancient tradition, which will spare the lives of millions of animals in the coming years.
For the sacrificial creatures who would once have died there is now life, and that is the best outcome we could ever have imagined.
Joanna Lumley - Friends of Nepal and Compassion Patron 
"We have decided to completely stop the practice of animal sacrifice", said Motilal Prasad, secretary of the Gadhimai Temple Trust. "I realised that animals are so much like us – they have the same organs as us … and feel the same pain we do".
Gadhimai's beginnings
The biggest ritual killing of animals on the planet started 265 years ago. Legend has it that Gadhimai appeared to a prisoner in a dream, promising him his freedom in exchange for a blood sacrifice. And so began a gory custom that grew over the centuries into the mass slaughter of modern times.
Festival facts
Recent years have drawn 2.5 million worshippers (although some sources say this figure is as high as 4 million) from all over India and Nepal, who make the pilgrimage to the temple on Nepal's southern plains in the hope of a better life.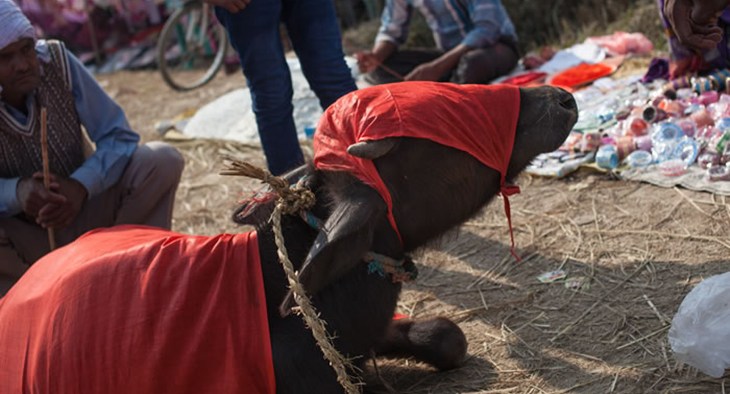 In 2009, it's estimated that a staggering 500,000 animals were led into the temple grounds and decapitated, often by unskilled butchers who take several swipes of the knife before putting the animal out of its misery.
This figure was much smaller in 2014, due to intense pressure from campaigners and protesters, a growing international awareness of the event and a ban on the movement of animals from India to Nepal. Despite this, our investigation unit found that the 2014 festival remained a very brutal affair, with thousands of devotees observing the bloodshed from high walls surrounding the enclosure.
A campaigning success
So how has such an ancient, ingrained ritual been stopped in its tracks? It's the result of years of campaigning from Animal Welfare Network Nepal (AWNN) – with help from Humane Society India (HSI) and international organisations including Compassion – who negotiated rigorously and tirelessly with the Gadhimai Temple Trust.
Our supporters also played a vital part in this victory: donations funded a whole host of educational and campaign materials that were used by AWNN in Nepal. Our campaigns team – along with 134,000-plus of you – put pressure on the Nepalese Government to ban slaughter at all festivals in the country, of which Gadhimai is the largest.
Compassion patron Joanna Lumley – who spoke at our protest in London last October – says: "I am so thrilled and moved to think that these awful animal sacrifices are to be ended at Gadhimai… For the sacrificial creatures who would once have died there is now life, and that is the best outcome we could ever have imagined."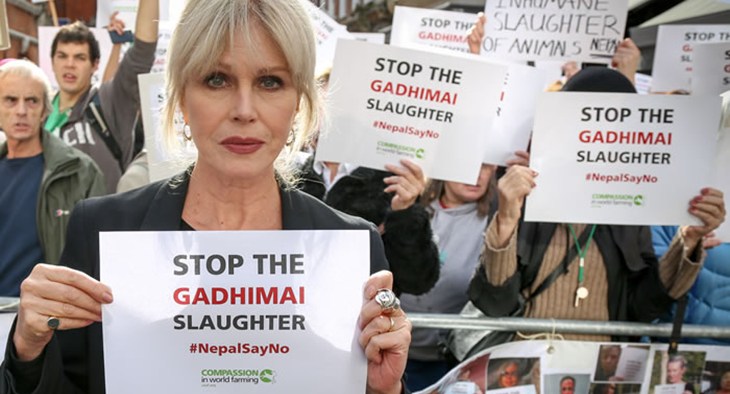 Gadhimai's future
So what now for Gadhimai? As Ram Chandra Shah, the chairman of the Gadhimai Temple Trust, said: "The time has come to transform an old tradition. The time has come to replace killing and violence with peaceful worship and celebration."
To ensure the festival in 2019 really is a "celebration of life", awareness must be raised across the region of the futility of killing animals to appease a god – a practice that's based entirely on superstition. Despite its heritage and immense cultural value, such senseless slaughter has no place in a humane world.
For now, the focus will be on maintaining the momentum gathered so far on this issue, through grass-roots education and campaigning. We hope that devotees will adopt a new way to participate in this festival, as well as others in the country that revolve around slaughter, so that celebrations of life replace traditions of death across Nepal.
Thank you to all our supporters who stood with us on this issue. This success is proof that, when united, we can win the fight against animal cruelty.
Help us end the cruelty!
Submit your email address to allow Compassion in World Farming to send you urgent campaign actions and news (you can unsubscribe at any time).