The rise of "Ag TV"
Published 03/07/2015
Former JLS superstar JB Gill is set to launch a new farming show for CBeebies, which got us thinking about other farming shows on TV. It seems there's one for every audience. Here, we look at the rise of Ag TV – and what it so often fails to say.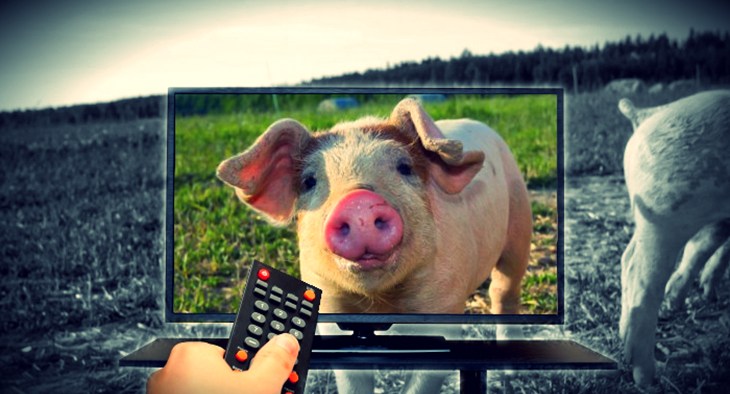 This week, it was announced that JB Gill, once a member of the successful boy band JLS and now a farmer, is to front a new five-part show for children called Down on the Farm. It's the latest in a growing number of TV shows that seek to explain where our food comes from and how it's grown, as well as encourage viewers to embrace the great outdoors.
Something for everyone
We've been spoilt for choice with farming shows over the last decade. Millennials have been amply catered for, from the celebrity-focused, early-Noughties series The Farm to the recent reality show First Time Farmers. Monty Don's aspirational My Dream Farm delighted keen DIYers, while history-lovers have enjoyed several BBC documentaries, from Tudor Monastery Farm to Edwardian Farm.
But it doesn't end there. There have also been cross-issue programmes, such as Young Black Farmers, as well as shows designed for the non-squeamish, such as Kill It, Cook It, Eat It. And then there's the ever-popular Countryfile, which has been running since 1988. Traditionally aimed at a slightly older audience, this Sunday night show is rapidly attracting a younger generation of viewers who care deeply about the countryside.
And, of course, farming issues are woven into many other programmes on TV, from The One Show and Food Unwrapped to all manner of celebrity-cooking programmes.
Sugar-coating the truth
So far, so good. It's extremely heartening to know how popular outdoors issues have become in recent years. There can be no denying the fact that people are very interested in themes surrounding rural life and traditions, food provenance and cultivation, the environment, gardening and cooking.
But something is missing. These TV shows tend to avoid talking about factory farming, choosing instead to paint a much more idyllic, sometimes "fluffy" picture of farming. On the one hand, that's understandable, when you think about the TV-ratings battles and the demand for glossy programmes that offer viewers some much-needed escapism. On the other hand, it's unacceptable and very disappointing, given that two-thirds of animals are farmed in this way. Isn't it time to balance out the "fluff" with the facts?
Time to get real
We're not suggesting that every farming programme on TV should document the cruelty and filth of factory farms at every opportunity – that would be alienating and distressing for anyone watching. But there is, arguably, a place for a more open and honest discussion on TV about where our food really comes from.
The sad and shocking truth is that although the sorts of higher-welfare farms that are portrayed in these TV shows are – of course – the ideal, they do not represent livestock farming in the main.
Counting on kids
It'll be really interesting to see whether the team at the BBC gives JB Gill the opportunity to broach the issue of factory farming on Down on the Farm, even if it's just to highlight how cruel and crazy intensive-farming methods are – and, by comparison, how the higher-welfare farming he chooses to do is better in just about every way.
Such a comparison would allow children to make up their own minds about how much fairer, greener and cleaner higher-welfare farms are, planting the seeds of knowledge they'll need to make the right choices at the till in the future.
The bottom line is that if we are to feed the world's booming population in the coming decades, we must inform the younger generation about where their food really comes from. As yet, children's pop culture shies away from the harsh realities of food production. And it's about time that changed.
Help us end factory farming for good.
Submit your email address to allow Compassion in World Farming to send you urgent campaign actions and news (you can unsubscribe at any time).