Published 25/08/2015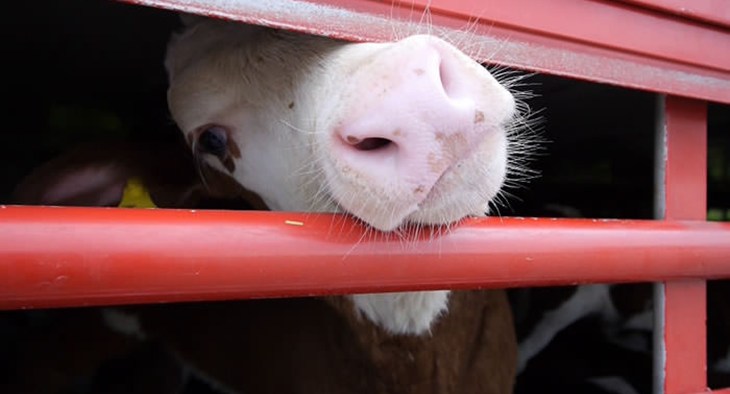 Our Investigation Unit, along with Animal Welfare Foundation and Tierschutzbund Zürich, has revealed the appalling treatment of thousands of young calves, some just a few weeks old, being exported live from Lithuania, Romania and Hungary to Israel for slaughter.
Actor Peter Egan, who narrated our investigation footage, says: "The suffering of calves exposed in Compassion's latest investigation is truly shocking.
"Young and terrified animals are transported on lengthy, stressful journeys by road and sea from Europe to Israel. They are kept in squalid conditions with little or no welfare provision, before facing a barbaric death.
"The distressing investigation footage will haunt me for some time. This misery should not be allowed to continue."
Cruelty uncovered
During the 4000km export journey over both land and sea, the investigation teams found little or no welfare provision for the un-weaned calves:
Animals were often not rested at appropriate intervals or provided with adequate access to liquid feed.
Transport trucks were not suitable for such young animals.
Many calves were loaded for transport when sick and weak or even unable to stand.
According to workers, due to the low value of the calves, regardless of how sick they became, they would not receive veterinary treatment.
At sea, where there is no regulatory body to enforce welfare legislation, the young calves suffer greatly. Mortality rates are believed to be high and it is common for animals to be thrown overboard during the journey.
Despite a recent landmark ruling by the European Court of Justice, which stated that European animal transport laws must be applied even during parts of the journey that happen outside of the EU, it is clear that there is no enforcement of the legislation and no consequences for those that break the law.
Dil Peeling, Compassion's Director of Campaigns, says: "The poor welfare conditions and cruel treatment of cattle exposed in this investigation highlights the suffering inflicted on animals exported outside the EU.
"As long as Europe's leaders continue to prioritise trade over the welfare of animals, these vulnerable calves will be the victims who pay the ultimate price for this cruel trade."