Published 16/10/2015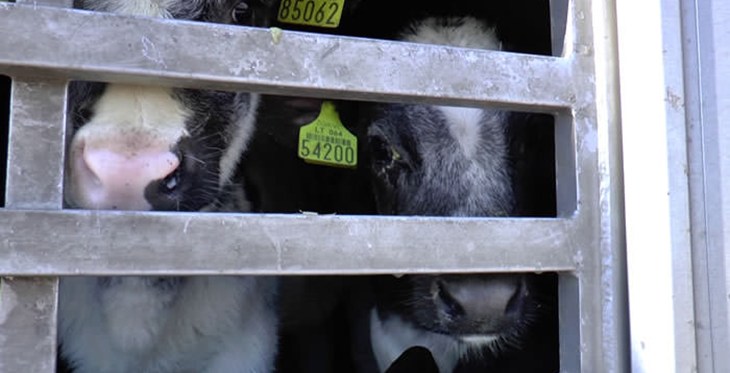 Every year, 3 million farm animals are exported live out of the EU for slaughter, fattening or breeding. They face terrible suffering on long journeys, and often also the final indignity – a horrific slaughter. We're campaigning to end this cruelty.
Imagine being taken from your family and made to travel for days in packed, sweltering conditions. You're uncomfortable, thirsty, exhausted and scared, and there's nowhere to lie down or stretch your legs. Often, you're beaten. It's hell on earth, and that's before you get to your final destination, where you're likely to meet a brutal, barbaric end.
This is the unacceptable, unimaginable reality for millions of Europe's farm animals, who are transported from the EU to farms and slaughterhouses in North Africa and the Middle East that would be illegal if they were in the EU.
Transporting calves
For any animal, such a journey and destination would be incredibly harrowing, but – as we discovered in our recent investigation – for a vulnerable, unweaned calf, the suffering is immeasurable. Along with two other NGOs – Animal Welfare Foundation and Tiershutzbund Zurich – we documented the appalling treatment of calves heading for Israel and Palestine from Eastern Europe.
Only weeks old, these defenceless animals are transported up to 4,000km – first in lorries and then boats that are notoriously unfit for purpose – and denied adequate rest, food and water. Their undeveloped systems are unable to provide immunity, deal with stress and control body temperature in response to the squalor and violence they face.
Inevitably, given these conditions, many calves don't survive the journey, and evidence suggests high mortality rates in the weeks following transportation, when these abused creatures often succumb to secondary diseases as a consequence of their ordeal.
#CowOnTour
To raise awareness for the plight of these ill-treated farm animals, Compassion has launched #CowOnTour – a month-long, pan-European event that will see a life-size cow sculpture travel from London to six other major European cities. The aim is to encourage public backing for our campaign to get live exports from the EU completely banned.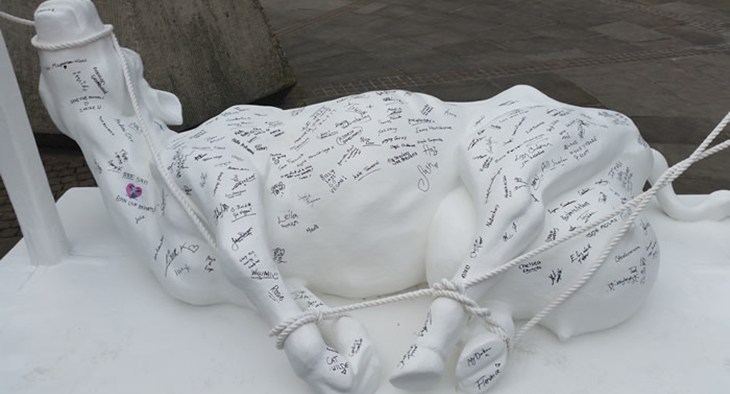 The white, fibreglass sculpture, which was inspired by a particularly disturbing scene witnessed during our investigation, depicts a cow that's brutally restrained and contorted in pain. It's designed to be a blank canvas for supporter signatures and will take on a more lifelike white-and-black appearance as it collects signatures along the way.
London event
This innovative, giant 3D petition started its journey last Friday with an impassioned protest outside the European Commission offices in central London. Harry Potter stars Evanna Lynch and Robbie Jarvis, MEP Jean Lambert and dozens of spirited supporters joined Pru Elliott, our Campaigns Officer, who led proceedings.
As Pru said: "No animal should ever experience that kind of suffering – but they do, in their millions. Because the Commission won't tackle the problem. That's why we need the voices of people across Europe, calling for an end to this trade, to apply pressure where it's needed – directly at the Commission and the Commissioners themselves."
Evanna and Robbie praised the campaign stunt as a powerful exposé. As Evanna said: "Most people don't realise the cruelty that's occurring all over the world. The live-export industry needs exposure like this. I hope #CowOnTour makes people think, as this protest is vital to raise awareness of this cruel trade and influence decision-makers."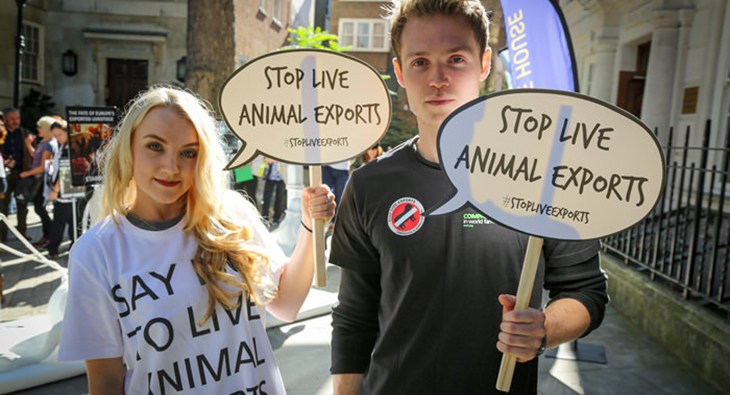 Have your say
The hard-hitting cow sculpture is now en route to Paris, The Hague, Berlin, Warsaw, Prague and Rome. At the end of its pilgrimage, it will be delivered to the European Commission with a simple message: "STOP LIVE EXPORTS!"
Whether you're able to attend one of our events or not, you can still make a huge impact – by tweeting about our #CowOnTour campaign, signing up to our online petition and telling your friends about it. It's time this gut-wrenching treatment of so many farm animals was brought to an end, and the trade restricted to meat. But, as ever, we need your help.
We'll leave you with the words of MEP Jean Lambert, who hit the nail on the head at last Friday's event when she said this of the Commission: "If they're serious about better regulation, then one of the things they can do is actually ban the live animal export trade. That is better regulation, it's popular regulation, it's what people want to see."
We couldn't agree more.
If you want to see an end to live exports, join our #CowOnTour or sign up to our online petition – and be sure to share on social media. Thank you!