Published 18/11/2015
Compassion has presented 14 Chinese producers accolades at today's (18th November) annual Good Pig Production Awards ceremony in Westminster. Held in association with the International Cooperation Committee of Animal Welfare (ICCAW) Compassion continues to help improve the lives of pigs in China.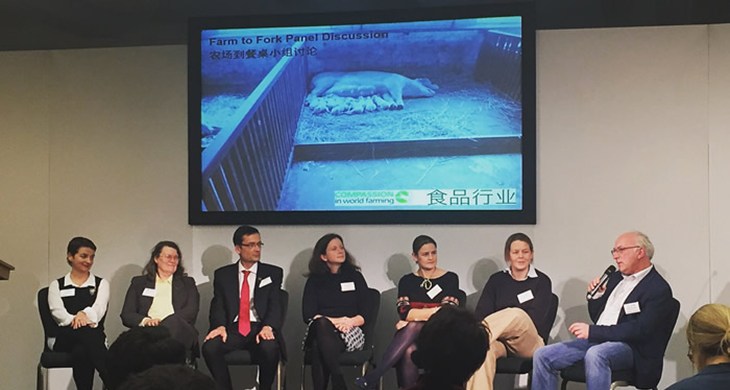 Eight representatives of the 14 deserving winners from China were present to receive their awards, as well as to hear from experts in pig welfare and food industry leaders including Sainsbury's and BQP.
The world's largest producer of pigs
China is currently the world's largest producer of pigs, rearing an astounding 726 million a year. Over 60% of the world's pork is consumed in China and this level seems set to increase with the inevitable population growth.
In order to meet this demand, there has been a major shift away from traditional small scale pig farms to large scale intensive production. In turn this brings with it intensive systems, such as sow stalls and farrowing crates, and intensive practices, including tail docking and teeth-clipping.
It is these methods that Compassion and ICCAW are educating against, through the Good Pig Production Award which recognises Chinese producers for implementing higher welfare standards within their pig production systems.
1 million pigs set to benefit
Our CEO, Philip Lymbery, said: "We are delighted so many of our winners were able to join us here in the UK for the award ceremony. And it is fantastic to see the improvements previous winners have made over the past 12 months.
"To date, nearly 1 million pigs are set to benefit each year through our Good Pig Production Award winners' policies – that's certainly something worth celebrating!"
Successfully implementing change
Many large Chinese pig producers are already recognising the benefits of higher welfare production with two 2014 winners demonstrating the successful implementation of previous commitments:
Sanmenxia Chuying Agri-husbandry Co Ltd has moved up from two Stars (for achieving basic requirements and committing to no tail docking) to three Stars this year, for stopping the practice of tail docking within one year, and additionally achieving no teeth clipping as a current practice
Beijing Taixinfumin Pig Production Co. Ltd has improved its ranking from one Star (meeting basic requirements last year) to three Stars for its commitment on no teeth clipping or tail docking – whilst using western breeds which can be more challenging than using traditional Chinese breeds
Our Director of Food Business, Dr Tracey Jones, said: "It has been a pleasure to host the Good Pig Production Awards yet again this year. The participants are so keen to learn and implement steps to improve their animal welfare standards back home.
"In just its second year, one of our first winners has already moved up the star rating, and companies wishing to build and operate new 5 star accommodation for their pigs are beginning to engage with us. We never thought we could gain so much traction in such a short timeframe – it truly is remarkable."
Congratulations to our award winners