Published 24/02/2016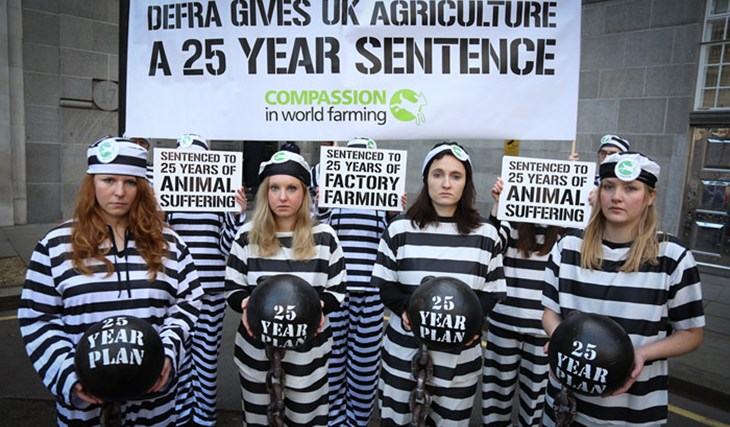 Today (Wednesday 24th February), Compassion staff posed as prisoners outside Defra's headquarters in London. We held mug-shot style signs and ball and chains etched with the words '25 Year Plan'.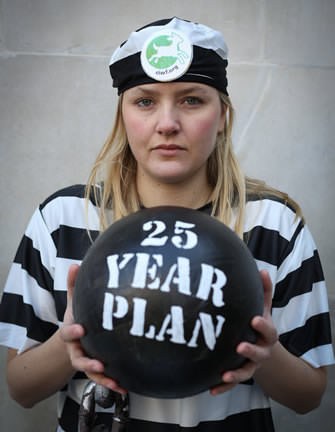 The stunt was held to raise awareness of the long-term sentence that UK agriculture will receive should the proposed 25 year food and farming plan go ahead. We want to encourage Defra to reconsider the document before it is published within the next few weeks.
The plan will serve as a longstanding strategy for UK agriculture, determining how Defra will use public money and future policies to develop the food and farming sector.
It is understood that the plan will focus on increasing productivity, competitiveness and agri-tech. This would be detrimental to our health, the environment and animal welfare.
A 25 year sentence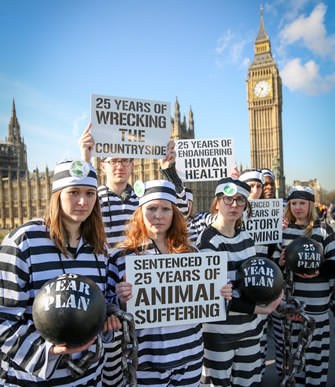 Our Campaign Manager, Daphne Rieder, who organised and took part in the event, says: "Today, we are dressed as prisoners because we believe that Defra's 25 year plan is sentencing UK agriculture to 25 years:
• 25 years of factory farming
• 25 years of animal suffering
• 25 years of wrecking the countryside
• 25 years of endangering human health
• And 25 years of fuelling climate change!
"Defra's plan will do nothing to tackle the poor levels of animal welfare that are still common in parts of England's pig, poultry and dairy sectors.
"We urge Defra, even at this late hour, to put the draft plan on hold and work with all stakeholders rather than just the industry to develop a plan that addresses all the objectives of a good food and farming system."
Today, we delivered our own 25 year plan to Defra which we believe would pave the way for a healthy and sustainable food and farming system, providing high animal welfare standards.
Urge Defra towards humane and sustainable farming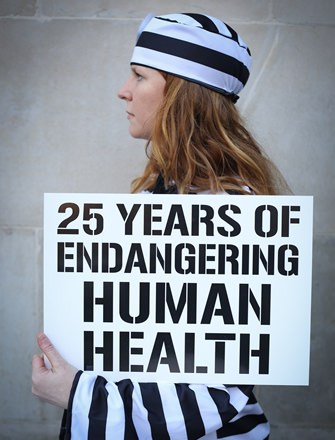 Peter Stevenson, our Chief Policy Advisor, says: "We are here to urge Defra to develop a plan that will facilitate the production of higher welfare, sustainable and healthy food."
Email the British farming ministers today and urge them to adopt resolutions that will have a hugely beneficial effect on the lives of animals, the environment and human health.
Image copyright Compassion in World Farming / Jim Philpott Photography