Published 15/04/2016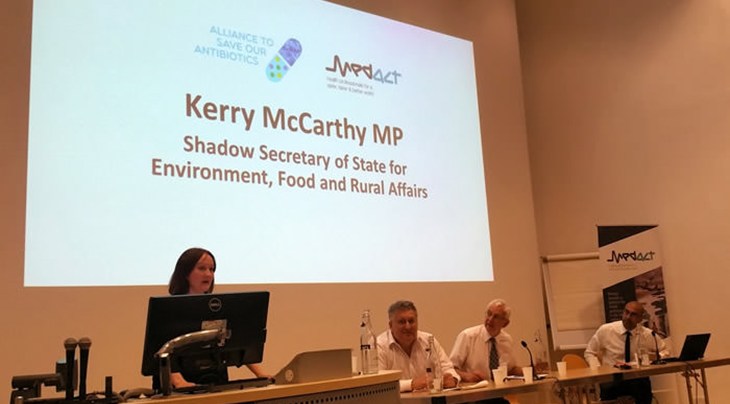 We are thrilled that Kerry McCarthy has confirmed the Labour party will support the Alliance to Save our Antibiotics' goal to set clear targets to reduce the use of antibiotics in farming.
She made the announcement at a conference jointly hosted by the Alliance to Save our Antibiotics - of which Compassion is a founding member - and Medact on 14th April, bringing together stakeholders from a wide variety of backgrounds, from policy-makers and health officials to farmers and veterinarians.
Worrying new report
The Alliance to Save our Antibiotics unveiled a new report at the conference, showing that the effectiveness of fluoroquinolone antibiotics, which are classified as critically important in human medicine, is being undermined by their continued use in poultry.
It also proves that countries that have banned these antibiotics in poultry, such as the US, have much lower levels of resistance in human Campylobacter infections than countries that still use them.
Time to be kinder to animals
Antibiotics are widely used in intensive farming to compensate for low-welfare conditions. Farming systems that give animals more space and promote animal health and welfare require fewer antibiotics.
Peter Melchett, Policy Director of the Soil Association who chaired a session at the conference, summed up the sentiment of the day perfectly by saying: "We don't need to find new ways of treating disease, we need to find new ways of avoiding it".
Read the full report here.
Take action
Ask your MP to tell the Government to listen to the evidence and stop the routine use of antibiotics to prop up cruel, crazy factory farming.
Don't stand for this reckless abuse, help us continue to campaign for the end of antibiotic misuse by donating to Compassion today.
The Alliance to Save Our Antibiotics is an alliance of health, medical, environmental and animal welfare groups working to stop the overuse of antibiotics in animal farming. It was founded by Compassion in World Farming, the Soil Association and Sustain in 2009, and is supported by the Jeremy Coller Foundation.