Published 23/04/2016
Anita Jeram is a celebrated children's book illustrator, best-known for her work on the hit title Guess How Much I Love You. Excitingly, she's created a series of drawings to help us End the Cage Age and donated two originals to help raise funds for the campaign.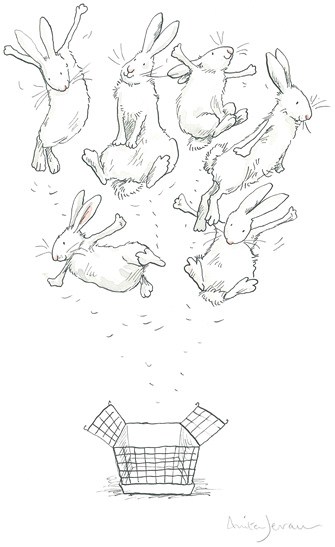 Over her 25-year career, Anita Jeram has brought to life some of literature's best-loved animal characters. With an enviable portfolio that includes some of the most celebrated picture books of all time – from the bestselling Guess How Much I Love You to a variety of Dick King-Smith titles – she's an artist whose work has almost certainly touched your life in some way.
And it's about to do so again, because Anita has generously created a series of eight unique rabbit-focused illustrations in a show of support for our End the Cage Age campaign. We are delighted that Anita has chosen to donate not one but two originals to help raise funds for the campaign.
In these drawings, there is a clear expression of joy from bouncing bunnies who are free to hop, skip and jump.
These pieces reveal Anita's compassion for animals and her unwavering conviction about what is fair for rabbits.
You don't have to be an expert to know what is right or wrong. Sometimes your heart tells you, and you have to go with your instincts. Mine tells me that cage farming of rabbits is going too far.
Anita Jeram
We're very proud that Anita has chosen to make a stand by creating these poignant illustrations, especially for our campaign. When asked if art can change the world, Anita replies concisely: "One mind at a time." The artist hopes that her stunning work will alert people to the harsh realities of Europe's factory farming of rabbits, ultimately making a difference to the lives of animals everywhere: "You can't object to something if you don't know it happens", she asserts.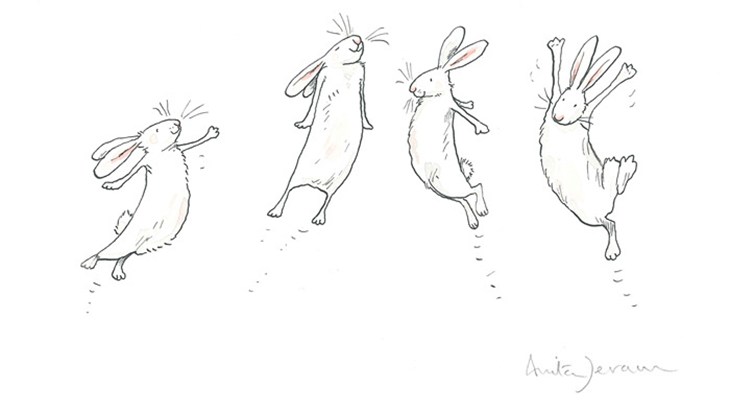 Your chance to win:
We're hugely grateful to Anita for contributing these exquisitely powerful images and now it's your chance to win one of her beautiful, original, signed illustrations.
And whether you choose to bid or not then please share it with your friends too so that, with your and Anita's help, we can raise much-needed funds for the campaign to free Europe's farm animals from cages. Auction closes on 2nd May.