Published 29/06/2016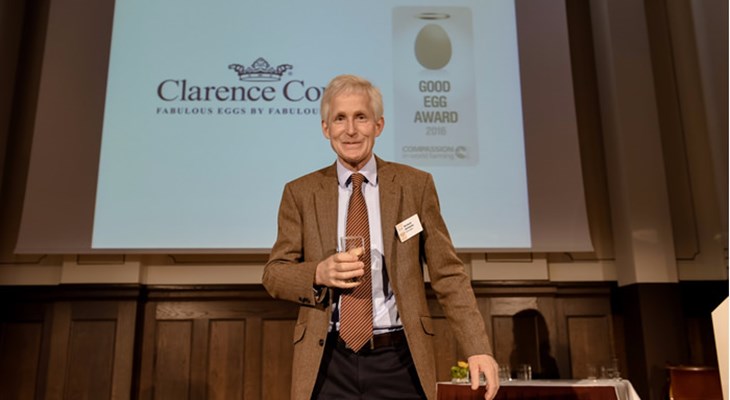 Our Good Farm Animal Welfare Awards were held in Berlin last night (28th June). The awards celebrate the commitment of leading food businesses to improve animal welfare standards and embrace higher welfare policies and practices.
Tipping point
Philip Lymbery, our Chief Executive, opened the ceremony, saying: "We're celebrating change. Our approach is one of commitment and collaboration. Our awards are a celebration of better products, better ethics, and better animal welfare."
"With more winners than ever before, and over 85 million animals set to benefit each year, we really feel that the issue of farm animal welfare may have reached a significant tipping point."
Hosted by singer-songwriter and animal welfare advocate Blanche Elliz, we announced winners from North and South America, Australasia, China and Europe, demonstrating that awareness of farm animal welfare is rising in the public and business consciousness globally.
This year's Awards saw a whole raft of 'firsts'. Not only did we start to raise awareness of farm animal welfare in South America by presenting Chilean hen farmer, Pablo Albarren from Ecoterra, with a Good Egg Award, the first ever Award in the region, but there was also the first Good Egg Award presented for quail egg production, and the first full Good Pig Awards in Italy. Find the complete list of the winners here.
Pushing the boundaries
One of our winners said: "Other advocacy organisations should model themselves on Compassion – who help you and push the boundaries."
Our Director of Food Business, Dr Tracey Jones, said: "The Good Farm Animal Welfare Awards always make me very proud of what has been achieved so far but also serves to remind me that there is still much to be done to spread the animal welfare message and ensure more and more businesses globally realise there is not just an ethical imperative to address farm animal welfare, but a commercial one too."
Find out more about our winners.
Full list of winners*:
*full details of winners' policies available on request
Good Egg Award Winners
Aldi Nord (Retailer - DE)
Aramark (Food Service - US)
Clarence Court (Manufacturer - UK)
Compass (Food Service - US)
Ecoterra (Manufacturer - Chile)
Five Guys (Food Service - UK)
Greene King (Food Service - UK)
Gourmet Burger Kitchen (Food Service - UK)
Happy Egg Co. (Manufacturer - US)
Harry's (Manufacturer - FR)
McDonald's (Food Service - AUS)
McDonald's (Food Service - NZ)
Mitchells & Butlers (Food Service - UK)
Monoprix (Retailer - FR)
Pret (Food Service - UK)
Pret (Food Service - US)
Procuratio (Food Service - DE)
Rema 1000 (Retailer - NO)
REWE (Retailer - DE)
Tchibo (Food Service -DE)
Good Chicken Award Winners
Capestone Organic (Manufacturer - UK)
Ella's Kitchen (Manufacturer - UK)
Jumbo Supermarkten B.V. (Retailer - NL)
Migros (Retailer - CH)
Réné Meyer (Manufacturer - FR)
Schiever – bi1 brand (Retailer - FR)
Terrena Nouvelle Agriculture (Manufacturer - FR)
Good Dairy Award winners
Pret (Food Service - UK)
Rachel's (Manufacturer - UK)
Good Dairy Commendation winners
Bel Portugal (Manufacturer - PT)
KLM Royal Dutch Airlines (Food Service - NL)
Good Pig Award winners
Cook (Manufacturer - UK)
Fumagalli Industria Alimentari S.p.A. (Manufacturer - IT)
Primavera (Manufacturer - IT)
Good Sow Commendation winners
Madeo Tenuta Corone (Manufacturer - IT)
Marcos (Manufacturer - ES)
Good Rabbit Award winners
Coop Switzerland (Retailer - CH)
Kani-Swiss (Manufacturer - CH)
Real (Retailer - DE)
Good Rabbit Commendation winners
Best Innovation Award 2016
Plukon Food Group (Manufacturer - NL)
Best Marketing Award 2016
McDonalds (Food Service - UK)
Special Recognition Award 2016
Whole Foods Market / Global Animal Partnership (Retailer & NGO - US)