Published 03/06/2016
EU Quail Investigation
PLEASE BE AWARE THIS VIDEO CONTAINS SCENES OF A DISTRESSING NATURE.
We have carried out a first time expose of Europe's quail industry and discovered that over 142 million quail are kept in factory farmed conditions.
The previously unknown quail farming industry, shows quail confined in tiny wire cages, causing injuries and stress.
The price of 'luxury'
Quail is often marketed as a 'luxury' product, yet our investigation shows the majority of these quail are used for meat production and spend their entire lives on overcrowded factory farm floors or in cramped cages; the space allowance for many quail may be no bigger than a beer mat.
Of the over 400,000 quail farmed every year for their eggs, more than 90% of them spend their entire lives in tiny barren cages, where they have little space to move and express their natural behaviours.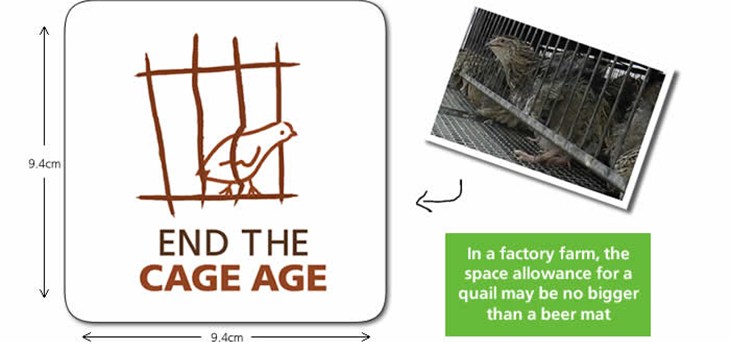 Tiny birds, immense suffering
A Compassion Investigator said: "Witnessing such tiny, fragile birds being subjected to the callousness of overcrowded, filthy factory farm conditions was devastating.
"Quail are the smallest animal to be factory farmed, but this comes at a big price."
Higher welfare systems for farming quail do exist, where birds are kept in naturally lit barns with more space to roam and dustbathe, some also have access to the outdoors with natural grass cover. The sad reality is that almost all of the EU's quail production is undertaken in low welfare, barren conditions.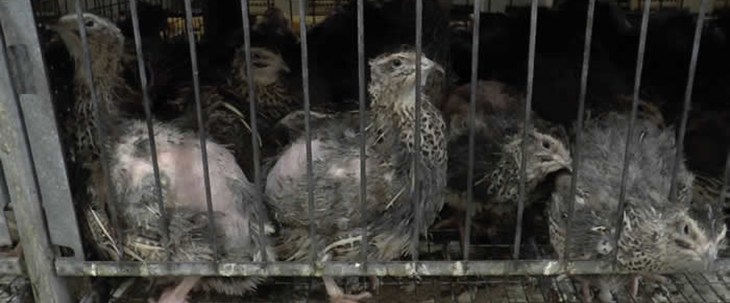 End the Cage Age for quail
James West, Compassion's Senior Campaign Manager says: "Quail are seen as a delicacy and a luxury product, when in fact the reality couldn't be further from the truth. Sold for a premium price in supermarkets and top restaurants in the UK, Portugal, Spain, and Germany, the vast majority of quail are reared in horrendous conditions.
"It is unacceptable that the EU has banned the keeping of hens in barren battery cages while still permitting quail to be kept in similar cages. The farming of quail in cages is cruel and must be phased out."
Call on the European Commission to End the Cage Age for quail.