Published 02/03/2017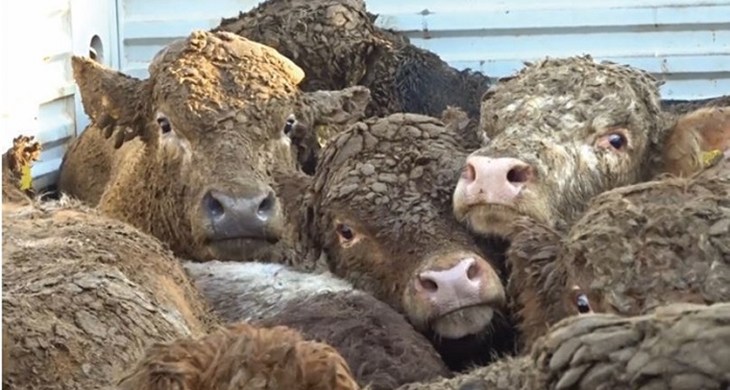 Footage provided by Eurogroup for Animals and Animals International, shows the awful conditions and distress that the animals endure whilst being transported long distances to slaughter.
The animal welfare groups partnered to conduct a six month investigation documenting the handling and slaughter of European cattle and sheep in Turkey, Lebanon, Jordan, the Palestinian territories and Egypt. 
The Findings
The evidence gathered by investigators reveals clear breaches of international agreements and is horrific in terms of animal suffering. The evidence includes:
workers abusing animals with mechanical and electrical prods
animals covered in thick layers of excrement, suffering from respiratory problems and diarrhoea
sample arrival temperatures recorded at up to 31°C on arrival, which is uncomfortably hot for animals who cannot regulate their body temperatures.
Stop the Trucks
The investigation's findings are part of the framework for the campaign Stop The Trucks. In order to motivate decision makers to take a political stance against long distance live animal transport, there will be an official event, held in Brussels on 6th March, where the footage from this investigation will be shown.
Parts of this footage can be viewed here. Please note this video contains some distressing scenes.
Peter Stevenson, our Chief Policy Advisor, commented on the footage: "This new footage highlights the immense suffering inflicted on over two million EU cattle and sheep exported each year to the Middle East, Turkey and North Africa.
"The long journeys often involve many hardships - overcrowding, hunger, thirst and brutal treatment. Slaughter practices in the importing countries are unimaginably cruel.
"Time and again we have told the European Commission and the exporting Member States about the problems but they refuse the halt this trade – the profits pouring in drown out any concern for the terror and pain experienced by the animals. We call on the EU to end this pitiless trade."
Investigations such as these are crucial to raise public awareness and also to create momentum for Stop The Trucks as a campaign.
Eurogroup for Animals, of which we are a member, is calling for transport of meat instead of transport of live animals. They also call for any remaining live animal transportation to be limited to 8 hours for mammals and 4 hours for poultry.
They commented:
"Amongst these worn-out animals are the old, the weak, and the newly born. Their plight is even worse when they are transported outside the EU, where journeys can last hundreds of hours without interruption."
Each year, at least 1 billion live poultry and 37 million live cattle, pigs, sheep, goats and equines are transported over long distances within the EU and Third countries. Their journeys can last several days exposing animals to exhaustion, dehydration, injuries, disease, and even death.
You can read more about the Stop The Trucks campaign and how to make a difference here.