Published 17/03/2017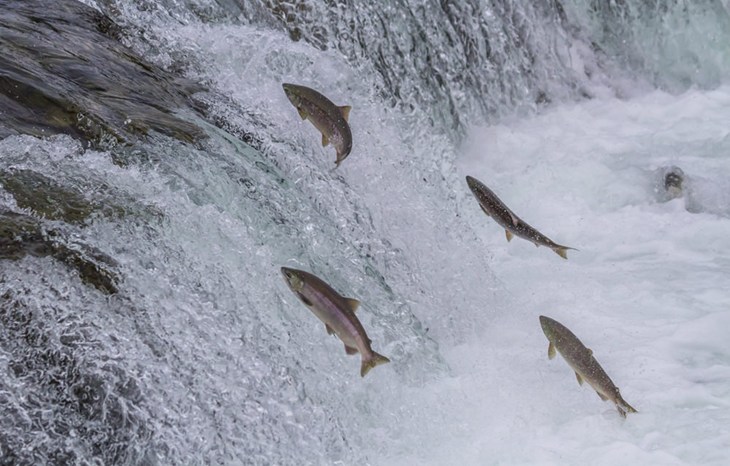 Yesterday (16th March) we attended an event in Edinburgh lead by the Global Alliance Against Industrial Aquaculture (GAAIA) to highlight the concerns associated with intensive salmon farming.
Industry leaders celebrate milestone
The Scottish Salmon Producers Organisation (SSPO) were celebrating the 25th anniversary of their quality awards with a conference and the GAAIA held a protest.
The SSPO talked at their conference about "the huge potential for Scottish salmon" by which we deduce they are referring to their recent plan to double aquaculture by 2030.  With current salmon farming production at 177,000 tonnes that would mean another 177,000 tonnes of increased capacity in the next 13 years. 
The average salmon farm size is currently just over 1,000 tonnes so these plans could mean over 150 new farms and/or expanded production at existing sites.
Open-net cages are used to farm salmon and Scotland is currently the largest producer of Atlantic salmon in the EU, and the third largest globally.
Unsustainable in its current form
The GAAIA protested outside the conference and had substantial support from the public. Our Chief Policy Advisor, Peter Stevenson, was in attendance prior to the protest at a briefing session, to talk about intensive salmon farming, the surrounding issues and to answer questions from the audience on this topic.
Peter commented:
"There are a wealth of issues surrounding salmon farming. Often tens of thousands of salmon are confined in a cage.
"Continuing outbreaks of sealice and disease, combined with severe animal welfare problems arising from the treatments used to control the sealice (such as the thermolicer), and threats to the wild salmon population, all raise questions about the validity of salmon fish farming as a sustainable model in its current form."  
He added: "If you wouldn't buy battery eggs, don't buy farmed salmon."
It is hoped that the briefing with Peter and the protest itself will inspire MSPs, the media, and chefs alike to seriously question what SSPO claim to be "the renowned production of high quality, sustainable salmon". 
To find out more about buying sustainable or organic fish and to download our Compassionate Food Guide click here.