Published 23/05/2017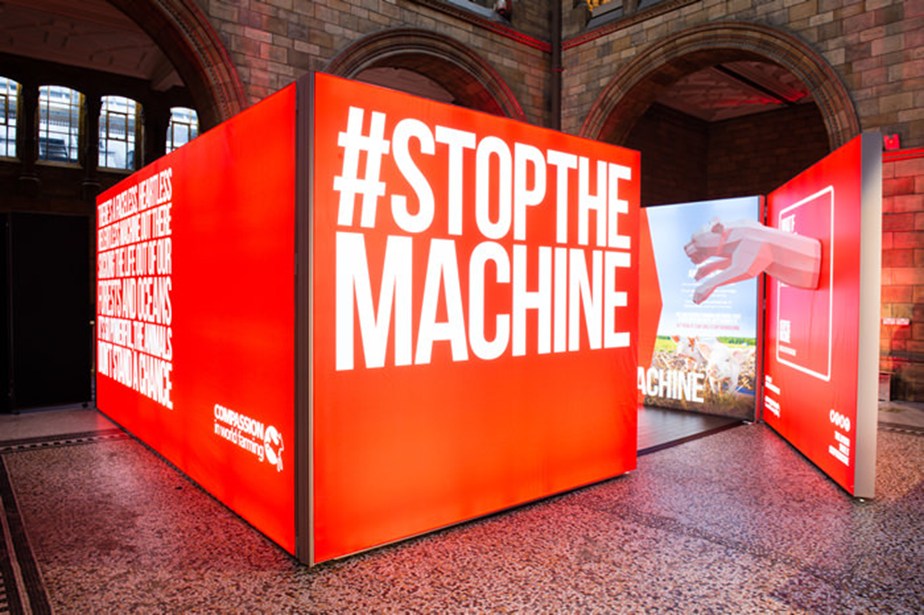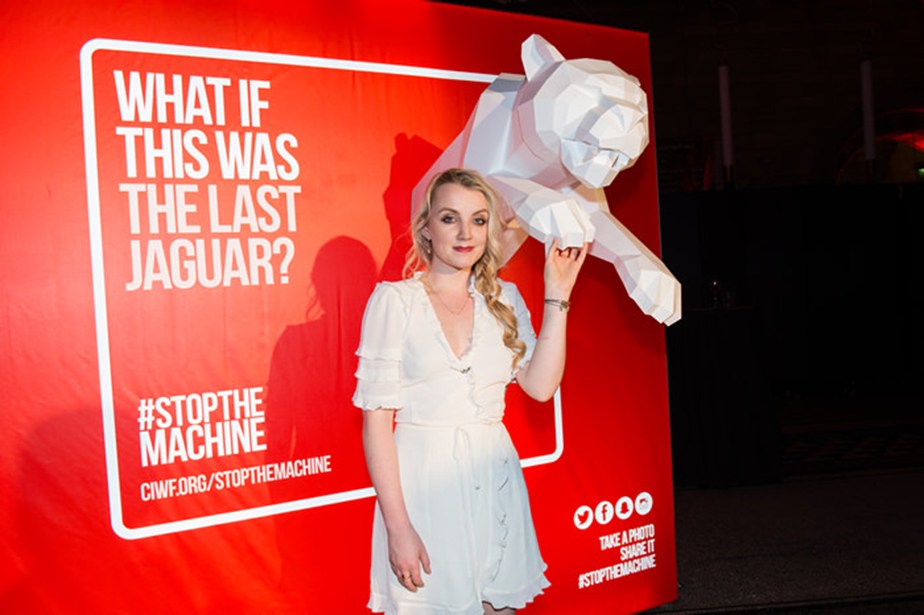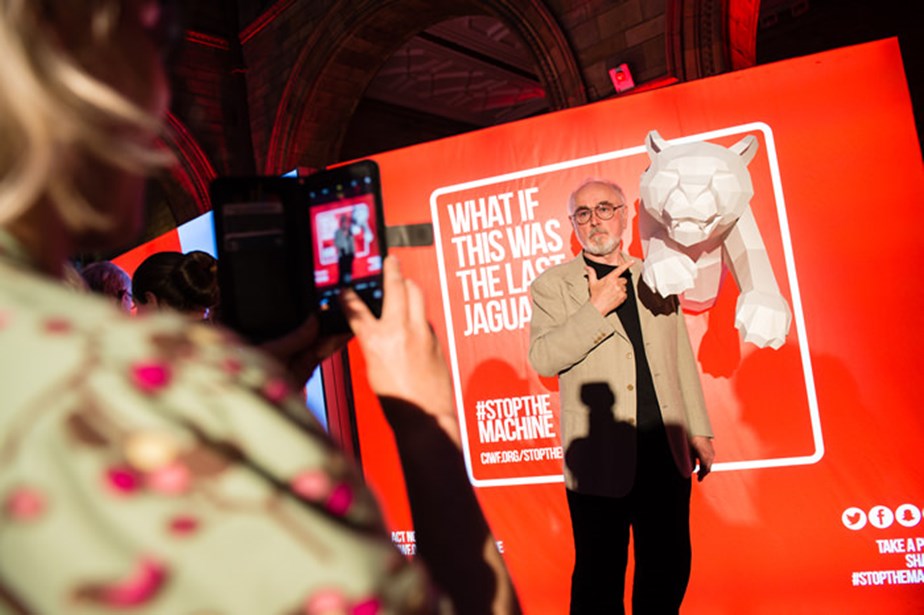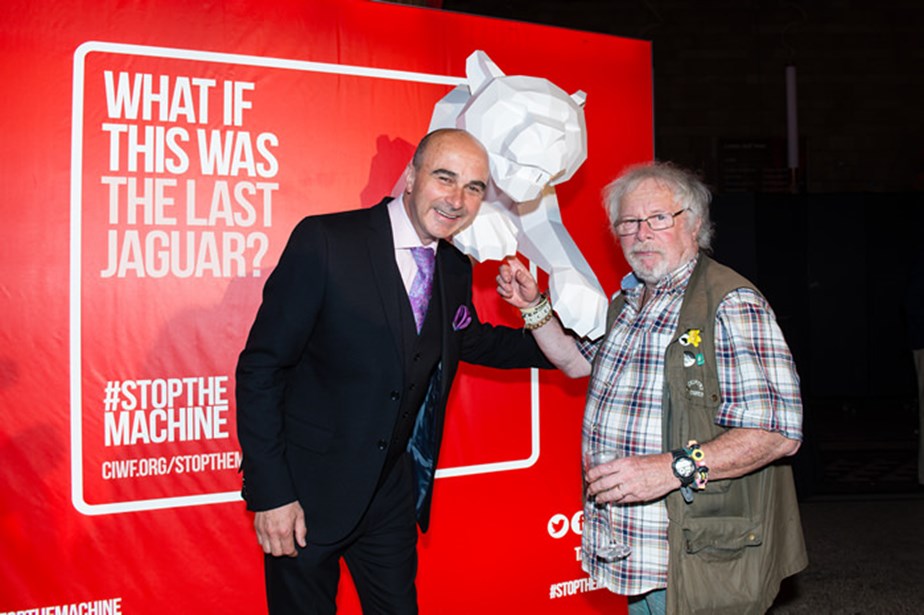 Last night (22nd May), we launched our STOPTHEMACHINE campaign at the Natural History Museum in London.
A relentless machine
STOPTHEMACHINE calls for an urgent rethink of the way we produce and consume food before it is too late.
Informed by the global investigation undertaken by our Chief Executive, Philip Lymbery, for his new book, Dead Zone: Where the Wild Things Were, the campaign explores the link between factory farming and the plight of some of the world's most iconic and endangered species.
Many people are aware that animals such as penguins, elephants and jaguars are threatened by extinction. However, few know that intensive farming, fuelled by consumer demand for cheap meat, is one of the biggest drivers of species extinction and biodiversity loss on the planet.
Time to STOPTHEMACHINE
The campaign launch was attended by celebrities, journalists and NGOs. Keynote speakers included award-winning wildlife expert Simon King OBE, leading British environmentalist Tony Juniper, conservationist Stanley Johnson and the naturalist and great-great grandson of Charles Darwin, Chris Darwin.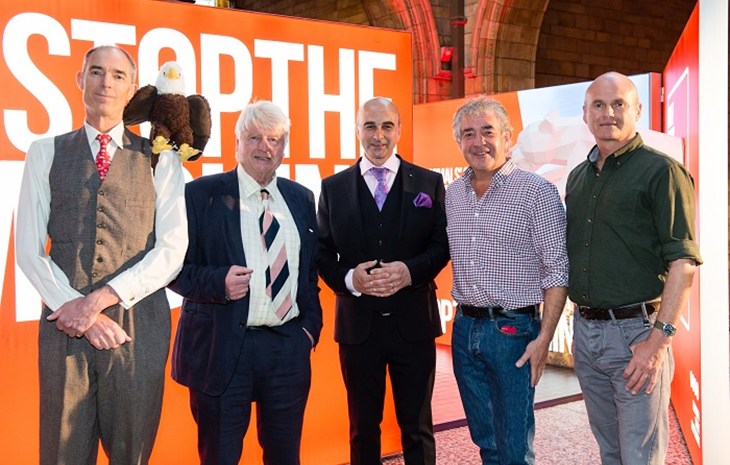 Simon King OBE said:
"The final goal of every campaign like this is that it no longer needs to exist.
"We're not powerless in this battle. I'd like to hope that you go away from this evening feeling empowered."
He went on to read the D.H. Lawrence poem 'The Triumph of the Machine':
"They talk of the triumph of the machine, but the machine will never triumph."
European tour
Over the coming months, STOPTHEMACHINE's immersive exhibition will travel to a variety of locations across Europe and open people's eyes to the global demand for food that drives two-thirds of the loss of wildlife happening today, caused by intensive agriculture.
Venues include a ticketed supporter event on 24th June at Savoy Place in London, the European Parliament in Brussels from 4th-8th September, the Evolution Festival in the Czech Republic from 23rd-24th September and the Extinction and Livestock Conference at the Queen Elizabeth II Conference Centre in London over 5th-6th October.
If you care about wildlife, you should care about factory farming
Our CEO, Philip Lymbery, said:
"Last night's launch went incredibly well and I was thrilled to see the level of support and enthusiasm from its attendees.
"STOPTHEMACHINE is a crucial campaign that sends out a clear message: if you care about wildlife, you should care about factory farming.
"The campaign encourages consumers to choose pasture-fed, free-range or organic foods and urges governments to support alternative farming methods that work in partnership with nature and the wildlife that lives there. This is the ultimate key to preserving biodiversity. When farming starts to work with nature, and not against it, the benefits are endless."
You can find out more about the STOPMACHINE campaign here.
Call on the EU Commissioner for the Environment, Karmenu Vella, to provide farmers with financial incentives to move away from factory farming and play your part to help STOPTHEMACHINE.