Published 29/06/2017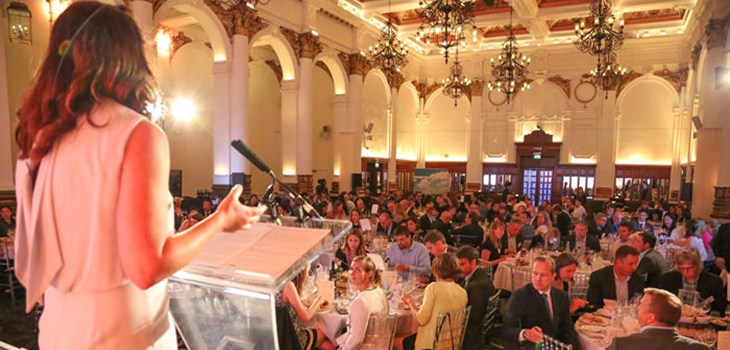 Yesterday (28th June), our Good Farm Animal Welfare Awards ceremony took place in London. Leading food businesses from across the globe were celebrated for their commitment to improving animal welfare standards throughout their supply chains.
The event kicked off with an afternoon of corporate insights on farm animal welfare developments from around the world, delivered by expert speakers.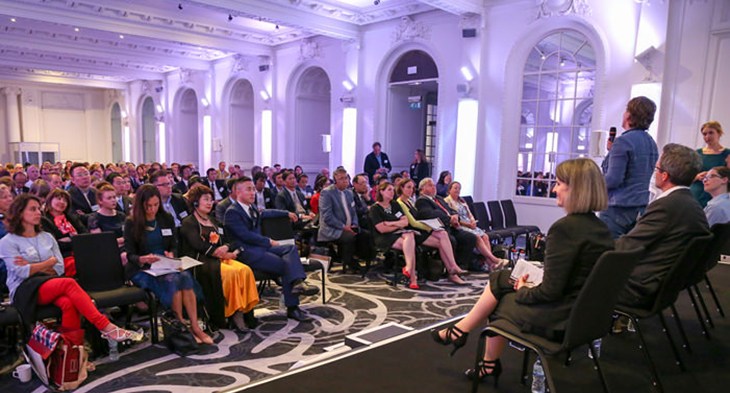 Jemima Jewell, our conference facilitator, said: "The number of animals who will lead better lives – who are leading better lives right now – thanks to everyone in this room, is really quite staggering.  This afternoon is going to be about celebrating that, and also about asking 'what next'?"
Leading the way with our new Cage Free Award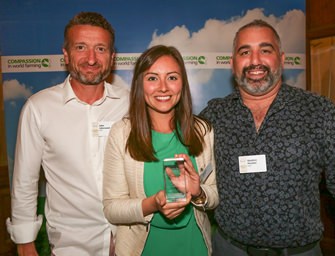 During the conference, our inaugural Cage Free Award winners were announced. The criteria includes the companies committing to ending the use of cages for laying hens, quail, rabbits and ducks, as well as stalls and farrowing crates for sows.
This is a huge leap forward for farm animals and we were delighted to present five companies with this first-time award; the Jamie Oliver Group (global), Pret (global), Whole Foods Market (US), Waitrose (EU) and Marks & Spencer (EU).
Making major strides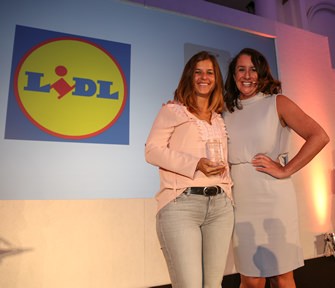 Hosted by Lucy Siegle, Environmental Journalist and broadcaster, this year's evening awards ceremony was an extra-special celebration as 2017 marks 10 years since the initial launch of the Good Egg Award and our 50th anniversary as an organisation.
Lucy, said: "I'm honoured to have hosted the Good Farm Animal Welfare Awards. Through the efforts of Compassion working with award winners, major strides are being made in improving the lives of millions of farm animals and in positively changing the attitudes of the global food industry towards farm animal welfare."
Improving the lives of millions
Compassion 2017 Awards Anniversary video.
The awards had a truly global reach with companies from China, the United States, Australia and Europe accepting accolades. A total of 68 award winners were recognised, including our main awards for hens, broilers, dairy cattle, pigs and rabbits, our Chinese Producer Awards, our 2017 Retailer Awards and new for this year; our Cage-Free Award winners.
29 producers from China were recognised for the work they are doing to improve the lives of pigs, hens and broiler chickens, through our China Production Awards. More than 92 million animals are set to benefit from all of our Chinese winners' commitments and practices alone.

Collectively, all of our 2017 award winners alone, are set to improve the lives of nearly 100 million farm animals each year.
The full list of winners can be found here.
Dr. Tracey Jones, Director of Food Business, said: "We have witnessed significant progress on farm animal welfare since Compassion launched its Good Egg Award 10 years ago: cages for laying hens are being consigned to the history books, the plight of the broiler chicken is being taken seriously, and industry is leading the charge on cage-free systems for rabbits and pigs."