Published 22/06/2018
Yesterday (21st June), our Good Farm Animal Welfare Awards ceremony took place in Paris, where market leading food companies from across the globe were celebrated for their commitment to higher welfare production.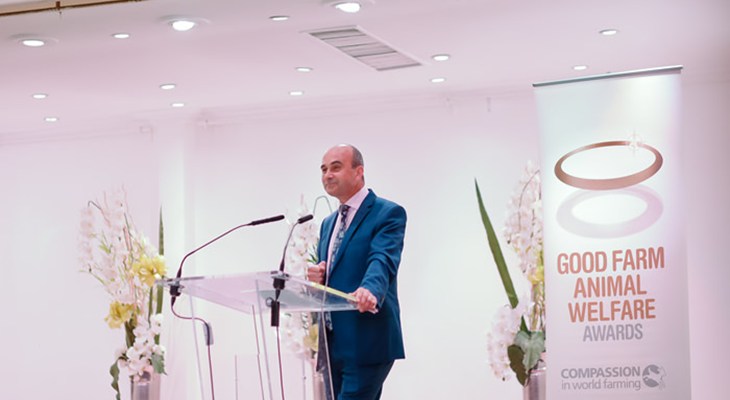 Our CEO Philip Lymbery kicked off proceedings, talking about the future of food and the importance of eating less and better meat, fish, eggs and dairy products for the good of animals, people and the planet.
This year saw the launch of two new awards: The Friendly Food Award for companies taking steps to reduce the number of animals in their supply chain, and the Farming and Nature Award which recognises farmers and businesses that combine food production with protection of wildlife and the environment.
The ceremony was hosted by European journalist and radio and TV presenter Alex Taylor, who said: "As a former vegetarian (now flexitarian!) - and having hosted many conferences on the subject, I'm convinced we are at a turning point in the general public's attitude towards animal welfare."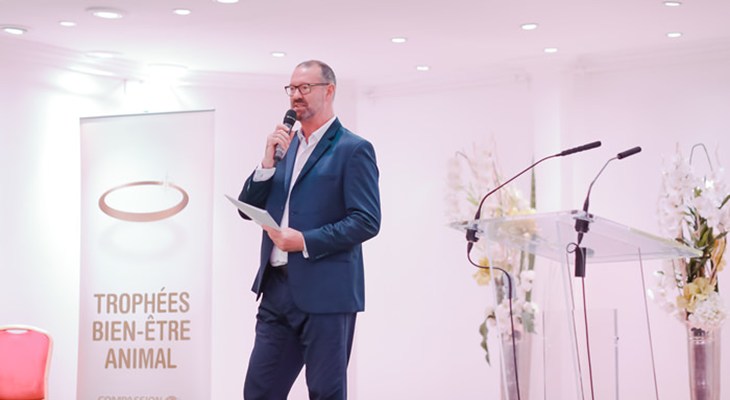 And the winners are…
A total of 59 award winners were recognised this year, including our main awards for hens, broilers, dairy cattle, pigs and rabbits, our Chinese Producer Awards, our 2018 Marketing and Innovation Awards and the prestigious Special Recognition Award. Our 2018 Award winners alone are set to improve the lives of over 200 million animals each year.
29 producers from China were recognised for the great work they are doing to improve the lives of pigs, hens and broiler chickens, through our China Production Awards. An astounding 180 million animals are set to benefit from all of this year's Chinese winners' commitments and practices.
This year, Winterbotham Darby was awarded our Special Recognition Award which is kindly supported by the Sir Peter O'Sullevan Charitable Trust.
Since 2014 our Food Business team have been working closely with Winterbotham Darby to promote higher welfare practices in the pig sector across Europe. They have developed a unique Gold, Silver, Bronze animal welfare certification scheme for their continental meat suppliers which is driving welfare improvements and helping to secure cage-free commitments across their European supply chain.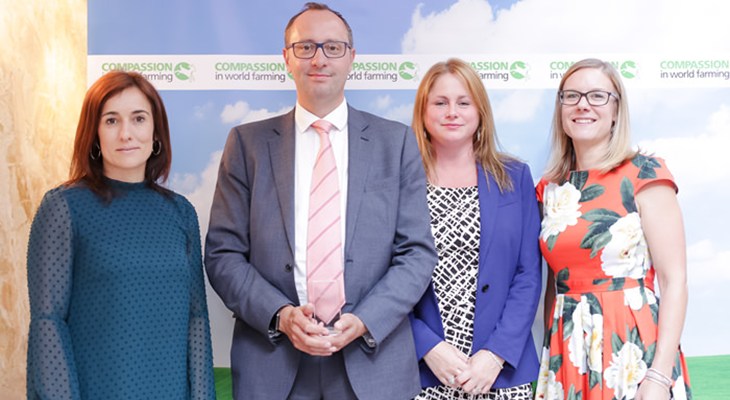 Truly good eggs
Dutch Manufacturer Kipster picked up not only a Good Egg Award but also this year's Best Marketing Award. Both accolades were given for having developed the 'world's first carbon neutral egg'. Their innovative farm has been designed to address animal welfare as well as sustainability concerns. Through various marketing activities and a strong partnership with Lidl, their products have been selling out, as consumers support the notion of buying not only animal friendly but sustainable products too.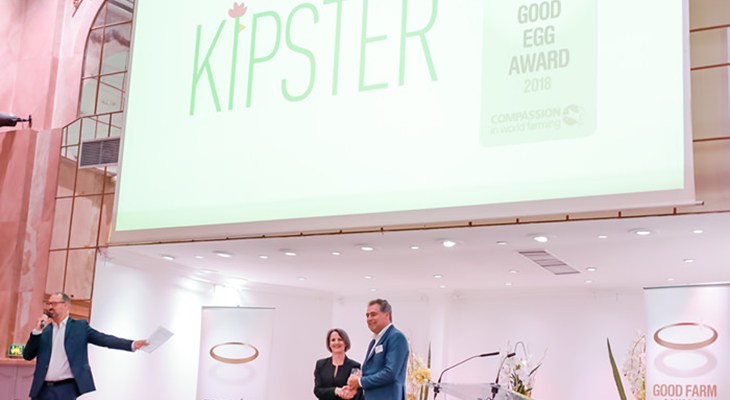 The Best Innovation Award went to Germany's SELEGGT for their work in helping to address the issue of killing male chicks in the egg industry – a practice which affects over 5 billion chicks every year. SELEGGT has developed a method for identifying the sex of hatching eggs before the embryo develops the capacity to feel pain. The male (and unfertilised) eggs can be humanely rejected early on and then turned into high-quality feed for farm animals.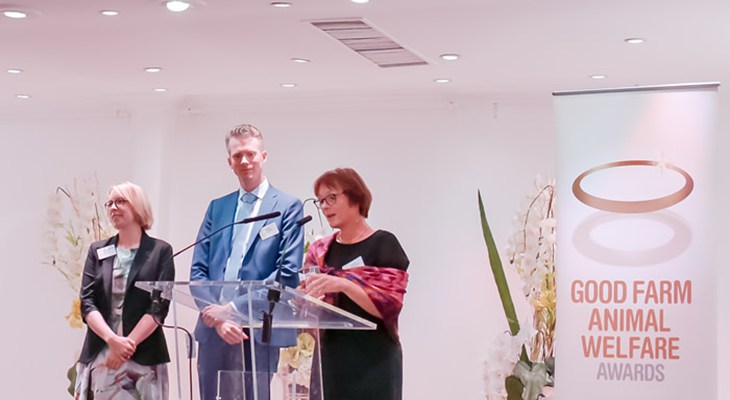 Driving change for better welfare

Our Director of Food Business, Tracey Jones, said: "There has undoubtedly been a sea-change in attitudes to farm animal welfare within the last decade. Driven by consumer demand, investor considerations and market forces, more and more companies are making the move towards to cage-free production and taking steps to tangibly improve the lives of millions of farm animals across the globe.
"I'd like to congratulate all this year's winners and look forward to continuing to help them fulfil their higher welfare commitments and pledges. It's great to see industry leaders across the globe pushing the boundaries and really driving change."