Published 15/06/2018
Yesterday (14th June), the world united to call for an end to the long distance transport of animals. Passionate campaigners from 35 countries took over 150 actions to raise awareness of this cruel trade.
In the UK, over 500 people gathered in Parliament Square, London to take their message directly to politicians. A 20ft banner in the shape of a livestock ship provided the backdrop for the day and supporters staged a dramatic 'die-in'. Wearing sheep masks, the crowd – joined by our Patron and Harry Potter star Evanna Lynch – dropped down to the ground as if dead, in recognition of the countless animals that have suffered and died during long distance journeys.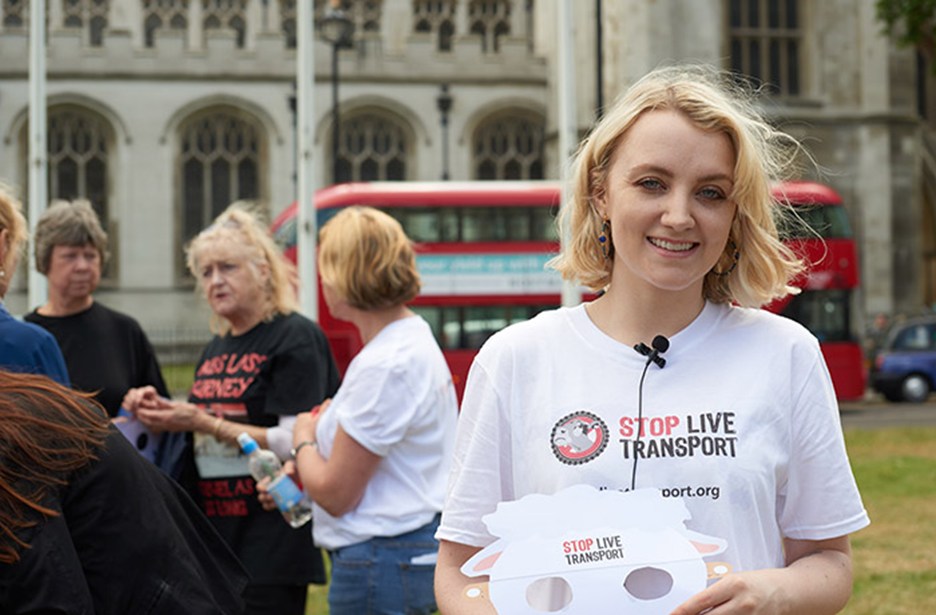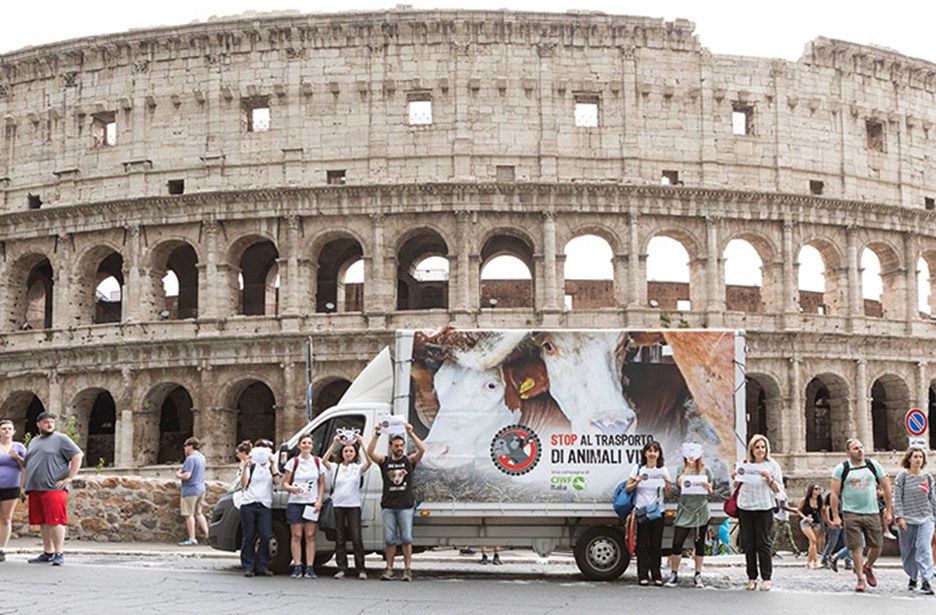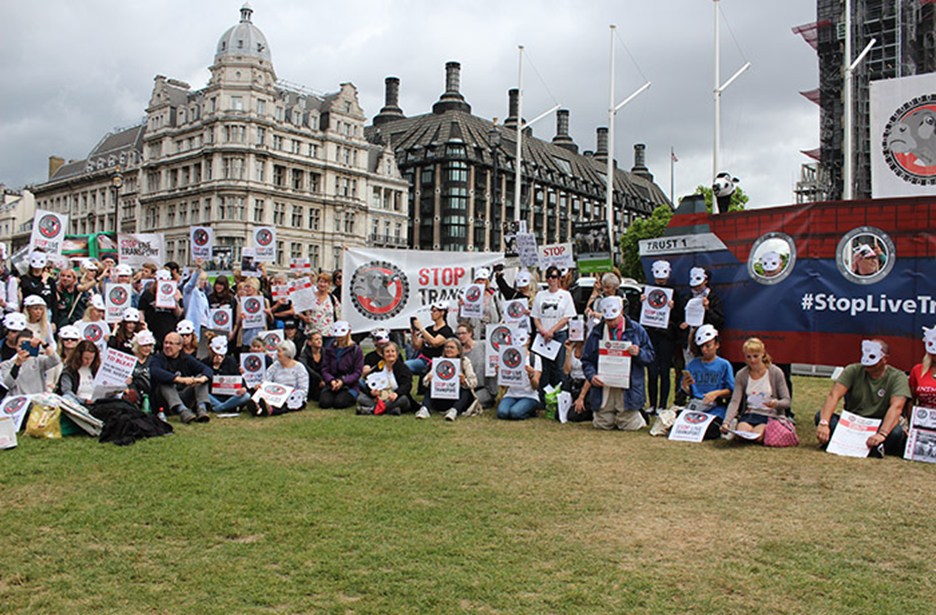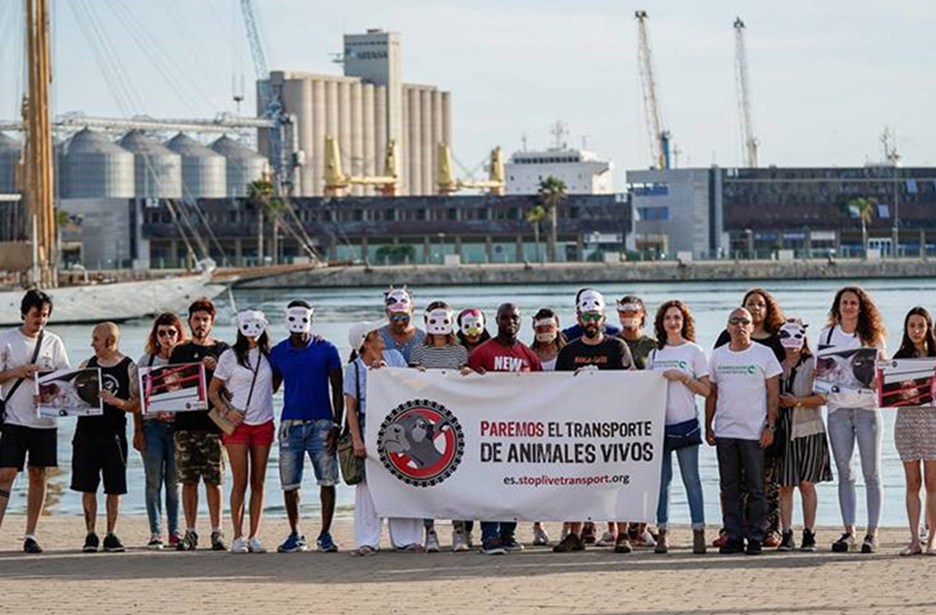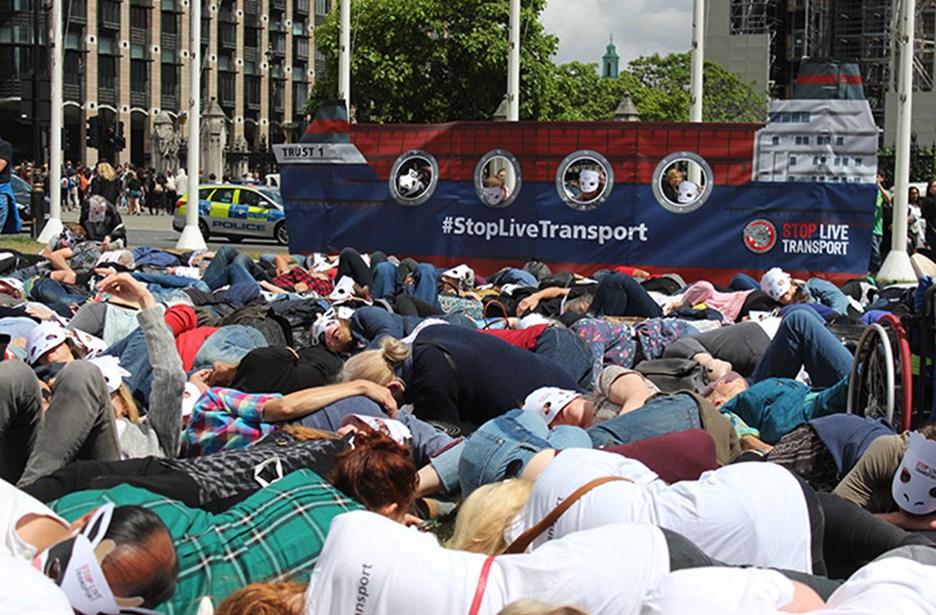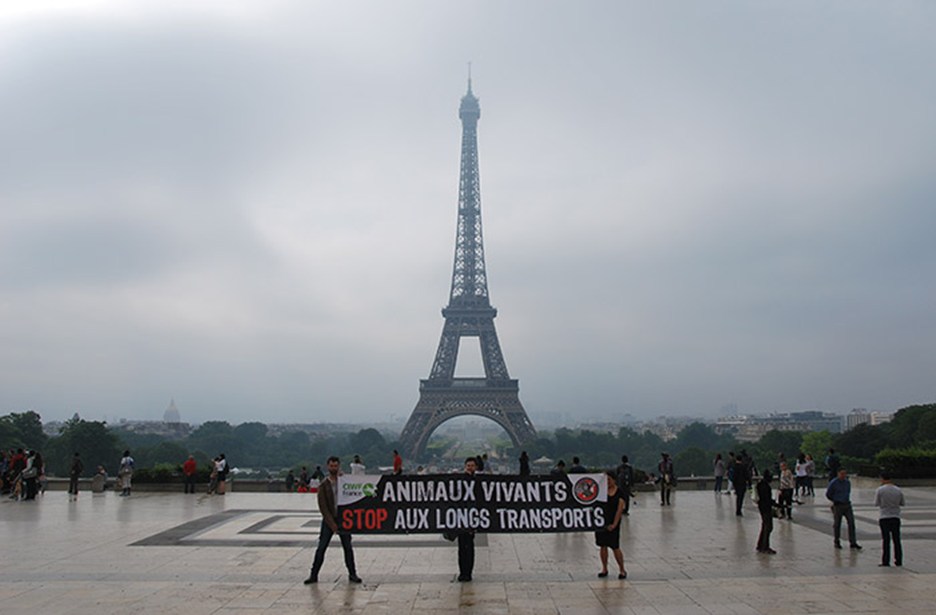 Around the world millions of animals are transported long distances in cramped conditions every year, causing horrific suffering. Many animals receive insufficient food, water, rest and space to move, and face inhumane treatment at slaughter.
Speakers at the rally included Downton Abbey actor and animal welfare activist Peter Egan and Members of Parliament, Zac Goldsmith, Theresa Villiers, Sir David Amess, Kerry McCarthy and Sir Roger Gale.
Speaking at the protest, Zac Goldsmith MP said: "I've never felt more optimistic than I do today…we will stop this trade."
Sir Roger Gale MP added: "This is a war we can win, we are going to win this one!"
Evanna Lynch said: "It's very possible the end is in sight and that's when events like this are amazing for people to show that normal people care about this and that we won't tolerate this kind of abuse."
Many famous faces supported the Day of Awareness, including business tycoon and Dragon's Den favourite, Deborah Meaden, Hollyoaks and Les Misérables actor, Carley Stenson and conservationist and author, Stanley Johnson.
Absolutely Fabulous actress and campaigner, Joanna Lumley, also joined our call to Stop Live Transport: "The true horror of live transport never fails to shock me. It is totally nonsensical that this unimaginable cruelty continues in 2018. I urge you to take a stand against this awful trade. It's time to Stop Live Transport."
Other highlights included a truck tour through Italy, a protest in Dam Square, Amsterdam, a huge banner hung on the side of a prominent building in Prague, photos taken in front of famous landmarks in France, 13 protests across Poland and many more.
A huge thank you to everyone who organised an event or took part – in person or online. You made this year's Stop Live Transport: International Awareness Day, the biggest yet!