Published 14/09/2018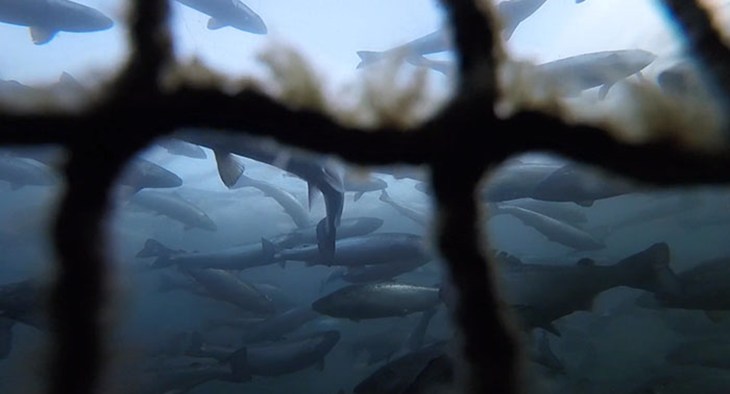 Sustainable does not mean higher welfare
The Scottish salmon industry prides itself on its sustainable farming practices. Recent footage shows that this often isn't adhered to. Some of the salmon filmed were disfigured, with open wounds caused by sea lice infestations.
Issues concerning fish are not well understood and are poorly communicated by the fish industry. A recent survey that we commissioned alongside Eurogroup for Animals, carried out by ComRes, found that 67% of UK consumers assume that fish certified as "sustainable" have lived improved lives. The sad reality is that their welfare has not been factored in at all.
Underwater factory farms
Intensive fish farms, are much like land-animal factory farms. However, they are hidden from view underwater, keeping large numbers of fish, sometimes hundreds of thousands, in a small space. In such close confinement, fish are unable to carry out their natural behaviours.
These very high stocking densities provide ideal conditions for disease and parasite spread, such as those shown in the recent investigation. Sea lice feed on the skin and blood of fish, leading to ulceration, reduced growth and sometimes open wounds on the back of the head. These now infest nearly half of Scotland's salmon farms.
With the majority of survey respondents stating that they would be willing to pay more for a 'higher welfare' version of a fish product (on average, they would be willing to pay 16% more for a 'higher welfare' version compared to the equivalent 'lower welfare' option) this demonstrates that now is the time to move forwards in improving fish welfare.
Compassion has taken action
Dr Krzysztof Wojtas, our Head of Fish Policy, says: "Fish are incredibly misunderstood. They are able to feel pain, pleasure and other emotions. Despite this, fish receive very little legal protection and are often farmed in inhumane conditions. We have to put a stop to this."
We have written to Fergus Ewing, MSP, and the MSPs on the Scottish Parliament Rural Economy and Connectivity Committee calling for a moratorium. We have asked that in light of the new revelations, the Scottish salmon industry should be scaled down.
Please visit here for more information on our upcoming fish campaign.