Published 30/10/2018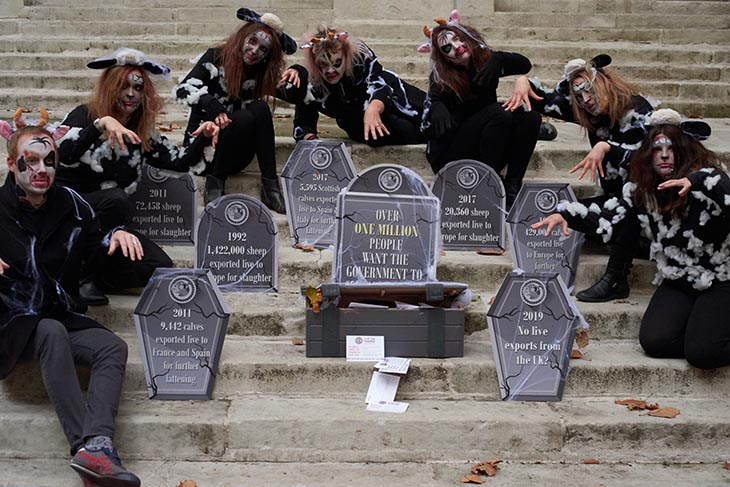 This week, the streets between DEFRA and Parliament were truly haunted when we joined forces with, 38 Degrees, Avaaz and SumOfUs, to deliver over one million petition signatures to DEFRA, urging the Minister for the Environment, Michael Gove, to #StopLiveTransport
A chilling reminder
Last May, the government pledged to take action on live exports but nothing has happened. This Halloween, a spooky parade of 'zombie sheep and calves' marched to DEFRA's offices in London to hand in the signatures. These 'zombie animals' represent those who have died during transport, coming back from the dead to haunt DEFRA, to remind them of their promise to end live exports.
In 2017, tens of thousands of sheep and young calves were exported from the UK to continental Europe on long journeys that result in immense suffering. Many of these animals are kept in over-crowded conditions without enough food, water, or space to move, and often face an inhumane slaughter at their final destination.
"The true horror of live transport is absolutely shocking," explained Downton Abbey actor and Compassion Patron, Peter Egan who participated in the event and has actively supported the campaign. "It's appalling that we allow such cruelty to continue."
Growing public pressure
Nick Palmer, our Head of Compassion in World Farming UK, said: "This delivery of over one million signatures, highlights growing public pressure to end this barbaric practice. The live transport of animals on long, exhausting journeys, in horrendous conditions is not acceptable.
"It's time for the UK government to enforce a UK-wide ban on live exports for slaughter and further fattening."
Take action
You may have seen the news that unweaned Scottish calves are now being trucked to Kent for export. In the face of this appalling trade, we must keep up the pressure from every angle. Please email Michael Gove, Defra Secretary of State, today.