Published 26/11/2018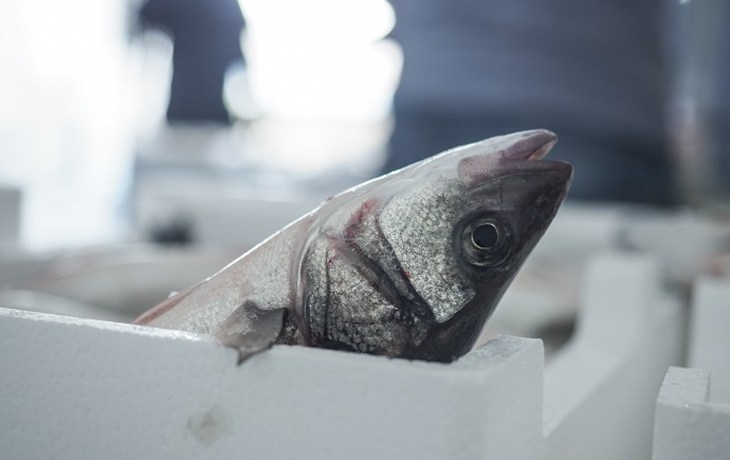 Yesterday (25th November), BBC Countryfile highlighted the horrific cruelty fish experience in factory farms and the shockingly inhumane way many fish are killed. This was a fantastic prime time opportunity for us to launch our new Rethink Fish campaign and raise awareness of the plight of fish.
Interviewed by presenter Tom Heap, our Head of Fish Policy, Dr. Krzysztof Wojtas stressed that fish are complex, sentient animals – able to feel pain and joy.
Underwater factory farms
We recently sent undercover investigators to fish farms across Europe. We discovered fish like sea bass, sea bream and trout being kept in appalling conditions. Confined to concrete tanks on land or in floating ocean nets by the thousands, these fish spend their short lives swimming in cramped waters where disease and parasites can thrive.
Slow and painful deaths
The investigation also revealed how fish are often killed inhumanely. Many suffer slow, painful deaths by asphyxiation, crushing or even being gutted alive. Sea bass and sea bream are commonly dumped into large buckets of ice slurry, where they thrash about, fighting for their lives, as ice gets lodged in their gills and they struggle to breathe. They can remain conscious throughout this ordeal, and many are still alive when they are packaged up in Styrofoam boxes, ready to be sold.
Investigators witnessed trout flailing about in pools of bloody water after having their throats cut. This kind of suffering is illegal according to European law, which mandates animals should not suffer while being killed. These fish can be found on supermarket shelves across the continent and here in the UK.
It's time to Rethink Fish
Krzysztof says: "Millions of fish are silently suffering, out of sight in vast underwater factory farms throughout Europe. Many are then being slaughtered in the most gruesome of ways.
"Discoveries are proving that fish are sensitive, intelligent, emotional animals. They deserve both a humane life and death. It's time for us to Rethink Fish."
Take action
Just like other farmed animals, fish are sentient. Far more complex than we ever realised, fish are capable of feeling immense pain, and they desperately need you to speak up on their behalf.
Please, write to your Agricultural Minister, asking them to introduce national legislation protecting fish at their time of death.