Published 16/04/2019
Millions of tonnes of fish are being harvested from the wild every year to produce fishmeal and fish oil (FMFO) to feed farmed fish - threatening food security and risking a collapse of marine life.
Unsettling findings: Until the seas run dry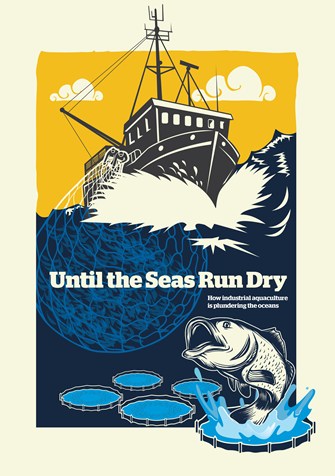 Our new report, "Until the seas run dry: how industrial aquaculture is plundering the oceans", published with the Changing Markets Foundation, reviews the latest scientific research on fisheries, where wild-caught fish are turned into FMFO. It provides insight into the lack of transparency, the human rights abuses in the aquafeed sector, and the detrimental impact on marine environment through overfishing and illegal fishing.
Aquaculture is the world's fastest growing food production sector. And yet, in order to sustain this growth, the industry is heavily reliant on wild-caught fish, with over 69% of fishmeal and 75% of fish oil production used to feed farmed animals - predominantly fish.
"Aquaculture has been hailed as delivering affordable, healthy protein, as well as diverting pressure from overfished wild-capture fish stocks. This report finds the industry is failing to deliver on this promise as a result of its continued reliance on wild-caught fish" says Natasha Hurley, Campaign Manager at the Changing Markets Foundation, "Urgent action is required to increase transparency and sustainability in the aquafeed industry's supply chain, and to wean it completely off its reliance on fish caught in the wild."
Serious welfare implications
When considering the negative consequences of using wild-caught fish for FMFO, the impact this industry has on animal welfare is huge. Hundreds of billions of fish caught each year are often killed inhumanely and are destined to be reduced to ingredients to feed fish reared in grim, underwater factory farms.
"As industrial aquaculture grows, the number of animals suffering in these intensive farming systems multiplies and brings in another hidden layer," says Dr Krzysztof Wojtas, Head of Fish Policy at Compassion in World Farming. "Most people are not aware of the additional suffering of hundreds of billions of small fish that die horribly on huge industrial fishing vessels in order to fuel these underwater factory farms. The industry must urgently address this crisis."
Take action
Fish suffer in their trillions each year, either in vast underwater intensive farming systems or when killed in ways so painful that they are illegal according to European law.
Read the executive summary and the full report, and take action now. It's time to Rethink Fish.