Published 05/07/2019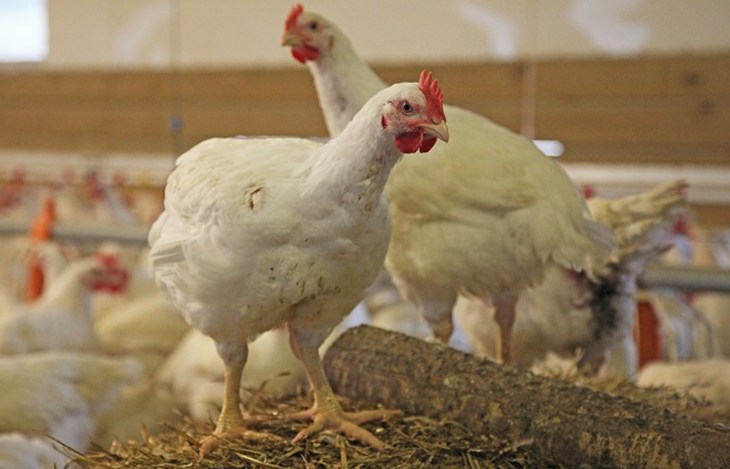 Today, one of the largest global contract caterers, Compass Group, has made the pledge to transform the welfare of chickens by signing up to the European Chicken Commitment.
They have committed to sourcing slower growing breeds with better welfare outcomes and to provide the birds with more space to live and enhanced enrichment, amongst other criteria which are set to raise standards for commercial broiler (meat chicken) production, by 2026.
Higher welfare standards for chickens
Compass Group was the first food service company to sign a similar pledge in the US to introduce higher welfare standards for broilers by 2024, and we are delighted they have now extended their chicken commitment across Europe too.
They join an increasing number of companies in Europe who have recently pledged to introduce better welfare standards for chickens, promising to achieve their aims by 2026, which include: M&S, Unilever, Nestlé, Waitrose, Danone, Elior Group, Sodexo, Monoprix and Diana Food.
A valued partnership
Dr Tracey Jones, our Director of Food Business, said: "As the largest contract caterer in the UK, and one of the largest in Europe, I am delighted that Compass Group has joined the growing number of leaders in the market committing to higher welfare chicken.
"We have worked with Compass for more than a decade and I look forward to continuing our valued partnership to ensure the effective implementation of these new welfare standards. I congratulate Compass on this next step in their animal welfare program which will secure a better life for millions of chickens in their supply."
Responsible sourcing
For over 75 years, Compass Group has been behind the many billions of meals served to businesses, hospitals, schools, leisure and hospitality venues, as well as government organisations. They operate in around 45 countries and serve around 1.5 billion meals annually in Europe alone.
Animal welfare is a key part of their Responsible Sourcing strategy and Compass Group is continually driving forward welfare improvements across their global supply chain. They already have a 2025 global cage-free commitment in place for all their shell and liquid eggs . They recently received a Good Rabbit Commendation for pledging to source rabbit meat in France exclusively from higher welfare cage-free systems; and they have now cemented their commitment to higher welfare chicken with pledges in Europe and the US.
Industry collaboration
No company can achieve these production system changes alone and Compass Group was one of the founding partners of the Global Coalition for Animal Welfare (GCAW) – a global platform uniting major companies and animal welfare experts to advance animal welfare standards throughout the global food supply chain, identifying improved broiler chicken welfare as a key priority work stream.
Find out more about our Food Business programme here