Published 19/09/2019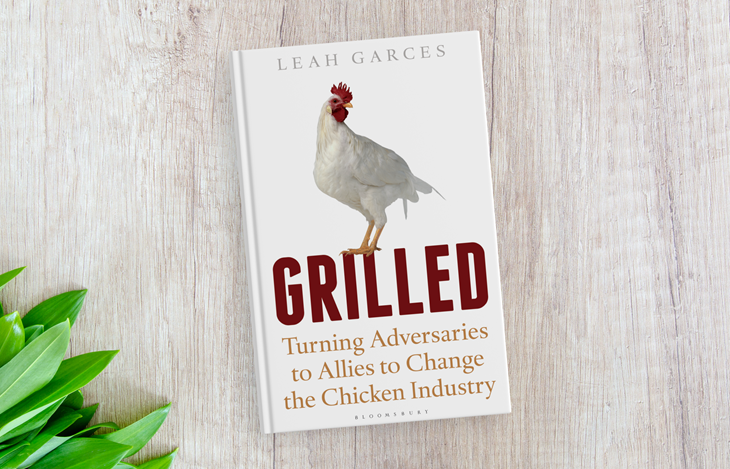 GRILLED: Turning Adversaries to Allies to Change the Chicken Industry, written by our former US Executive Director, Leah Garcés, has hit the shelves in UK bookshops today (19th September).
Transforming the food industry
The book tells the fascinating story of how Leah worked with some of the world's largest food companies to transform the industry and help put an end to factory farming.
A staggering 17, 220 chickens are slaughtered every minute in the United States. Most are bred to grow so big and so fast they struggle to walk and can develop serious heart conditions. They are packed into overcrowded sheds – often with no natural light. Thankfully, these grim conditions are beginning to change, thanks to advocates like Leah.
A must-read
GRILLED details Leah's experiences of working alongside farmers and food industry leaders - encouraging change through dialogue and discussion - to reduce animal suffering and shine a spotlight on the rapidly growing plant-based food sector.
From whistleblowing farmers and chicken tycoons, to venture capitalists and scientists growing 'lab meat', Leah shares unexpected and thought-provoking accounts of the change-makers she encountered while striving to build a better food system, during her eight years leading our US team.
"Centred around the art of finding common ground, this compelling story is a must-read,"
said Philp Lymbery, our CEO. "GRILLED demonstrates how Leah helped put chickens on the map in corporate America and sparked a domino effect amongst US companies, eager to do better for chickens and their customers."
Get your copy now
GRILLED is available to buy online or instore from most good bookshops. Royalties from the book will help us to continue our fight against factory farming.
Order here, quoting 'BBGRL20', for a 30% discount.