Published 02/12/2019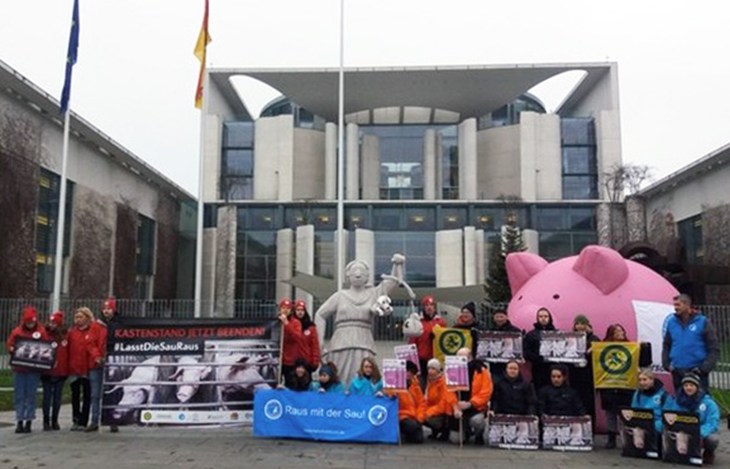 Uniting for pig welfare
Alongside six other animal protection organisations, we took part in a protest in Berlin, today (2nd Dec) to ensure that the German legislature rejects new regulations that would keep sow stalls legal. These new regulations have been proposed by the German Federal Minister of Agriculture, Julia Klöckner.
Prior to this, last week over 20 German animal and environmental protection organisations opposed the new draft regulations in an open letter. The final decision on these proposed regulations is expected to be taken on 20th December 2019.
Together, the animal welfare organisations are calling on the Federal Minister to completely revise the draft, which is unconstitutional, violates the animal protection law and disregards several court decisions.
Sow stalls may be legalised
The protest took place in front of the Federal Government Building, using the strapline: "End the suffering of sows in sow stalls! Meet the State's goal of animal welfare!" The draft regulations were due to be discussed today, but we have since discovered that the Committee meeting has been postponed.
In recent years, some of the highest courts in Germany have declared the use of sow stalls to be illegal; as they don't allow animals to stretch their limbs, which is a requirement under German legislation.
The Federal Minister wants to reform the existing legislation regulating sow farming, and to allow farmers keep the sow stalls in use for a further 15 to 17 years. The draft bill proposes to delete the legislation stating that sow stalls must allow sows to stretch their limbs. We cannot allow this to pass.