Published 11/12/2019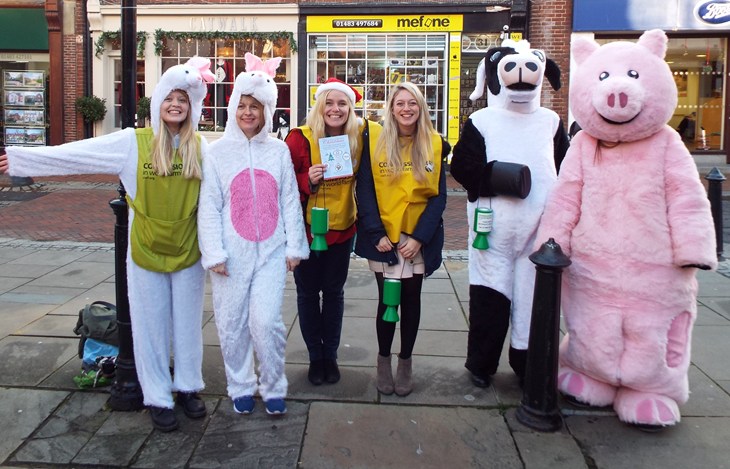 With Christmas just around the corner it's a great time to think about, not just what you might be unwrapping on the big day, but also what you can do to give back.
Hundreds of millions of animals are intensively farmed each year – not in keeping with the festive season at all. So, this Christmas, why not show your compassion and help to end factory farming for good – it's easier than you think!
5 things YOU can do to help farm animals this festive season

1. Online shopping that fights cruelty
Whilst you're busy ticking off your online Christmas shopping list, why not sign up to Give as you Live or easyfundraising to raise free funds for farm animals. Part of the commission that the retailer pays these initiatives is passed to your charity of choice, so select Compassion and get spending!
2. Compassionate Christmas gift ideas
Why not order a copy of Farmagedon or Dead Zone: Where the Wild Things Were both authored by our CEO Philip Lymbery. There's also the Pocket Companion to the Countryside or some of our Compassion merchandise! These will go down a treat with those who have a soft spot for our farm animal friends.
3. Swap gifts for donations
Instead of requesting presents this year, you could start a festive farm animal fundraiser using Facebook or JustGiving. It's win-win – your friends and family can help to end factory farming and you won't receive those unwanted pairs of socks!
4. Your trash may be someone's treasure!
Using eBay, you can select Compassion to benefit from the items you sell online. This means you can have a clear out before your guests start to arrive and your unwanted items will be turned into donations to transform the lives of farm animals.
5. Shop compassionately this holiday
It's exciting to think about the delights that might appear on festive menus. But, it's important to remember the impacts that our food choices have on the planet, our health and on animal welfare. By using our Compassionate Christmas Shopping Guide, you can find out how to buy higher welfare, veggie or vegan products this Christmas.
Giving back is great!
And after all the hustle and bustle, you can finally put your feet up, safe in the knowledge that you've helped to ensure a brighter future for farm animals.
We wish you a very merry Christmas and a HUGE thank you for all your wonderful support this year.