Published 27/01/2020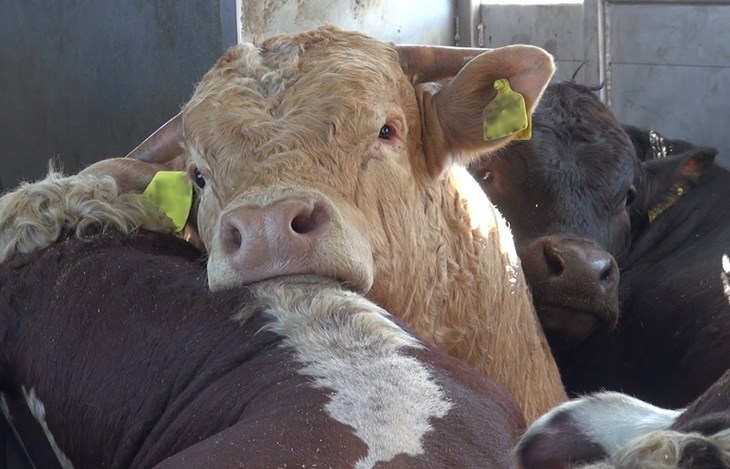 Last week (20th – 25th January), The Guardian published a series of articles on live animal exports which examined the risks and horrific reality of this cruel trade.
Drawing on our research & campaigning expertise
Worldwide, every year, millions of farm animals are forced to endure journeys of hundreds or even thousands of miles, only to be slaughtered on arrival or fattened in often inhumane conditions. We have been campaigning to stop this outdated, cruel and unnecessary trade for decades.
Over the past few months, we've been working closely with The Guardian, assisting with research queries and providing information to support their effort.
A deep delve into global trade
The first piece took a closer look at how this trade has grown and the implications. It explored the situation in Ireland, where farmers are at a loss over how to deal with a potential 'calf tsunami'.
Other articles investigated disease implications and had thoughts from vets about the threats posed by this huge international trade. Later in the week, journalists looked at some of the countries fuelling the live animal industry - such as Denmark - and the economic impacts, including those on smaller scale farmers.
In relation to shocking headlines of China's coronavirus outbreak, one story closed in on how the countries appetite for 'warm meat' has long been warned against.
Slaughter & ships not fit for purpose
The series also covered how breaches in regulation and larger slaughterhouses have led to the growing number of animals travelling to slaughter.
When talking to The Guardian about conditions of slaughterhouses our Chief Policy Adviser, Peter Stevenson said that in his 28-year career "there is nothing I have seen as awful as slaughterhouses" in the Middle East.
And finally, the issue of the carriers used to transport animals and the welfare threats brought on by old converted cargo ships which are not fit for purpose, were also explored.
Time to turn words into actions
Here in the UK, the Prime Minister has repeatedly said that, after leaving the EU, we "can ban cruel live exports". A ban would save thousands of sheep and young calves every year from needless suffering during long, gruelling journeys overseas.
Please, call on Boris Johnson to turn words into actions and ban UK live exports for fattening and slaughter.