Published 11/03/2020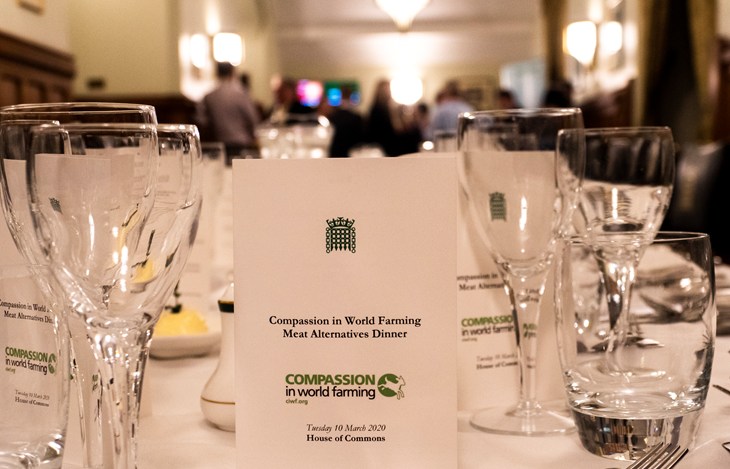 Yesterday (10th March), we hosted a dinner in the House of Commons, showcasing an exciting plant-based menu to MPs and influential figures. The five-course meal, sponsored by Kerry McCarthy MP, included interesting options such as a vegan 'scotch egg' and Jerusalem artichoke 'white pudding'.
Growing appetite for meat alternatives
The event provoked useful discussions with policy makers, think tanks and influential individuals within the food, farming and cultured meat industries. The UK's growing appetite for meat alternatives was discussed, while taking a closer look at the benefits, risks and opportunities surrounding this rapidly expanding industry.
We were delighted that our knowledgeable High Profile Supporters, Emma Milne and Liz Earle MBE, were both able to attend and add their individual perspectives to the debate.
Nick Palmer, Head of our UK team, said: "Eating less meat is crucial for animals, the planet and human heath, but alternatives need to be available that appeal to everyone."
"It was great to explore some meat alternatives and celebrate new technologies that lead to less animal suffering."
A potential for change
The benefits of alternative meats include the capacity to reduce our reliance on factory farming, and we are encouraged by the Government's interest in this growing industry. We recognise that the more we research and invest in meat alternatives, the greater potential we have to disrupt the current food system and encourage moves towards higher standards of animal welfare.
Read more about how your food choices impact people, animals and the planet here.