A Twitterstorm of Epic Proportions to #BanLiveExports
Published 15/06/2020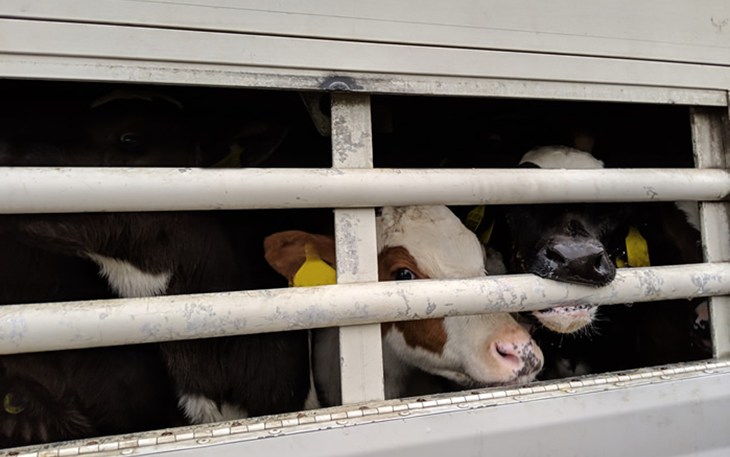 Yesterday (14th June), campaigners from across the globe united for the fifth annual Ban Live Exports: International Awareness Day.
Demanding justice for calves
Here in the UK, thousands took to Twitter to demand #JusticeForCalves and an end to cruel live exports. As a result of the current pandemic, we were unable to protest, so instead we took the internet by storm – a Twitterstorm, to be exact!
Every year, tens of thousands of farm animals exported from Britain – including thousands of unweaned calves – are forced to endure long, intolerable journeys for fattening and slaughter. They routinely experience pain, stress, overcrowding, exhaustion and dehydration.
A crucial moment
This year's day of action comes at a crucial moment in the battle to ban UK live exports.
In February, we launched Judicial Review proceedings against the Scottish Government over the export of unweaned calves – arguing that, since the legal requirements for feed on journeys over eight hours aren't being met, these journeys are unlawful and must be stopped.
Shockingly, the Scottish Government are opposing our Judicial Review. So, we mobilised campaigners across the UK to lobby the Scottish Government to stop defending this cruel trade.
A court hearing is currently scheduled for 4th August, however the Scottish Government has recently attempted to delay proceedings and we are awaiting the outcome.
An overwhelming show of support
100 NGOs in 36 countries supported Ban Live Exports: International Awareness Day by joining the Twitterstorm, and tweets containing the hashtag #BanLiveExports received more than 13 million views.
Some of our wonderful High Profile Supporters and Patrons, including Joanna Lumley, Marc Abraham, Deborah Meaden, Mike Beckingham, Kate Ford, Carley Stenson, Liz Earle, James Greenwood and Evanna Lynch, also showed support for the campaign on social media.
Game of Thrones actor, Jerome Flynn said: "The suffering experienced by unweaned calves exported from the UK to Europe is truly shocking. Please stand with me & Compassion in World Farming by demanding #JusticeForCalves."
"This cruel trade has gone on for far too long," added actor, Joanna Lumley. "It's time to end it for good."
TV vet, Emma Milne, also took part in an Instagram Live Q&A ahead of the day. Many tuned in to ask questions and learn more about the trade from a vet's perspective.
Afterlife and Downton Abbey actor, Peter Egan who is supporting our court case wrote about the cruelty of live exports and highlighted the atrocities of the trade in an excellent opinion piece published in The London Economic in the run up to the day of action.
One step closer
"This year's digital day of action was a huge success," said our Senior Campaigns Manager, Natasha Smith. "It was fantastic to see so much support, not just here in the UK, but globally. Throughout the day, people were making their voices heard on Twitter, creating homemade signs and posting selfies with our Ban Live Exports filter to raise awareness of this horrific trade – every action bringing us a step closer to ending it for good."
If you haven't already, please urge the Scottish Government to drop their defence  of this cruel trade.