Published 04/09/2020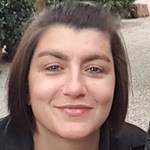 We are delighted to announce that Francesca Bandoli has won the 2020 essay competition, designed for students on the Animal Welfare courses at our partnership university, Winchester.
Dedicating her life
Francesca has dedicated her life to the care of domestic and wild species kept in zoos, working to assess and improve their welfare. She has always been interested in the complex relationship between humans and animals, and the M.Sc. in Animal Welfare Science, Ethics and Law has allowed her to expand her knowledge on farm animals and farming systems.
Positive change for animals
Her essay focuses on the connection between intensive farming and animal and human health to demonstrate how human behaviour compromises the welfare of millions of animals, especially in the wake of COVID-19. Francesca is hopeful that her essay will help people understand their ability, as consumers, to drive market demand and effect positive change for animals.
Congratulations on your winning essay, Francesca! Thank you for working tirelessly to improve conditions for animals.
You can read Francesca's winning essay here.