Published 08/10/2020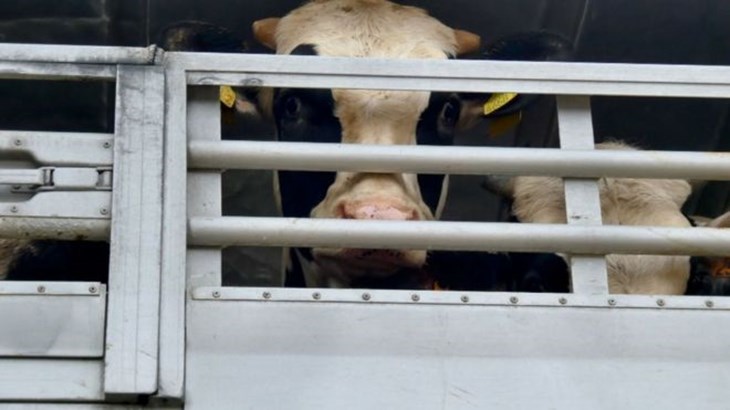 Our friends at the German Animal Welfare Foundation and Animals International gathered footage this summer, confirming for the first time that calves are exported from the UK (Northern Ireland) to Spain and then onto the Middle East where they suffer awful slaughter conditions. The BBC has covered this story widely today (8th October) with segments on Radio 4's Farming Today, BBC 2 News and the BBC News Channel as well as an article on their website. We spoke with the BBC News, about what this revelation means for the animals that are exported.
The stark reality
This new evidence proves what we have always suspected – that calves exported on long journeys to Spain to be fattened for beef are often then exported on further journeys to the Middle East, where they inevitably face horrific slaughter methods. This footage shows animals being thrown onto the floor and being dragged or suspended by their limbs while still conscious.
"This important investigation footage is confirmation that UK calves are exported to the Middle East, where they do not benefit from the protection of EU laws," says Sean Gifford, our Global Director of Campaigns.
"I've worked in animal welfare for over 20 years, and the footage from slaughterhouses in the Middle East is the worst I've ever seen. The stark reality is that animals exported from our shores can experience slow, painful slaughter overseas as a direct result of the live exports trade. This new evidence strengthens the urgent need for the UK Government to act now to Ban Live Exports."
Put an end to cruel live exports
This has been a crucial year for our campaign to Ban Live Exports: we took the Scottish Government to court over the unlawful export of unweaned calves, and with Brexit on the horizon, the UK Government has a unique opportunity to put an end to this awful trade. While our Judicial Review proceedings have successfully halted live unweaned calf exports from Scotland, there is still much more to be done to accomplish a ban.
This footage, secured by the dedicated teams at Animals International and the German Animal Welfare Foundation, reinforces the need for a complete ban – and strengthens our resolve to fight for one.
Take action
If you haven't already, please ask the Prime Minister to stay true to his word and end live exports for good.