Published 21/12/2020
Even though 2020 presented some unique challenges, we at Compassion could not be prouder of the progress that has been achieved, thanks to hard work and the steadfast, enthusiastic support from supporters like you.
Ban Live Exports Campaign Gathers Momentum
In February, we kicked off the year with a week of action that culminated in the announcement of our Judicial Review against the Scottish Government
Although we were unable to hold our annual rally for Ban Live Exports: International Awareness Day, we held a virtual protest, in the form of a Twitterstorm – and you were there with us every step of the way, demanding #JusticeForCalves
Following a gruelling legal battle, the Scottish Government yielded to our challenge and halted the export of live calves in September
"It's so uplifting to end what has been an incredibly challenging year with a potentially huge breakthrough in our campaign to end UK live exports," says Natasha Smith, our Senior Campaigns Manager. "I'd like to say a massive thank you to every single person who has fought with us through the years. Every donation, every petition signature, every placard at a rally, has helped bring us to this point."
Promising policy achievements
As Brexit draws ever nearer, we continue to pressure the Government to centre animal welfare in trade negotiations, with some promising achievements.
"In spite of the incredibly tough year we've all faced during the pandemic, it was really encouraging to see 2020 close out with the UK Government proposing to ensure the new farm subsidies scheme rewards good animal welfare," says James West, our Senior Policy Manager.
The Prime Minister also expressed an intention to ban live exports upon the UK's exit from the EU, a commitment which we intend to hold him to.
James adds: "We remain hopeful that next year will mean an end to live exports throughout Great Britain and the introduction of strong laws recognising animal sentience."
Proud progress against cages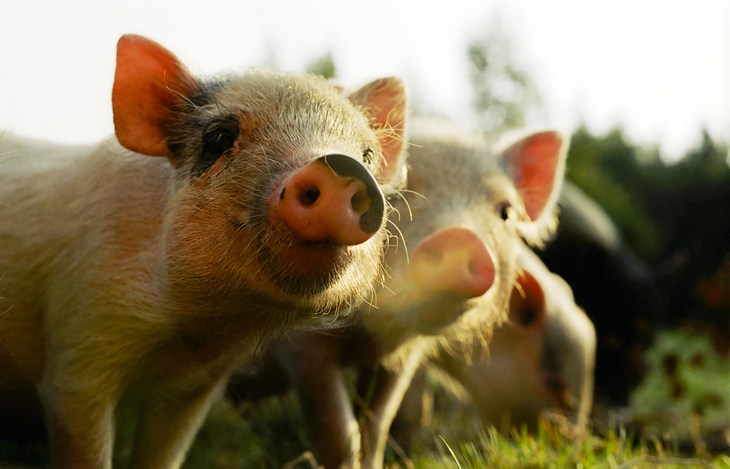 It has also been a significant year for our campaign to end the use of cages in the UK, and across the EU.
Our parliamentary petition from 2019 gained over 100,000 signatures – enough to warrant a debate on 16th March 2020, during which MPs discussed the use of cages in farming
Our star-studded short film 'Dear Humans', which featured Patrons and High Profile Supporters including Kate Ford, Joanna Lumley, Peter Egan and Evanna Lynch, won the People's Choice Award at the Charity Film Awards in April
The European Citizens' Initiative (ECI), which was launched in 2018, was submitted in October with 1.4 million signatures, marking the largest political push in farmed animal welfare history
"We are phenomenally proud of the progress we have made to End the Cage Age in 2020," says Mandy Carter, our Global Head of Campaigns. "The ECI was an incredible collaborative victory, demonstrating that the continent is united behind the belief that a life in a cage is no life at all, and we will not stop campaigning until the EU Commission frees all farmed animals kept behind bars. It is past time we evolved past this cruel, outdated practice."
Inspirational supporters
Everything that we have managed to achieve during this strange and unpredictable year has been the result of your continued support.
"This year has been hard for so many, but you, our incredible supporters, have not forgotten farm animals," says Joy Elliott, our Supporter Engagement Manager. "Every day we feel inspired and re-energised by the kind words of encouragement that we receive from you."
Thank you
We could not have accomplished this tremendous progress for animals without your dedicated support. From all of us here at Compassion: Merry Christmas and a Happy New Year!