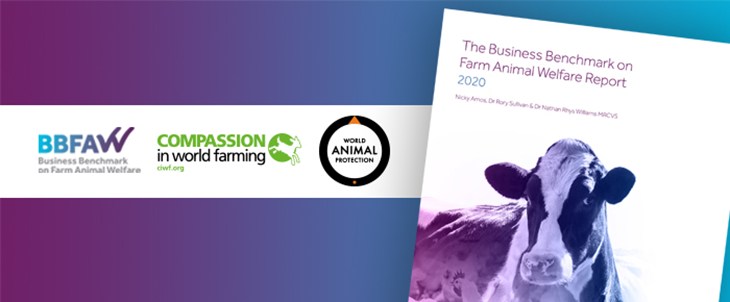 Today (30th March), sees the launch of the ninth annual Business Benchmark on Farm Animal Welfare (BBFAW). This annual review, jointly supported by ourselves and World Animal Protection, reports how the world's leading food companies are managing and reporting their farm animal welfare policies, practices and performance.
Championing farm animal welfare
In 2020, 150 global food companies were assessed across 24 countries. Congratulations goes to Cranswick, Marks & Spencer, Noble Foods and Waitrose for retaining their Tier 1 position in the Benchmark, confirming them as global leaders on farm animal welfare.
23 companies moved up at least one tier in 2020, which is remarkable against the backdrop of the pandemic - a year that has been particularly challenging for the food service sector – and given the tightening of the 2020 benchmark criteria.
In an exciting shift, for the first time in the Benchmark's history, food producers and manufacturers were the highest scoring sub-sector on farm animal welfare with an overall average score of 38%, compared to scores of 36 % for retailers and wholesalers, and 31% for restaurants and bars.
Whilst 79% of global food companies have set farm animal welfare-related objectives and targets, company reporting on welfare impact remains immature. To help drive improved welfare for animals on the ground, we continually adjust our BBFAW reporting methodology and scoring to place greater emphasis on welfare performance.
UK still leads the way
The UK has significantly higher animal welfare scores (64%) compared to companies from other geographic areas. However, the 2020 Benchmark reveals momentum is building in the Latin America and Asia Pacific regions that include some of the biggest names in global meat production.
BBFAW welcomes Four Paws
This year, BBFAW welcomes Four Paws, the global animal welfare organisation for animals under direct human influence, as a supporting partner. Four Paws will take over the role of funding partner from World Animal Protection.
Together with Four Paws we'll continue to play an instrumental role in providing the BBFAW programme with technical expertise, guidance, funding and practical resources as the programme enters its second decade.
A need for progressive change
"The current pandemic has been deeply challenging for everyone, particularly for the hospitality sector, and at the same time, has underlined the need for progressive change toward healthier, more resilient animal-welfare friendly food systems. The need to convert effective policies into practice has never been more urgent," said our Global CEO, Philip Lymbery.
"As the 2020 Benchmark demonstrates, giving greater weight to the implementation of progressive practices has become a key corporate performance indicator on animal welfare and thereby health, which will remain important going forward."
You can read the full 2020 BBFAW report here and visit www.bbfaw.com to find out more about the Benchmark.