Published 14/04/2021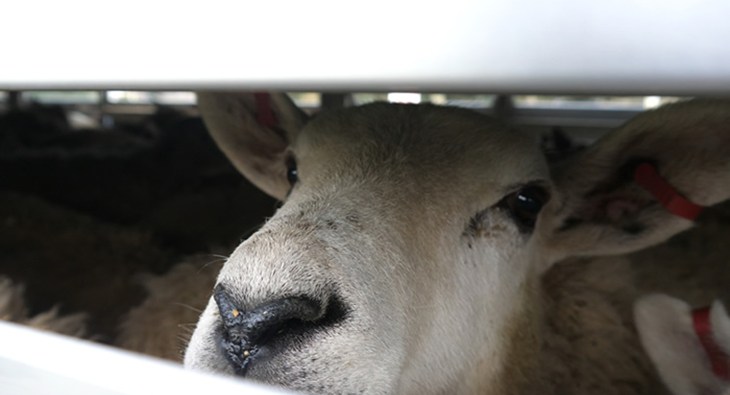 Today (14th April), New Zealand announced a ban on live exports, which will see the trade being phased out over a two-year period.
A bold decision
SAFE, an animal rights organisation in New Zealand that has long campaigned for a ban on live exports, praised the Government's decision to ban all live exports by sea for cattle, sheep, deer and goats for slaughter, fattening and breeding. This decision followed a government consultation to which we submitted a briefing, highlighting the suffering inherent in the practice and explaining viable alternatives, including reducing journey times and exporting semen instead of live animals.
"We applaud New Zealand's bold decision to ban live exports," says Peter Stevenson, our Chief Policy Advisor. "The UK must now follow suit and quickly ban this callous trade in living creatures. Sending animals on massively long journeys is not a necessary part of how we feed ourselves. Animals should be slaughtered near to the farm on which they are reared with trade being in meat and carcasses."
Widespread suffering
New Zealand's ban comes after the live exports disaster in September 2020, when a livestock carrier capsized off the coast of Napier, resulting in the deaths of 41 crew members and nearly 6,000 cattle.
Live exports disasters have dominated the news in recent months: when the Suez Canal became blocked, sixteen livestock carriers were stranded, forcing the approximately 200,000 animals aboard to withstand cramped conditions on carriers that are often not built to purpose.
A month earlier, news broke that 1800 young bulls aboard the Elbeik livestock carrier and 850 aboard the Karim Allah, spent three months at sea because their carriers were refused entry due to concerns about bluetongue disease. After several miserable months at sea, during which it is estimated that 180 bulls died, all animals aboard both ships were unloaded and slaughtered.
Even when disaster does not strike, live exports result in widespread suffering: animals routinely endure excessively long journeys, and frequently experience pain, exhaustion, stress and overcrowding.
Top priority
New Zealand's announcement drives home the point that the welfare of farmed animals can and should be a top priority. Now it time for the UK to follow suit and implement a ban on this awful practice.
Last December, Defra announced its intention to ban live exports for slaughter or fattening from England and Wales. However, Scotland intends to allow this inhumane trade to resume.
We will continue to press Defra Secretary of State, George Eustice, to announce a ban on live exports as a matter of urgency. In addition, we will advise the Scottish Government to reverse its decision to allow this cruel trade to continue and call on the Northern Ireland authorities to end long distance live transport.
Learn more about our campaign to Ban Live Exports here.