Published 27/04/2021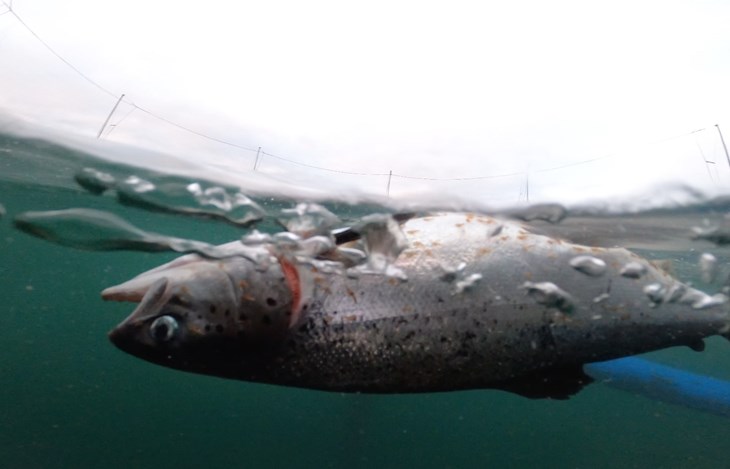 On 23rd March, we launched the biggest ever exposé into the Scottish salmon industry, which revealed the industry's failures with regard to welfare and environmental impact.
Widespread attention
Scotland is the third largest producer of farmed Atlantic salmon worldwide, with exports to over 50 countries. Over 96% of Scottish salmon production is handled by five companies: Cooke Aquaculture, Grieg Seafood, Mowi, Scottish Sea Farms and The Scottish Salmon Company. Compassion investigated 22 farms in total, both using drone technology and, at 6 farms, underwater divers, between September and November 2020.
A global network of 50 NGOs in 30 countries on 6 continents released the investigation and accompanying report, 'Underwater Cages, Parasites & Dead Fish: Why a Moratorium on Scottish Salmon Farming Expansion is Imperative'. Both the investigation and the report, which was written with OneKind, received widespread attention, resulting in over 140 pieces of media coverage, including articles in La Repubblica and La Stampa in Italy, Onet in Poland and 20 minutes and La Provence in France. Outlets highlighted the miserable conditions that our investigators encountered.
"It is encouraging to see that this issue is attracting so much attention," says Mandy Carter, our Global Head of Campaigns. "Salmon are sentient beings experiencing unimaginable suffering on farms which claim to care for their welfare. Our investigators found salmon with missing eyes, suffering from deformities and disease. Many others were eaten alive by sea lice, some with chunks of flesh missing and seaweed growing in open wounds. These are simply awful conditions, and they demand immediate action."
Moratorium needed
As expected, the investigation and accompanying report drew heavy criticism from the Scottish Salmon Producers Organisation. However, we fully stand by our exposé; the footage from our investigation does not lie - deformities are a reality, sea lice infestations are a reality, mortality rates which are freely provided by the industry are a reality. Finally, the devastating environmental impact of the industry, which regularly produces organic and chemical waste that leads to poor water quality and kills marine life, cannot be denied.
And yet, the Scottish Salmon industry plans to massively expand.
"Given the numerous welfare and environmental issues within the Scottish salmon industry, plans to expand are completely irresponsible," says Dr Krzysztof Wojtas, Head of Fish Policy at Compassion in World Farming.
"We are calling on the Scottish Government for a moratorium on the expansion of the Scottish Salmon industry. Ultimately, we directly challenge whether farming essentially wild, migratory fish, such as salmon, has any place in a sustainable food system."
We have launched an open letter to the Scottish government, urgently calling for an immediate halt on the expansion of the industry, with a view to phasing out intensive salmon farming.
You can sign it here.