Published 11/06/2021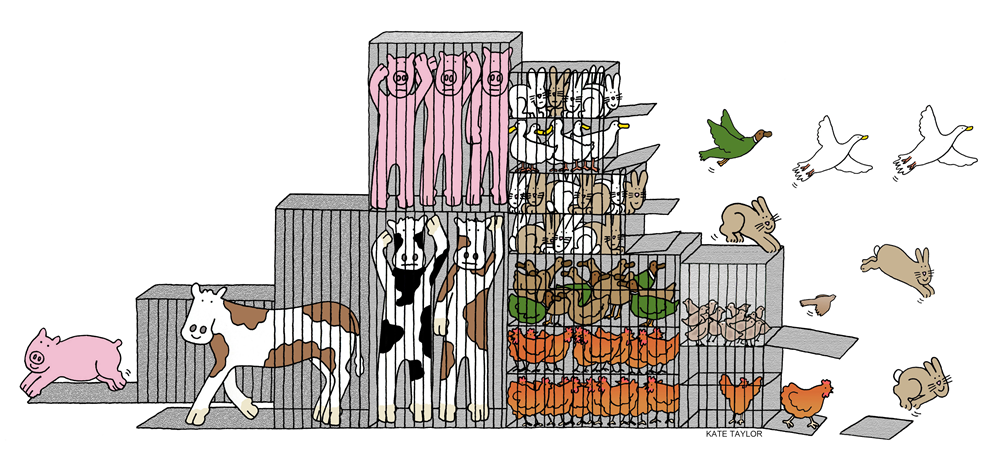 The European Parliament passed a ground-breaking resolution yesterday (10th June 2021), urging the European Commission to phase out cruel cage systems in animal farming.
This is a historic moment for more than 300 million farm animals – like hens, pigs and rabbits – who are confined in cages every year. The resolution on the 'End the Cage Age' European Citizens' Initiative (ECI) follows the submission of 1.4 million validated signatures in support of a ban to the Commission on 2nd October 2020.
A moral imperative
Encouragingly, Members of the European Parliament (MEPs) also called on the Commission to "put forward proposals to ban the cruel and unnecessary force-feeding of ducks and geese for the production of foie gras," continuing to prioritise the welfare of farmed animals.
Taking a further step, MEPs also pushed the Commission to review EU animal welfare legislation by 2022 instead of 2023, as currently planned. This would ensure that the ban on cages in animal farming is introduced before the current Commission leaves office in 2024.
Health Commissioner Stella Kyriakides, who attended the debate on the resolution and has previously expressed support for the 'End the Cage Age' ECI, commented that the Commission's commitment to improve the welfare of animals "does remain a moral, a health and an economic imperative."
Taking a stance
This vital step towards a ban could not have been possible without the overwhelming support of millions of EU citizens determined to see an end to cruel caged farming across Europe.
"EU citizens have been waiting for years to see a ban on cages," said Olga Kikou, our Head of EU. "Therefore, we are delighted that the European Parliament has taken a firm stance against cages and has listened to the 1.4 million European citizens who supported the 'End the Cage Age' ECI.
"Now, the ball is in the Commission's court. We expect to see words put into action, followed by an ambitious timetable for ending the use of these outdated torture instruments called cages."
Legislation incoming
The Commission is planning to announce its response to the 'End the Cage Age' ECI on 30 June this year, which is expected to result in a proposal for new legislation. The proposal would need the approval of the European Parliament and the Council of the EU.