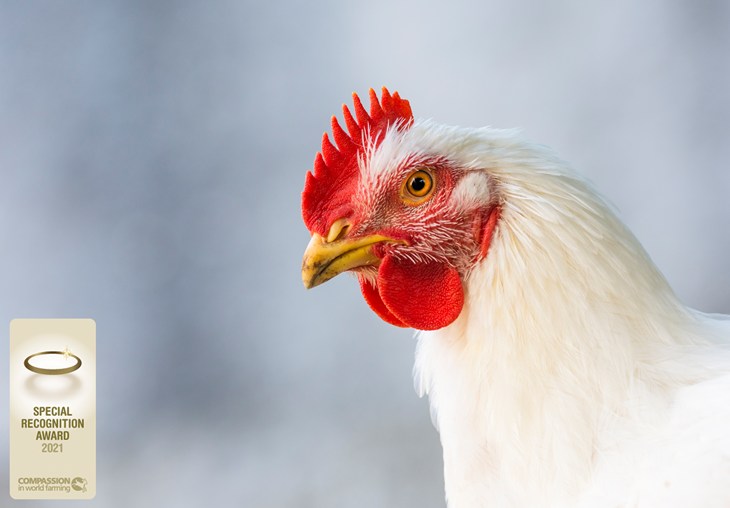 We are delighted that Marks & Spencer are rolling out their 'Oakham Gold' Chicken, which meets all the higher welfare criteria of the Better Chicken Commitment (BCC).
An industry-leading commitment
By Autumn 2022, M&S have committed to converting all their current fresh 'Oakham' chicken to the higher welfare, BCC-compliant 'Oakham Gold'. This industry-leading commitment will see that all of M&S fresh chicken is slower-growing, British and RSPCA Assured, with M&S pledging the same goal for its processed and ingredient chicken by 2026.
Special Recognition Award winner
In recognition of this bold move, we have presented M&S with our prestigious Special Recognition Award, as part of our 2021 Good Farm Animal Welfare Awards.
"We congratulate M&S for the example they have set; the first retailer to sign up to the Better Chicken Commitment, the first to start transitioning supply, and the first to roll out entry-tier product on shelf with their 'Oakham Gold' fresh chicken," says our Director of Food Business, Dr Tracey Jones. "M&S wholeheartedly deserve their Special Recognition Award from us this year!"
UK in danger of falling behind the curve
While we are pleased to recognise M&S for demonstrating their continued commitment to the highest animal welfare standards, Waitrose is currently the only other British retailer to have signed up to the BCC. And although there has been great traction in the food service sector with major brands like KFC, Nando's and Burger King signing up, transition and roll out is still slow to materialise.
In comparison, all the French retailers have signed up and in May, Carrefour Polska became the first retail chain in Poland to join the growing list of BCC signatories – a move which is particularly significant as Poland is the largest producer of meat chickens in Europe.
The UK regards itself as a leader in animal welfare but is in danger of rapidly falling behind the curve. The time is right for Britain to strengthen its position in the market and M&S is demonstrably leading the way!
Find out more about the Better Chicken Commitment and the amazing work our Food Business team do to help secure these commitments.