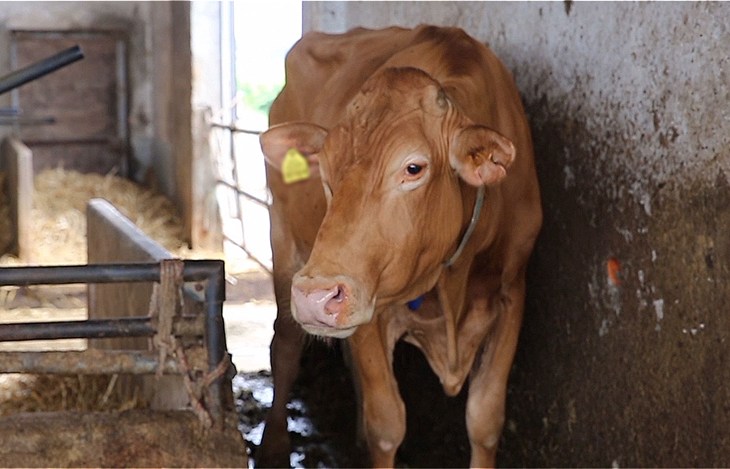 Today (26th July), we are calling on the Parmesan Consortium to make a public commitment to end the tethering of cows and allow them access to pasture. This would improve the lives of nearly 250,000 cows in the Po Valley region of Italy who are the backbone of this billion-euro industry producing Parmesan cheese.
Shocking conditions
In 2017, we launched a ground-breaking investigation into four Italian farms that produce milk for the Parmesan Consortium – a group of farmers and producers who set standards for Parmesan. The footage showed cows kept in shocking conditions, forced to live in barren sheds with no access to pasture and unable to express many natural behaviours.
Immediately following our investigation, the Consortium pledged to monitor animal welfare on its farms and implement changes to support the improvement of systemic cruel conditions. However, four years later, the Consortium has made no significant improvements: cows continue to suffer due to the lack of pasture access, and many of them are likely to be tethered.
No life worth living
"It's been four years since we exposed the suffering of cows used to produce Parmesan cheese, yet very little seems to have changed," says Annamaria Pisapia, Head of our Italian office. "Thousands of cows are still denied access to pasture and fresh air and many of them are also likely to be tethered – that's no life worth living."
Nick Palmer, Head of our UK office, added: "Today we're calling on the Parmesan Consortium to make a public and binding commitment to end the suffering of these animals. There are no more excuses for not taking immediate action. Parmesan cheese consumers all around the world, including those in the UK, expected the Consortium to put an end to such cruel practices following our campaign and, after four years, the time really is up.
"If the Consortium cares about animal welfare, as they claim, the time to act is now. Parmesan cows cannot wait any longer, nor can the consumers. That's why we're asking people to email Parmesan urging them to take action now."
Find out more about our investigation into Parmesan here.