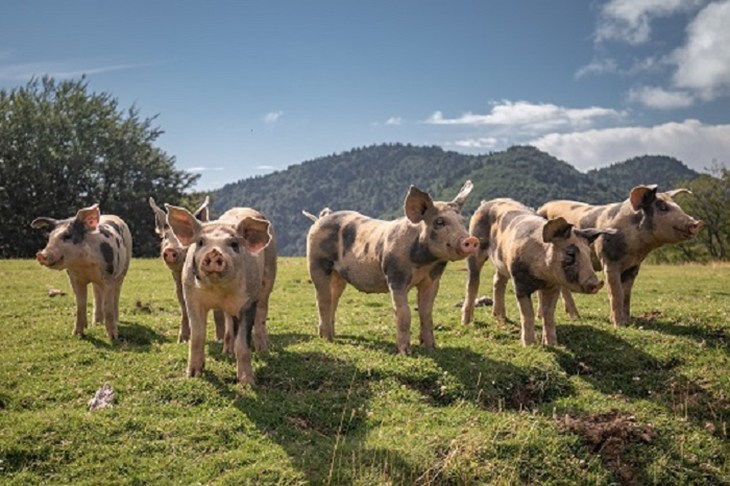 After the parliamentary petition to End the Cage Age flew past 10,000 signatures, last week (20th August) the UK Government published its response. 
Every year across the UK, millions of farmed animals are kept in cages, unable to express their natural behaviours and experiencing huge suffering. These inhumane systems cannot be the future of British farming.
The petition - led by Dragons' Den star and Compassion Patron, Deborah Meaden - calls on the UK Government to legislate to End the Cage Age for all farmed animals. We have seen tremendous support for the petition so far, with over 56,000 signatures collected in just a few weeks, meaning we are well on our way to the 100,000 signature target needed to be considered for a parliamentary debate.
Encouraging points but more to be done
The Government response makes some encouraging points, such as repeated statements that they are actively exploring options that include "phasing out the use of cages in farming", and a recognition that even so called 'enriched' cages for hens restrict natural behaviours. There is also mention of reducing time calves spend in individual stalls from eight weeks to one.
Although the response makes claim to the UK's achievements and endeavours  to deliver ambitious reforms, such as those set out in the Action Plan for Animal Welfare, there are still many steps which we would like to see taken by the Government.
There is no mention of a phase out period for caged systems. We believe this should be in line with the recently announced EU target of 2027, to encourage a focused effort by industry to hit the deadline.
The response also indicates that a lower percentage of UK sows are confined in farrowing crates compared with the EU. Yet, some European countries banned these inhumane systems several years ago and the European Commission is looking to phase out farrowing crates by 2027 too, so the UK needs to up its game when it comes to the welfare of mother pigs and their piglets.
The Government also notes its intention to work to support livestock farmers financially "by using public funds to pay for health and welfare enhancements". This is a great incentive, but we believe subsidy schemes should not allow farmers using cages to receive funds under any 'animal welfare' schemes.
The onus on 'stockmanship'
In its response the Government puts much onus on stockmanship and management, stating "whatever the system of production, the most important factor in determining animal welfare is good stockmanship and the correct application of husbandry standards."
"Good stockmanship is crucial but achieving good standards of welfare requires acceptable farming systems to begin with, and it's the Government's role to legislate for these," says our Research Manager, Catherine Jadav. "The best stockmanship in the world cannot make welfare good in systems of extreme confinement.
"As a nation proud of its farmers, we should embrace these systems and support our farmers in demonstrating excellence in their field."
All farmed animals count
It's also of concern that the response makes no reference to other animals farmed in cages. Rabbits, quail and game birds can also be farmed in caged systems, under current legislation, and appear to have been left off the agenda entirely. All farmed animals deserve the highest welfare and should be included in any improved legislation. As our Patron Deborah says, "a life in a cage is no life at all". 
James West, our Senior Policy Manager, commented: "In its response, the Government points out that they are "committed to maintaining the UK's position as a world leader in farm animal welfare and want to improve and build upon that record". If this is true, there is still work to be done and we will continue campaigning to ensure that those improvements are met. The Government must embrace a cage free future in order to protect millions of farmed animals every year across the UK."
Take action
Please support our call to End the Cage Age for UK farmed animals by signing the petition today.