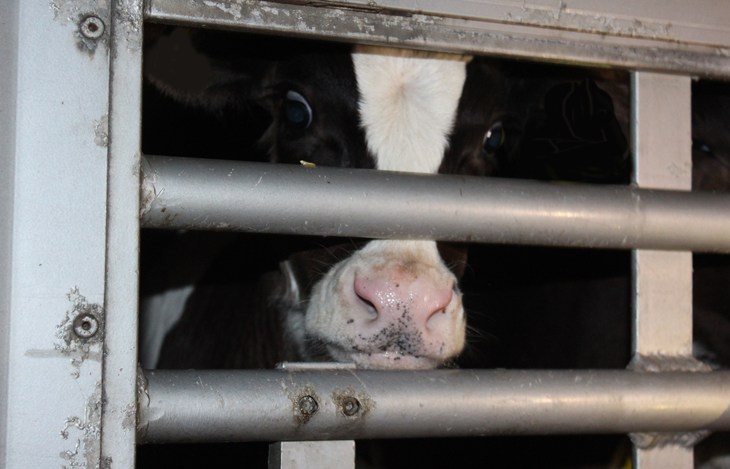 Yesterday (18 August), new rules were published that will improve welfare standards for farm animals being transported in England and Wales. This is in addition to the proposed ban on live animal exports for slaughter and fattening from Great Britain as part of the Animal Welfare (Kept Animals) Bill, a milestone that we have long campaigned for.
Not far enough
These new measures will improve the welfare of farm animals during transport by introducing limits on journey times, ensuring more headroom for animals and placing restrictions on the movement of animals in extreme temperatures.
"We welcome some of the measures, which will begin improving conditions for animals subjected to live transport within England and Wales," said James West, our Senior Policy Manager. "Unfortunately, the proposals do not go far enough and, even when these new rules are introduced, animals will still be forced to endure stressful journeys in cramped conditions."
For example, according to the new rules, journey times for calves cannot exceed 9 hours – however, some animals, such as cattle and sheep, could still be subject to exhausting journeys of up to 21 hours.
A long way to go

"There should be no need for such excessively long journeys in the UK and these maximum time limits must be reduced significantly," James added.
"While some of the proposed measures will make transport less stressful for animals, there is a long way to go before Britain can genuinely claim that the welfare of all animals in transport is being protected. We look forward to continuing to work with Government to achieve that aim."
Take action
The governments at Westminster and Holyrood have both committed to end the cruel export of animals for fattening and slaughter, but they must work together to deliver a robust live exports ban across the whole of Great Britain. Please call on the UK and Scottish Governments to unite against live exports.