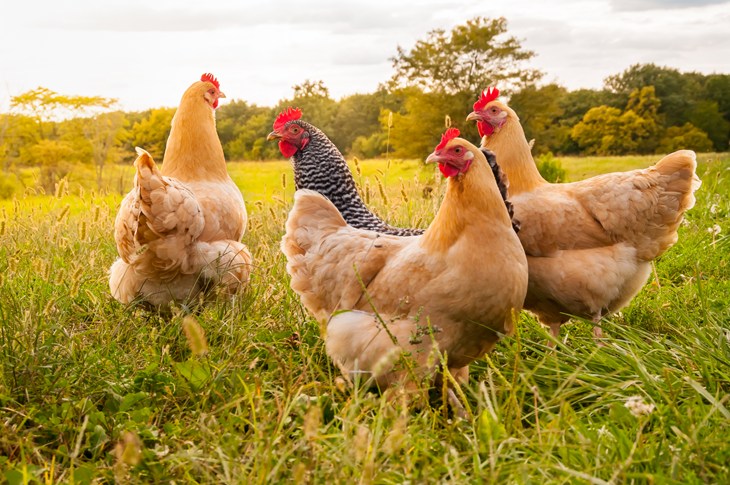 Yesterday (18th October), we organised an international event exploring how nature-friendly regenerative agriculture can be developed to improve human, animal, and planetary health. 
 The online session – which was a contribution to the United Nations (UN) Food Systems Summit – was convened by our Global CEO and UN Food Systems Champion, Philip Lymbery. A wide range of speakers from high-profile organisations participated in the event, including the International Monetary Fund (IMF), The Rodale Institute, Danone, the United Nations Environment Programme (UNEP), Sustainable Agriculture Tanzania, reNature, White Oaks Pasture, McDonald's, and WWF International.  
To lay the groundwork for the dialogue, event curator, Jenny Andersson of Really Regenerative encouraged participants to start by sharing what agriculture meant to them, and what they saw as the main barriers to scaling agroecology and regenerative agriculture. 
Pulling together for unified change
Philip introduced the discussion by summarising the impacts of modern-day food production on the environment. He said: "Intensively farmed lands are devoid of life. Once-common farmland birds have become scarce. Fields once wriggling with worms have become wormless. Soils now wash away into rivers and roads. Whichever lens we use to look at it, one thing has become clear: that food has become central to saving the planet."   
 Nicola Battini, of the IMF, explained that the impact of agriculture and fishing on climate change has largely been underestimated. She said: "There's a false dichotomy in the narrative that energy is the main enemy for climate change. But the truth is agriculture, fishing, and forestry, play a tremendously important role in the destruction of the planet… and therefore we need to be very careful not to put agriculture in a corner, but rather to prioritise it."  
 Jeff Moyer, CEO of the Rodale Institute, carried the conversation forward by addressing the need for a shift in consumer behaviour to bring about change. He said: "For too long, we as a society have reached for the easy button – we have asked for easy, fast, and cheap when it comes to our food production. Those of us that are gathered here today are now asking for the creation of a new button: the regenerative, organic, agriculture button. Farmers around the world do what the policies and market place tell them to do. We need everyone pulling together for unified change if we are to focus on soil health to heal people and the planet." 
Holistic approach to regenerative farming
Guus ter Harr, Chief Operations Officer at reNature, discussed the need for a holistic approach to regenerative farming. He said: "We need to start really looking at what the impact is that we are trying to achieve and how regenerative agriculture contributes to that. We are not just talking about carbon… we need to look at water cycles, biodiversity, soil fertility, but also social components like the resilience of communities, empowerment of disenfranchised groups, and zero waste strategies." 
More must be done
Alongside the many challenges of transforming our food systems, each speaker also discussed the advances taking place around the world. 
Joao Campari, Global Leader of Food Practice at WWF International, and Chair of the UN Food Systems Summit Action Track 3, explained that real progress was made at the Summit with nations coming together to bring about change: "A vibrant coalition of action on agroecology has emerged from the summit. More than 150 countries made statements in support of food system transformation and over 100 have already mapped out national pathways. That said, many countries overlooked nature and climate in their statements. We need to see stronger leadership on these issues, and for more countries to prioritise investment into regenerative faming and agroecology, laying out bold, ambitious and urgent actions." 
After informative talks from the remaining speakers, participants split off into breakout groups to discuss the issues further, including how regenerative agriculture can be scaled.  
Philip brought the event to a close by considering how the world can meet the UN Sustainable Development Goals: "For me, the answer lies in everyone getting involved to truly transform food systems. It lies in governments using policies for change. And it lies in UN agencies taking their cue from the UN Food Systems Summit by creating a new Global Agreement on food and farming that charts an urgent course away from industrial animal agriculture toward nature-friendly, regenerative farming. In this way, we can restore the countryside to a living, breathing world for the sake of human, animal and planetary health; a world that can sustain us all, now and for generations to come." 
All eyes are now on world leaders at COP26 in Glasgow as they gather to discuss the climate crisis. We will be active at the conference urging leaders to take immediate action to address the impact of food and agriculture to avert a climate catastrophe.  
Watch the event.