Yesterday (7th November), Chris Packham CBE called for us all to become lobbyists for a harmonious and healthy future when he spoke at The Peter Roberts Memorial Lecture, the Oxford Literary Festival's inaugural event in honour of Compassion's late founder, Peter Roberts MBE. The event was held at the prestigious Sheldonian Theatre.
Chris's concerns about the devastating impact of industrial animal agriculture on our planet mirror those of Peter Roberts, a dairy farmer whose worries about the disconnect between modern agriculture and the well-being of animals and the environment led him to establish Compassion.
Chris also spoke about the catastrophic decline in the population of farm and woodland birds, butterflies and moths, as well as the importance of ending factory farming and eating less meat.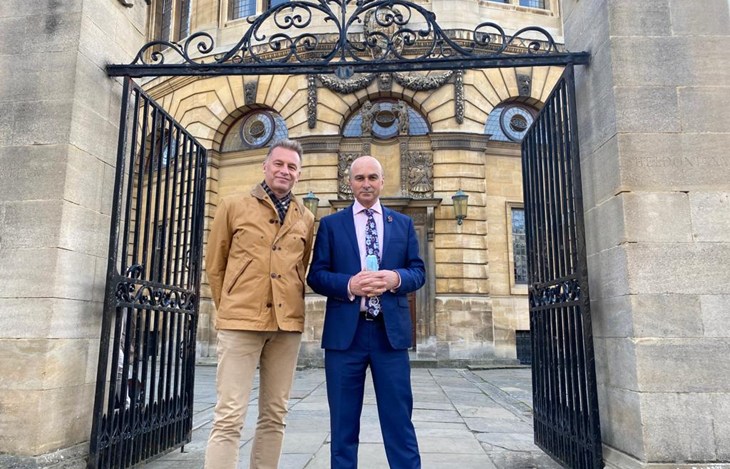 A Better World
Introducing the leading environmentalist and wildlife expert, our Global CEO, Philip Lymbery, said: "Today's special guest speaker is one of the UK's best-known naturalists and conservationists, perhaps most renowned as presenter of the BBC's flagship wildlife programmes, Springwatch, Autumnwatch and Winterwatch. Our speaker today is also a dedicated, passionate, and extraordinary prolific campaigner for wildlife, the environment and a better world. Please give a huge welcome to Chris Packham."
Chris, who has been a Patron since 2019, spoke about his reverence for nature and the need to protect it:
"I just love life. I found it when I was 2 years old, it was just perfect and I grew up admiring the simple beauty of nature. Later in life, I came to recognise the greater beauty in the inter relationship between all species, that support all of that life."
Kindness is Key
Chris finished by urging listeners to approach advocacy with kindness:
"In order for us to effect the transitions that we need to make away from fossil fuels, away from factory farming, we are going to have to be patient. Because not everyone will begin that journey at the same time, and continue it at the same pace. So, patience is going to be really important.
"And I think in order to effect that transition, exercising tolerance and patience, we need to take one of the most profoundly important human characteristics that we can muster, and that is kindness. We have to be kind to one another through this because if we polarise and if we fight, we won't make progress at the required speed, if at all.  So, let's become essentially lobbyists on behalf of a healthy, harmonious future and let's please do that with kindness."
Enduring Achievements
Our founder would be proud that, today, Compassion is a powerful global movement, with offices in 10 countries, achieving profound and enduring advancements in farm animal welfare and highlighting the impacts of factory farming on the health of our people, animals, and our precious planet. This event, held in his honour, advanced this necessary conversation at a pivotal moment for our planet, during COP26.
Watch the event here.