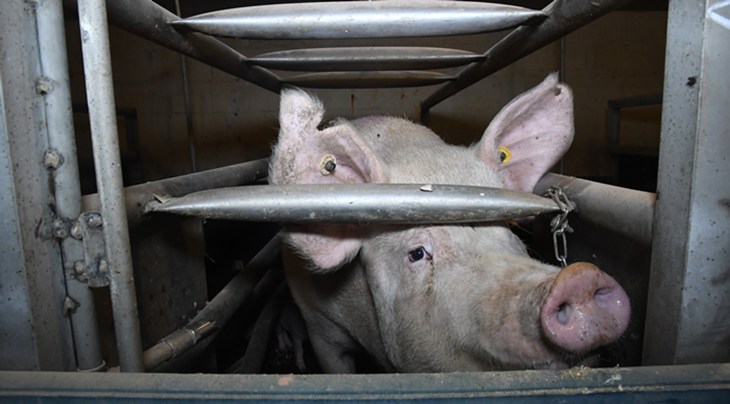 Compassion has written to some of the world's biggest banks urging them to remove intensive livestock farming from their list of 'climate-friendly' activities for investments.
Along with 12 other organisations – including Eurogroup, 50x40 and FourPaws International – we are urging a group of banks that fund projects in developing countries to remove 'non-ruminant livestock' farming, such as intensive pig and poultry farming, from their list of 'climate-friendly' activities suitable for investment.
The letter was sent in response to the Multilateral Development Banks group – which includes the World Bank and the European Investment Bank – publishing a document that sets out activities they claim are aligned to the Paris Agreement on climate and produce only minimal greenhouse gas (GHG) emissions.
Outrageous attempt to justify factory farming funding
"Pig and poultry farming generate huge greenhouse gas emissions, mainly from the production of soy and cereals to feed them," said Peter Stevenson, our Chief Policy Adviser and organiser of the letter.
"This is an outrageous attempt by these banks to justify their continued funding of factory farming. They pour billions into factory farming which must stop if we are to avert a climate catastrophe. There is a wealth of scientific evidence to support this so we're urging them to remove these unsustainable, polluting and cruel activities from their list of climate-friendly investment activities."
This follows the recent publication of our new report Breaking the Taboo: Why Diets Must Change to Tackle Climate Emergency which shows that without a dramatic reduction in meat consumption and a shift away from factory farming, we will be unable to avert a climate catastrophe.
The true cost of meat & dairy production
The report reveals alarming statistics about the true cost of meat and dairy production, including:
The livestock sector is responsible for 14.5% of global GHG emissions
The food system is responsible for one third of all GHG emissions - 75% of agriculture's emissions are from livestock
To meet the Paris Agreement targets, all sectors need to reduce their emissions. However, if global meat and dairy consumption continues at the same rate, emissions from food and agriculture will rise significantly, and meeting the Paris Agreement targets will be very difficult
Changes to our diets could contribute up to a fifth of the mitigation needed to meet the Paris Agreement targets.
Sign our petition calling for Governments to reduce global meat and dairy consumption.