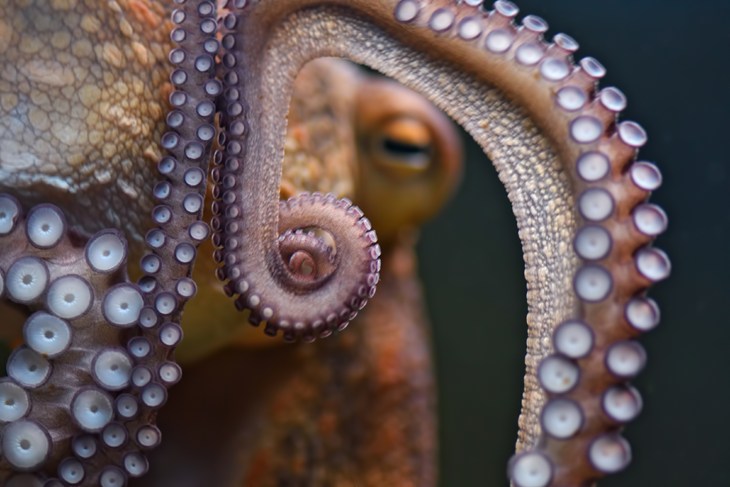 Yesterday (20th December), Compassion described plans to launch the world's first commercial octopus farm as cruel and unsustainable in a high-profile international BBC news story.
The story, 'The world's first octopus farm – should it go ahead?', includes an interview with our research manager, Dr Elena Lara, and explores the scientific evidence showing that octopuses are intelligent, sentient and solitary animals that would not adapt well to factory farming conditions.
It follows the launch of our own report 'Octopus factory farming: a recipe for disaster', on World Octopus Day in October, which outlines how confining these fascinating creatures be both cruel and damaging to our oceans.
Wild octopus numbers decreasing
The BBC Online story, which was also covered by BBC World Service and other BBC radio stations, article, highlights that octopuses have become increasingly popular as food in recent decades, particularly in the United States and Japan. As a consequence, their price is rising and the number of wild octopuses is decreasing. In 2015, global octopus catches reached 400,000 tonnes for the first time, 10 times more than in 1950.

As a result, several countries have been working towards rearing these amazing animals in captivity and, sadly, a company in Spain has announced that it will soon be ready to do just that. Nueva Pescanova recently announced that it will launch its first commercial octopus farm by summer 2023.
Ethically and ecologically unjustifiable
However, several scientists and other groups have expressed their concerns. More than a hundred scientists have declared that "It's ethically and ecologically unjustifiable" and as Elena said to the BBC: "These animals are amazing animals. They are solitary, and very smart, so to put them in barren tanks with no cognitive stimulation, it's wrong for them."
We believe that in addition to being cruel, octopus farming is unsustainable as it would involve feeding wild-caught fish to them in captivity – a practice that would contribute to overfishing and food insecurities in already vulnerable communities around the world.
Please support our bid to stop octopus farming by retweeting this tweet.