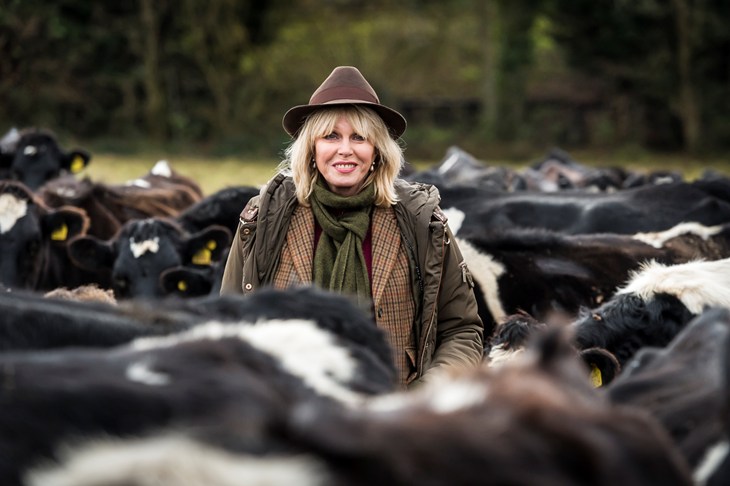 We are delighted that our long-time patron and supporter, Joanna Lumley, has been made a Dame in the Queen's New Year Honours List of 2022, announced last weekend (1st January.)
A dedicated campaigner
Joanna, who won two Bafta Awards for her role as fashionista Patsy Stone in the 1990's BBC sitcom Absolutely Fabulous, has also appeared in TV shows The New Avengers and Sapphire & Steel, and was nominated for a Tony Award on Broadway in 2011. She has been honoured however, not only for services to drama and entertainment but for her outstanding work for both human rights and animal welfare causes.
Joanna is a dedicated campaigner and has supported our work to end factory farming for over 30 years. She has been actively involved in many of our campaigns, including our efforts to Ban Live Exports and End the Cage Age.
On receiving the honour, Joanna told us she was "thrilled and stunned," and said her damehood was "extraordinary" and "completely unexpected". 
But after her initial shock, Joanna acknowledged how she hopes such an accolade can help further highlight the plight of farm animals. "Wouldn't it be good if this great honour helped add weight to our campaigns," Joanna suggested. "I feel as though I have received it on behalf of us all, and the animals. May this coming year be better in every way for them."
Richly deserved
Joanna's relentless dedication to improve better welfare standards for farmed animals and her incredible drive to help end factory farming has been an inspiration to us all.
Our Trustee and Ambassador Emeritus, Joyce D'Silva, says: "Compassion's work can reach a wider audience and has greater impact when celebrities like Joanna use their voice to get behind our campaigns and initiatives. We are so thrilled that her determined and generous spirit has now been publicly recognised as it's so richly deserved.
"On behalf of us all at Compassion, many, many congratulations to you, Joanna, and thank you for your relentless and unwavering support in helping us to create a better, kinder world. "